Conservative America wants their childhood hero Miley Cyrus to go back and be pure and innocent. The myth of an outgrown Disney childhood star.
Kids, first let me get out of the boombox that Miley Cyrus is a very hawt bixch. Hawt cause at the age of 19, she has her own astounding career, millions of followers and a few hits under her belt. Then there's her looks and salacious behavior. Which it seems this week suddenly rose to the fore amongst conservative groups who deemed our hawt princess 'disgusting,' and 'sleazy,' after a series of pictures surfaced of her going down on a birthday cake. Yes the horror.
huffingtonpost: A right-wing watchdog group is not impressed with singer, actress and former Disney star Miley Cyrus' recent behavior.
The Culture and Media Institute, which aims to "preserve and help restore America's culture, character, traditional values, and morals against the assault of the liberal media elite," is calling out the 19-year-old star for photos obtained by TMZ that showed Cyrus posing suggestively with a penis-shaped cake at her boyfriend Liam Hemsworth's birthday party.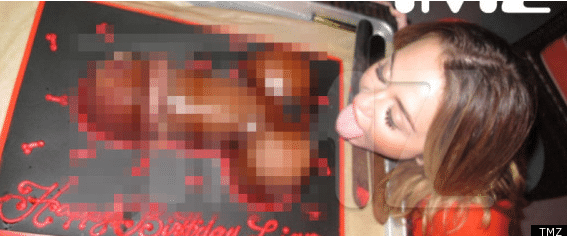 A penis shaped birthday cake?! Miley, how could you?! See kids, here is a picture of Miley giving her faux birthday cock a delicious tongue lashing. Quivering? I know I am. In fact I've got to the bathroom and reach out for some tissues. To wipe off the cake crumbs of course…
The group is calling Miley's behavior "disgusting" and says she's "become the epitome of the anti-role model for young girls." It's not the first time the group has criticized Miley — in 2010 they slammed her video for "Can't Be Tamed" and dubbed her responsible for "Miley Cyrus Effect," which causes "young girls to act like trashy adults."
The anti role model of a society that Miley never volunteered to play in the first place? Kids excuse me, isn't Miley entitled to do as she pleases? Must she always be held up to some pedestal by a vague lot who lack the courage to exact their own moral and aesthetic compasses? Then again what's wrong with walking around with pert nipples? Folks you should be happy Miley isn't sashaying the corridors of Malibu drive with a strap on.
And if you think I'm jerking you around here's what one astute reader on huffpo had to say about the eponymous Culture and Media Institute, after all, let's call a spade a spade and let Miley go back to being the hawt bixch we will always adore:
"The Culture and Media Institute,­" or better known as the Bozell Family Trust, supported the likes of Herman "Black Walnut loves White Ash" Cain and Newt Gingrich. They have also been a huge supporter of dead beat dad Congressma­n Joe Walsh. Of Walsh, Mr. Bosell was quoted as saying, "The attacks against Congressma­n Walsh are fabricated and an attack on family values." He also called the President a disgusting racist statement that I cannot recount here. The difference between Bozell's favorites and Miley Cyrus, Cyrus is a teenage girl and the Bozell's boys are adult miscreants who have no redeeming value in life.
Oh dear, what are we do when a teenage girl becomes the center of a conservative mission statement…
Miley Cyrus Caught Drinking a Beer, Said to be Heading Towards Self-Destruction
Miley Cyrus Wants to be Spanked by her Mother
The bad behavior of young women.
Miley Cyrus On a Mission to Piss off Disney
Why Are We Consuming This? Timbaland, Cyrus.
Is Miley Cyrus Becoming an Ungrateful Brat already?
9 year old Noah Cyrus shocks civilization by turning up as a dominatrix.
This Just In: Teenage Girl Raps Terribly.
Pandemonium in TV kiddie land:When the drinking and the nipple rings come out.
Lindsanity Trying to Infect Miley?
Miley Cyrus- Teenage Tart of the Weekend.