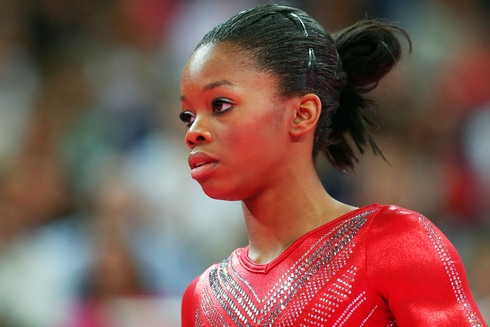 So why all the commotion about Gabby Douglas' hair?
Seems like Gabby Douglas, double Olympic gold gymnast winner has found herself  perplexed as to the barrage of commentary her hair has elicited from during this year's Olympics.
"I don't know where this is coming from. What's wrong with my hair?" said Douglas, the first U.S. gymnast to win gold in team and all-around competition. "I'm like, `I just made history and people are focused on my hair?' It can be bald or short, it doesn't matter about (my) hair."
Douglas uses gel, clips and a ponytail holder to keep things in place while she competes, a style she's worn for years.
"Nothing is going to change," she said. "I'm going to wear my hair like this during beam and bar finals. You might as well just stop talking about it."
But stop talking about it they haven't as the 16 year old has been pulled in as a kind of statement by those looking to force an agenda on race relations. To be sure Gabby is not too keen to be dragged into the discussion and has instead chosen to focus on her athletic pursuit rather than being used a racial decoy by those who would like to use her presence as a way to rightly or wrongly elucidate the current fabric of society.
When dissent from African American women first arose about her hair it was thought that many had chosen to vent their own insecurities and awareness of economic and social polarities which dictates the way they choose to publicly dress. The desire to affect a polished straightened look thought some said more about these people's aspirations to be part of a white hegemony (as opposed to accepting their own natural looks)  than outright concern for the athlete who has once again expressed comfort under her own skin.
Reflected the athlete: "I don't think people should be worried about that," she said. "We're all champions and we're all winners. I just say that it's kind of, a stupid and crazy thought to think about my hair."
Then again with millions of dollars in endorsements coming her way perhaps the young athlete can stand to side step this contentious issue even if many think it's just simply chatter boxes looking to make a mountain  out of a molehill…
Gabby Douglas gold medal victory mired by NBC ad depicting a monkey doing gymnastics.
Olympic Gold Medalist gymnast Gabby Douglas' hair is deemed offensive.