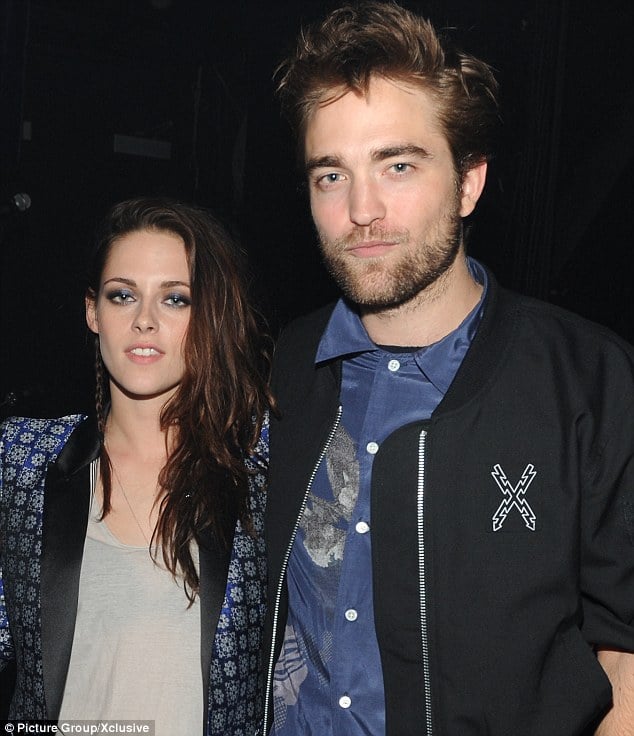 Robert Pattinson accusing Kristin Stewart of having a new affair. Called at 4am begging him to end it.
Kristen Stewart is banned from Robert Pattinson's NYC Cosmopolis premiere. Is this a joke?
Kristen Stewart photos released. Do they show her cheating? Bra strap, kissing and groping….
Kristen Stewart hiding in producer's house crying hysterically. Hasn't showered in days.
Kristen Stewart's adulterer Rupert Sanders hasn't seen his wife since news of affair.
Kristen Stewart might be pregnant but she doesn't who the father is….
Kristen Stewart photos. Are the photos really just part of publicity set up?
Kristen Stewart and Robert Pattinson in custody dispute over their dog.
Kristen Stewart never had an affair says Liberty Ross' brother.
Kristen Stewart cheating photos with Rupert Sanders. How the paparazzi pulled it off.
Kristen Stewart apology thought to be career suicide reckon insiders.
Kristen Stewart did not have sex with Rupert Sanders insists producer Giovanni Agnelli.
Should Kristen Stewart have to apologize about having sex or not?
Robert Pattinsonis urged to give up Kristen Stewart.
Robert Pattinson seeking comfort over Kristen Stewart affair with strangers
Robert Pattinson death hoax surfaces.
Robert Pattinson refuses to do any Twilight promo appearances with Kristen Stewart.
Kristen Stewart affair with Rupert Sanders went on for more than 6 months says Liberty Ross brother.
Did Robert Pattinson's friendship with Emilie de Ravin inspire Kristen Stewart to cheat?
Twilight bosses are panicking now that Kristen Stewart and Robert Pattinson have called it off.
Kristen Stewart and Robert Pattinson only communicating via heated texts.
Kristen Stewart's lover Rupert Sanders is forgiven by his wife, Liberty Ross
Kristen Stewart receives death threats via twitter for being such a slut…
Kristen Stewart cheating scandal; Robert Pattinson wants man to man talk with Rupert Sanders.
Kristen Stewart parodied in Snow White cartoon after cheating on Robert Pattinson
Did Kristen Stewart have sex with Rupert Sanders?
Will Kristen Stewart find a way to get Robert Pattinson to forgive her…?
Mounting consensus believes that Kristen Stewart may now be fully coming to the understanding that she just may have pushed the most important person in the world to her out of her life and she's begging for a second chance.
With both parties having now moved out of their Los Angeles house that they until this week shared (the memories could only have been too much to bear) Stewart has been anxious to communicate with Pattinson who has to date shunned all her calls and attempts to speak to him.
Says one source according to Daily Star: 'He's angry, hurt and upset and sick of people taking sides already,'
Continues the source:
"He's hoping to get two months to himself without Kristen around just to think things through. She has sent him messages asking him to hook up in New York for crisis talks next week, but he wants to be alone."
He may want to be alone but the general consensus is that Mr Pattinson is very much smitten and in love with the actress but her recent indiscretion has had to make him reconsider the tenure of their relationship and whether he could once again re embrace her despite crossing a certain line that Pattinson has publicly stated in the past: 'that he can not understand why two people in love cheat,' and how for him 'how unacceptable it is.'
Hardly the sentiments that Stewart wants to be hearing as she is forced to do some of her own self reckoning. Or unless as many in the blogosphere have speculated she is simply trying to save face and retain her career as the negative impact of her dalliance snowballs day by day.
And there is this little piece of information: "His best friend has asked her to move her stuff out of his LA home. She only moved in two months ago," 
Ouch!
Charlize Theron is furious with Kristen Stewart for having an affair with Rupert Sanders. Or is she?
Was Rupert Sanders fixated with the young ingenue Kristen Stewart because she reminded him of a young Liberty Ross ?
Heartbroken Robert Pattinson was getting ready to propose to cheating Kristen Stewart
Liberty Ross claims that she had to raise the kids all by herself, husband Rupert Sanders never there in the first place
Robert Pattinson humiliated moves out of house shared with Kristen Stewart after she is caught cheating on him.
Kristen Stewart begs her boyfriend Robert Pattinson to take her back after cheating on him
Twilight mega fan Emma Clark leaves a memorable youtube response to Kristen Stewart caught cheating on Robert Pattinson.
Did Kristen Stewart cheat on boyfriend Robert Pattinson with married director Rupert Sanders?