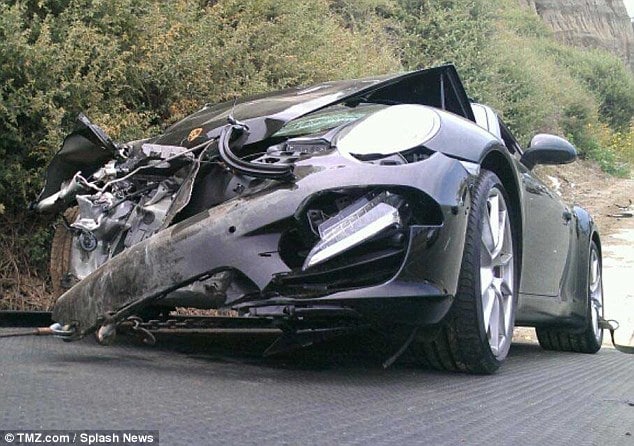 And she was getting so close…
Kids I have to confess that I was convinced Lindsay Lohan's bout of I down and out syndrome of being a permanent media whore was on the way out when that all changed when the chipmunks whispered into my ear early this evening that our collective train wreck was back at it again. Back at what you wonder? Crashing into life and anything of value, which is why we adore her, cause she's merely a reflection of our own shattered sense of self.
That said, let's hop into Lindsay Lohan's totally ruined Porsche and discover how this hawt mess came to be…
latimesblogs: Santa Monica police said no one was seriously injured in an accident that sent actress Lindsay Lohan to the hospital.
Officials said Lohan's Porsche collided with a dump truck Friday morning on Pacific Coast Highway.
"A preliminary investigation revealed that both vehicles were driving northbound on Pacific Coast Highway when the Porsche struck the rear end of the dump truck. Cause of the accident is under investigation," the department said in a statement.
Officials said it was not clear if Lohan was driving the Porsche.
When the paper man says no one was seriously injured technically they're right but really to be sure they're quite off the mark. Of course if you must know all of America went into a dizzy head spin with worry trying to figure out if our collective hero would make it out alive and on some level Lilo herself must be wondering if crashing Porsches is as a good career move as smashing champagne glasses against dance floors and people she doesn't like? Either way I suspect the crash will of course resurrect our waning love for our Lilo (let's admit it you were getting bored these last two weeks with no fist fights, missing diamond ear rings or chipped crack teeth to read about).
Lilo never mind we all believe in you. Just pick yourself up from the dirt and march back into the inferno that you so madly crave…
Lindsay Lohan car crash. Truck driver insists Lilo tried to bribe him.
Lindsay Lohan car crash. Insists paparazzi were chasing her.