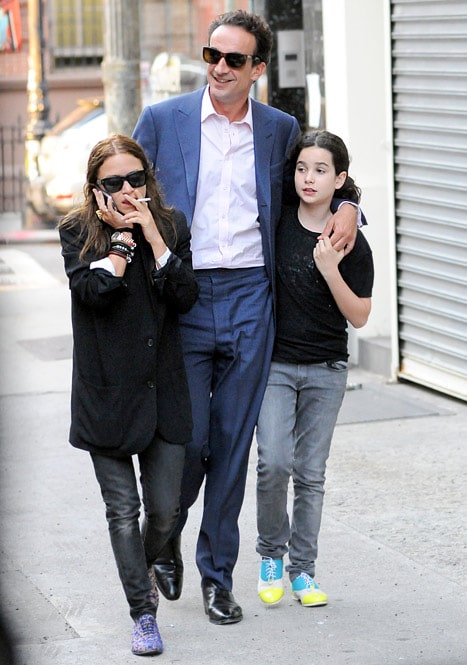 Kids, I want you to spend a few moments looking at the above picture taken of the above trio as they languidly stroll through the streets of NYC and then ask yourself this next thing. Which one exactly is Olivier Sarkozy's daughter? If you read the caption it says Olivier Sarkozy, Mary Kate Olsen and Olivier's 11 year daughter. But forgive me if I ask who's who?
Thus begins my intrigue into the dating choices of one elder man who apparently has a habit of dating dashing young ladies, even if we can't figure out if they're his daughter or not. But that's probably me reading too much into this shit and I'm sure deep down Olivier would be happy if his daughter were a few feet taller as she inevitably will be or would Olivier be happy if he was the one who was a few feet taller (c'mon admit it, girls like tall guys)?
Staring at the picture one also detects Mary Kate hardly hasn't a concern in her mind. Even as she drags on that Marlboro light (as if it was anyone else) one can sense Mary Kate thinking and perceiving a million things, each puff flourishing a few billion miniscule  new ideas.
What I also like about the picture is that both Mary Kate and Olivier are wearing sunglasses. It's not because of the sun or the paparazzi lurking them, but because they are transmitting telepathic signals to each other that only they understand. Olivier's little girl as one can clearly see is a bit too young to partake in such deep expression.
Finally what I like about the above picture is the way Mary Kate skulks in her anti establishment black retinue whilst of course dating a very pro establishment hedge fund capitalist (yes the oxymoron of that is making me cream sideways). But at least to Olivier's credit his suit is quite crisp and proper ( I bet fine silk bixches) and I don't see any poop stains on his shoes. Not yet anyway.
Mary-Kate Olsen emergency divorce from husband kicking her out of home
Oh my! Mary Kate Olsen's new boyfriend's ex disapproves of her.
Mary Kate Olsen a sleek brunette on account of new lover, Olivier Sarkozy?