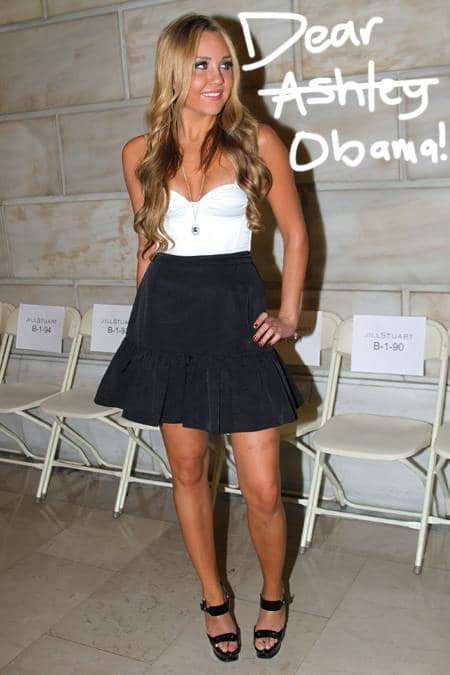 Amanda is the sweet silly drunk who thinks her pert smile will have us lap dancing for her mercy. Begging for presidential clemency will always wash away crocodile tears and other inconveniences….
Kids like you I'm going through my Blackberry 'cause my ass is worried that my teenage heart throb hero 'Amanda can drink them until the solar eclipse comes home' Bynes might be stuck with an injustice of the heinous sort. Which means it's time to reach to the top of the apple cherry pie and see who we can collectively get to fire the mean police officer who booked Amanda on DUI charges in the first place. Then after we've fired their sorry ass, we humiliate them, have Amanda gush and out of the sidewalk we have President Barack Obama (cause that's who I'd also want to call if my ass was busted sniffing too much of the good shit) run over to Amanda in tears cause that's the shit that will make audiences deep and wide weep.
mtv: Because he doesn't have enough to do as leader of the free world, actress Amanda Bynes would like President Obama to step in and rescue her from DUI charges.
The actress was arrested in Los Angeles in the early morning hours of April 6 on suspicion of misdemeanor driving under the influence after reportedly getting into a minor accident with a Los Angeles Police Department officer. The Los Angeles County Sheriff's Department report indicates that Bynes, who was last featured (quite wonderfully, it's worth noting) in Emma Stone's hit 2010 comedy "Easy A," was attempting to pass a police car as it prepared to make a right turn at around 3 a.m. in West Hollywood when her black BMW collided with the right rear panel of the police cruiser, causing minor damage to both vehicles.
On May 27 she tweeted, "I can't help but laugh at all of you writing fake stories about me. I was not in any hit and runs. I don't drink so the DUI is false."
Charges were officially filed yesterday (June 5), prompting Bynes to return to the social network last night to make a plea that the president save her from this injustice: "Hey @BarackObama… I don't drink. Please fire the cop who arrested me. I also don't hit and run. The end." 
Of course there's this inconvenient morsel to chew on as well…
The "What a Girl Wants" starlet is also charged with refusing a breathalyzer or blood-alcohol test.
Which leads to the obvious thing that loyal abiding citizens that care about the welfare of tortured self inflicted teenage heart throbs ought to do. Yes get out your blackberry and start texting your boy Barack Obama: 'Yo B, give my bixch a second chance, she's mad cool. Otherwise I ain't voting for you in December. You feelz me?
My hero Amanda Bynes accused of another hit and run.
Amanda Bynes would like to introduce hereself as the new trollop du jour
Why is Amanda Bynes announcing to the world she's quitting acting?