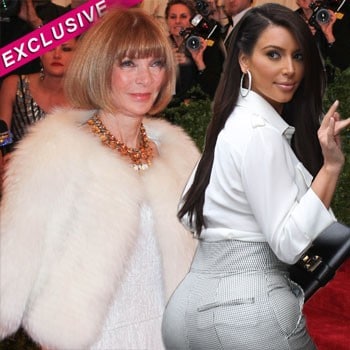 Kim Kardashian was gratis non personas at the Met cause Anna Wintourreckons KK isn't really a star in the first place…
Kids this morning me and the chipmunks are consoling each other in with wanton abandon with the realization that our favorite media whore KK was purposefully made to sit out this year's Met gala, all because Anna Wintour deemed the bixch unsuitable amongst the 'real stars' who actually happened to turn up Monday.
Seems Anna is stuck on some weird concept (yes I know KK, life doesn't always make sense to me either bixch…) that stardom has something to do with regal and class virtues and maybe just maybe having something to do with actually having some sort of virtue or talent. Of course who can begrudge KK for having the talent to outshine us all simply cause she has no talent? Not me. No siree. I WILL ALWAYS APLAUD THAT BIXCH UNTIL KINGDOM COME….
radaronline: "Anna hates Kim," a source says. "Why would she be invited to the event? It is all the biggest stars in the world and Kim doesn't fit that bill at all."
…
"The Met Gala is $25,000 a ticket, but Kim can't even buy her way in, Anna Wintour does NOT want her there!" the source says.
Kim and her very pregnant sister Kourtney Kardashian were snapped on Monday running errands in Los Angeles, and the source says she'll likely try and justify her absence.
"Kim and her camp will deny that she wasn't invited by saying that she had business in L.A., but that is a lie," the source says. "She would of done anything to be there with all the A-listers."
Couldn't even buy her way in? Kids, surely mommy Kris Jenner could have sent Anna a text: 'Please Anna let my useless fame seeker daughter attend your event, she promises not to upstage you or your precious friends until the first canapes have been served. ps- the bixch can hardly wait to grace your cover…Oh dear Anna if only you didn't have to be so jealous of my Kimbo.'
Never mind there will always be another Met Gala. Let's pray Anna finally comes to understand the cultural diety that KK really is.
Tom Brady would like to show off his new hairstyle courtesy of the Met.
Anja Rubik turns up to Met Ball wearing no underwear and her hip bones showing.
What is this monstrosity that Marc Jacobs wore at the Met Gala last night?
Jerking off with the Metropolitan Museum Gala Propaganda Committee