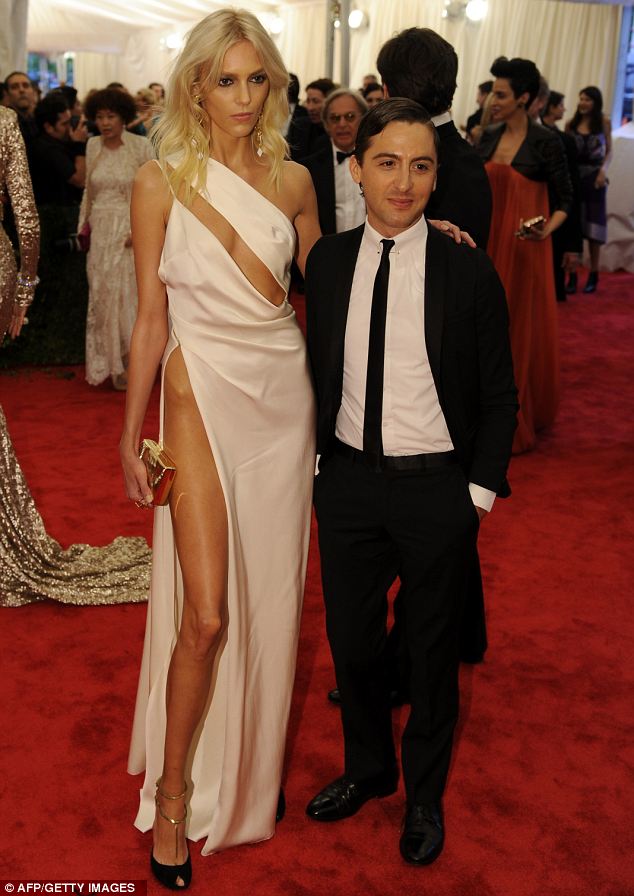 Is there any decorum left ?
Some might call it progressive fashion forward, others might just call it a tad excessive and lacking in any tact or grace. Others on the other hand might just call it another day at work for a pair of conniving media whores. Which brings us to the introduction of designer Anthony Vaccarello (who? that what I thought too) and his newcomer muse, Victoria's Secret model, Anja Rubik.
As she entered the pony show express that the Met Gala is so devoutly known for the hawt bixch apparently gave the camera boy and the fashion cognoscenti at large more than what they had bargained for with the slit of the side of her dress going beyond what had ever been dared in the presence of a mild May afternoon at the Met. Then again who cares what the Met thinks anyway…?
Normally the brouha would be cause for celebration, but I swear I could hear Anna Wintour pant and whine as she rolled her eyes over that side of the tent to see herself being upstaged by the 28 year old model who for some reason had mistaken actress Angelina Jolie's jutting slit thigh at this year's Academy Awards as permission to showcase her own scrawny bony hip bone. Never mine, the scrawny bixch made the world realize why she's a supermodel and why wearing underwear is certainly for amateurs.
But there was more too. Not only was there a gaping hole where the hip and pelvis bone connected there was a gaping hole that went diagonally across Anna Wintour's eye shaft, criss crossing in her venom bone before gently exiting down the slip of her stomach to the abyss before puking itself out in the lady's restroom.
Never mind, isn't it time you worked yourself to starvation so you too could show off your jutting collarbone, hip bone, pelvis bone and of course be the envy of the fashion world? Tall scare crows with high cheekbones and Eastern European surnames are primarily preferred….
Then again maybe it's all them overweight slobs who are chomping at the bit in outright jealousy?