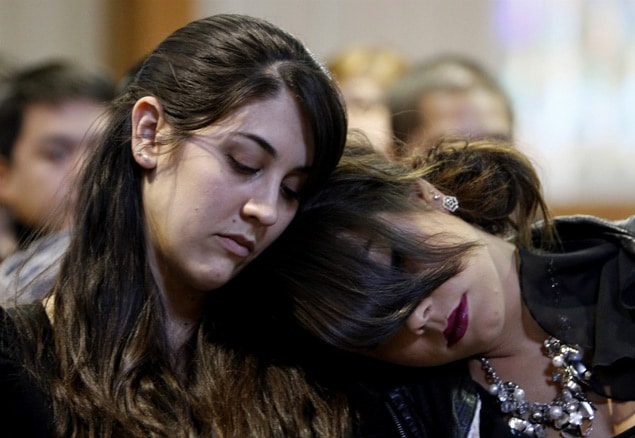 One Goh it has been reported couldn't stand the fact that he was one of the few males in what he perceived to be an almost all female school. This reasoning according to examiners might shed light why the gunman snapped and why when he did go back to the school Monday morning first on his hit list was a female administrator who as fate would have it that day did not show up to school…
According to one teacher at the school, Romie Delariman, she had this to say:
sfgate: a former construction worker with a string of debts but no criminal record that would keep him from buying a gun – was a good and eager student. But he added, "He just can't deal with women. … I always advised him, 'You go to school to learn, not to make friends.' "
The instructor said Goh was also "mentally unstable" and paranoid. He sometimes spoke of violence, saying he had picked fights with people on the street and had carried a gun with him for protection.
To date investigators have been able to piece that Goh had been apparently planning the attack for weeks. Having been unable to find the administrator he was looking for, Goh instead took a female student hostage and took her back to a classroom where he demanded students to line up against a wall before shooting dead 5 point blank on the spot and injuring 5 others, 2 of whom later died in the hospital.
With respect to pent up anger issues, the uk telegraph reports the following:
Goh had been expelled from Oikos University, a small 100-student religious education establishment, in January for "anger management" issues. He bought a semi-automatic pistol legally the following month. 
What preceded his anger is once again shed light by the telegraph in the life One Goh apparently led before having chosen to enroll at the school:
For most of the previous decade he had lived in Virginia, the state where a gunman killed 32 innocent people at the Virginia Tech campus in 2007. While in that state Goh incurred debts including $23,000 (£14,500) in unpaid taxes and $15,000 (£9,500) to banks.
After arriving in California to make a new start he described leaving behind a divorce, a daughter, and a failed building business in Virginia.
He found a job at an Asian food warehouse but was let go after four months for arguing with customers. His former employer said:
"Something inside went wrong. He was very angry all these years." The death of his war veteran brother in a road accident last year was said to have affected him deeply. 
What yet remains to be resolved is where the murder weapon is located as Goh has resisted telling investigators where the gun is. To date investigators have conducted a search along nearby marshes and have come up with nothing.
One Goh is being held without bail and is expected to be formally charged with first degree multiple murder today. Such are the reactions of one man finally imploding after a decade of silent rage…
(readers might find one of the videos particularly distressing….)
One Goh: "Get in line and I'm going to kill you all!"
Oikos University gunman identified as One Goh. Turned himself in at local Safeway store 5 miles from scene of crime.
Expelled student detained after shooting 7 dead and counting at Christian University.