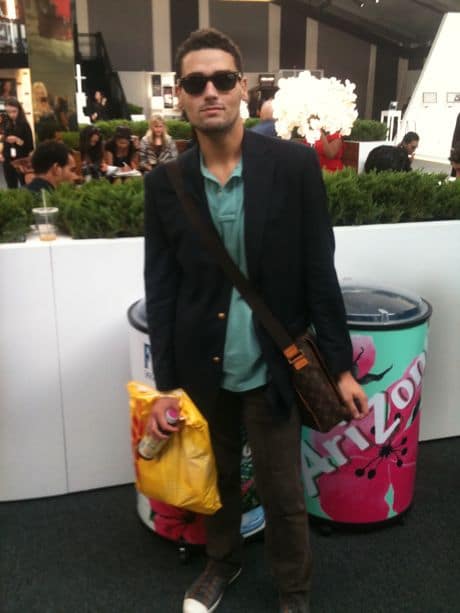 The woman sitting next to me is driving me nuts and as much as I want to back my jackhammer into her skull I pleasantly smile as she regales another insider fashion story. This if you must know is where us journalists sit at the press area sit and convene in between shows. Welcome to another enchanting episode of fashion week here in NYC.
Gossip item number one: According to chatter box to my left Daphne Guiness was a hawt sexy mess last night, and she should know cause they've been best friends since name dropping first went into vogue- some time after 2002 when the dogma of sex tapes for public consumption became a source of deep pride (especially if you had your own sex tape).
Gossip item number two: Fashion week is like summer camp, except better because you get to hang out with better dressed people. Hmm, who would have thought?
Gossip item number three: Our internet connections at the press booth sucks and I know this cause one of the journalists wont stop whining about it. Apparently we should all be mad with Alex from IMG for screwing internet connection. Of course it helps to have your own jack. But really who cares about fashion gossip anyway?
Gossip item number four: All the beautiful society people are still asleep and will not be turning up until sometime after midday. A cursory glance around the room has uncovered not one celebrity, socialite or discerning media whore genuinely nice people.
Gossip item number five: Everyone is well behaved. I have yet to witness a dirty look, a sneer or an obvious public denigration. I am betting that these things will begin to happen promptly once the beautiful society people manage to turn up later this afternoon.
Gossip item number six: The photographers in the pits are actually being friendly this year and have from cursory observation being remarkably well behaved. That too of course will change the minute Anna or some other fashion/media whore takes her rightful place by their front seat throne.
Gossip item number seven: Mean things were being said about the BCBG Maxazria by patrons as they were leaving the show. Something about the colors being bland and the cut outs were horrid and the gowns redundant.
Gossip item number eight: Peter Davis, turned up in a leopard polka dot shirt.Why you wonder? Cause when it's rainy it's his job to cheer the world up. What a hawt bixch.