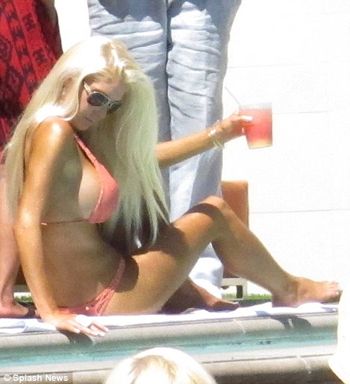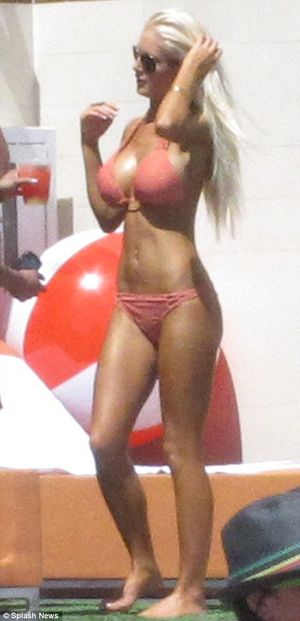 This summer Heidi Montag's abs will be able to repel a fury of pelting quarters.
dailymail.co.uk: She was already skinny, but reality TV star Heidi Montag claims to have recently shed 27 pounds by spending more time at the gym than most people spend at work.
In a new interview, Heidi, 24, says she spent the last two months exercising 14 hours a day to transform her figure.
Now Heidi, who had already radically changed her body with at least ten plastic surgeries, appears to finally be satisfied with the way she looks.
Kids let be honest, like the chipmunks we keep around for motivational stimulation, you too must be smacking your oversized hands in absolute glee. After all, life without a shiny, spanking media whore makes Jack and Jacky a very dull couple indeed.
Reflects our collective trophy laureate:
I've been working out from, like, 5 a.m. to 7 p.m. for two months now,' she told US Magazine.
At her heaviest, 5'2′ reality TV star said she weighed 130 pounds, but felt needed to drastically trim down.
'I've been running a lot, and I've been doing weights,' she said.
Kids, I have a confession. At my heaviest I was downing two sixpacks of that Italian beer – 'Misery Me,' like my life depended on it. But ever since the chipmunks and I got a whiff that Heidi was on a new health kick we've switched over to Synthetic beer drops. The longer you suck on the bit, the less phony it tastes.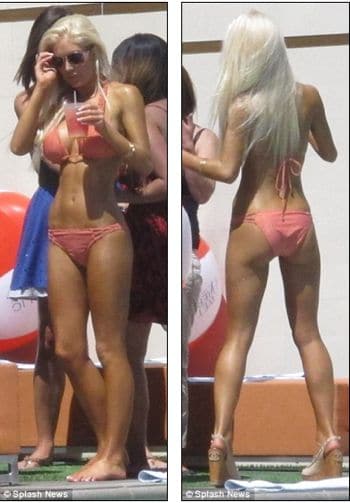 Although it's curious how much she was really able to run with her self proclaimed 'E or F' cup breasts, which would obviously make intense physical exercise difficult.
Heidi has previously admitted to getting breast enlargement surgery along with a nose job, chin jobs, an eyebrow lift, fat injections and other surgeries.
Still, she felt she needed to lose weight to achieve a perfect bikini body.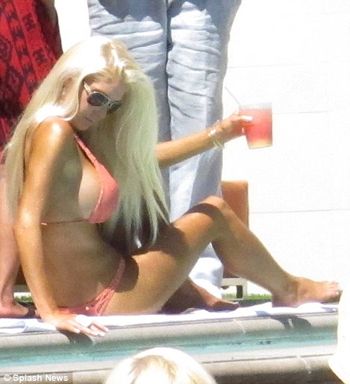 One day when Heidi notices the stretch marks on her pink bikini she will momentarily wince and tremble before sliding the silly thing along one of  her favorite body parts until it too resembles a rigid figment of her imagination.
Shouldn't you be an omnipresent media whore too?
HEIDI MONTAG NOW FEARS HER NOSE MAY FALL OFF.
Karissa Shannon on the Montag Tape
Heidi Montag is now Desperate to Have Her G-Sized Breast Implants Removed
The Heidi Montag and Spencer Pratt made to order 'sex tape' farce is finally here.
Heidi Montag's Plastic Surgeon Dr Frank Ryan is killed.
Study says teens hooked to reality Tv more likely to get plastic surgery.
Spencer Stealing Heidi's Money & Spending it on a New Lady?