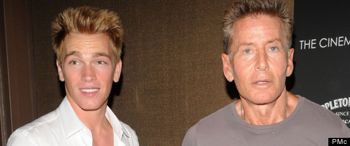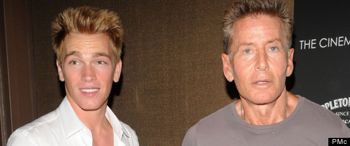 How fame and connections suddenly went to Nick's head.
Woe to be a famous boy toy and not treated with kid gloves.
Huffingtonpost: Vice President of Marketing for Playgirl Daniel Nardicio told Musto that once upon a time he contacted Gruber to pose for the magazine, and Gruber agreed — as long as he'd be on the cover. But then Gruber started playing hard to get. Nardicio recounts, "Finally, in frustration I texted [Gruber] to forget it, and he came back with 'You only want me because of my fame, so you can go fuck yourself.'"
Kids, are you blushing under your bedtime covers? But the cat fight only got worse:
Then Nardicio essentially told Gruber he was just Klein's flavor of the week (using more graphic terms), to which Gruber replied, "Calvin is my partner — you don't understand because you don't have that."
Oops, did I just spill a barrel of sticky tartare sauce on your shoes? Here let me help you take those shoes off with my delicious cold glare bxtch' Which is backhand for 'I'm never gonna be your best friend girlfriend and you can forget about my pretty ass making it on your cover.'
And in case you're still looking for more tartar sauce to dip your fries into, there's this:
styleite : "He added, 'I am famous now, and people want me for my fame, and you should be careful 'cause of the people I know and what they could do to you.'"
Kids- the moral of the story: 'If you're going to be a super star's rejuvenated clone and kept fantasy be in the public eye at least have the temerity to recognize it and if it doesn't agree with you then at least let zealous editor in chiefs hang themselves in some latrine, before you end up hanging yourself in the latrine next door too.
CALVIN KLEIN: AMERICAN CALIGULA OF THE FASHIONABLE ELITE?