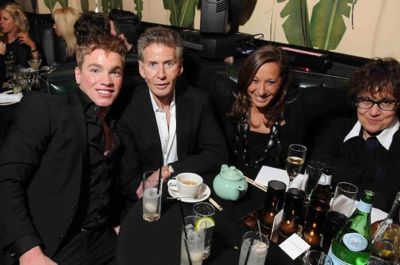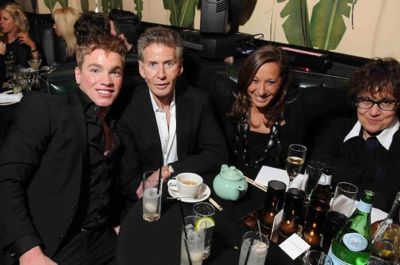 The following piece comes courtesy of Christopher London, whose blog christopherlondonblog.com is a must read.
New York City's 'gay and fashionable elite' came to pay homage and worship at the throne of a nearly seventy (70) year old  man's display of love or love of sex with a Porno-riffic 21 year old by the name of Nick Gruber.  Legendary fashion designer,  Mr. Calvin Klein, the founder of Calvin Klein, Inc., who is in terms of full disclosure, actually only '68′ years old, threw an exclusive party in honor of his love child's birthday last Friday evening at Indochineon Lafayette Street in Soho. The 'Velvet Mafia' were all invited and apparently in attendance.   When I read the reports on Page Six, AVENUEInsider, Michael Musto's column in the Village Voiceand The Huffington Post, I was not sure if this was "Society News" or reports of a scene out of a Bob Guccione & Penthouse Magazine Production of  CALIGULA during 'the decline and  fall of the American Empire.' The affair or porn party even received a dubious shot out from the La Dolce Musto who suggested that 'Calvin Klein, Go Back in  the Closet.' Dubious perhaps because one can only wonder whether Musto's vinegar, as stated by an anonymous friend,  is due to the fact that he can no longer get the young boys for himself.  Sugar Daddy's have to actually have some sugar to dispense.
In fairness  to Calvin Caligula, err Klein, and in the interests of not subjecting him to double standards, the 84 year old 'humanist' and  Playboy Magazine magnate Hugh Hefner recently announced his engagement to his girlfriend, the 24 year old Crystal Harris.  Few batted an eyelash if only because he agreed to marry and share his bedroom (and a his bowl fulls of Viagra) with only one woman, rather than grubbing many (see: Bunny Tales by Izabella St. James) , and that even made Holly Madison, well sort of,  angry.
And say what you will about the vampire like (did CKNY literally have his blood washed/replaced to maintain youth or find another means to avert, treat or cure his rumored contraction of and fight against AIDS which decimated the industry in the 1980's?)  Calvin Klein's indulgence in unbridled youth; his homo-eroticism has long been on display in broad day light from Soho to Times Square. Klein's art has literally mimicked his life vs. the double life, lived mostly overseas, of America's favorite capitalist, Malcolm Forbeswho was outed by journalist Michelangelo Signorile.  Donald Trumpeven claimed that he once had Mr. Forbes thrown out of Plaza Hotel Bar because he was there with underage boys.  Nor does Calvin Klein's conduct compare with the Conspiracy of Silence of the Franklin Sex Scandal and Boys Town which tracked up to thehighest levels of government.  It's not like Calvin Klein had male escort/journalist,  Jeff Gannon in the White House.  Nevertheless, the 'hedonistic vulgarity' of  CKNY, not to be confused with DKNY, seems to have rubbed many the wrong way.
Calvin's elite friends were there perhaps to celebrate that fashion'sCaligula could publicly profess his man love for a boy who is finally able to drink legally some place other than Calvin Klein's home.  I can only say 'perhaps' because these are generally not the  type of parties I am regularly asked to cover.  When I want to be around people half my age and operate under the illusion that they are actually interested in me, I would go to Penthouse Executive Club, not host a Society birthday bash and invite the 2o year old I paid to have sex with me, even if bought her dinner at Robert's Steakhouse, Smith & Wollensky or Babbo.  Ah, but love is in the air, the fashionable elite in New York City, what a rather soulful and joyous crowd.  Let us look for more spiritual guidance from this class of elites to guide the evolution of our society, shall we?  The world is literally going 'to hell in hand basket' but rest assured my friends that the fashionable elite will advise you of the appropriate hand basket to accessorize in style for the revolution from their table at Michael's (personally I prefer Fresco by Scotto)  as well as provide useful instruction on how to 'rearrange the chairs on the Titanic' while they all play with young boys.
"Is it art or is it pornography? (or simply art-porn) No rumor can match the reality"