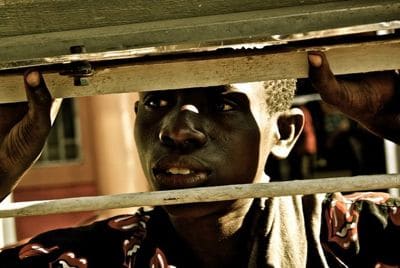 It's almost been a year since Haiti was forced to reckon with a devastating earthquake that capitulated the country into complete demise. In it's wake it left over 230 000 dead, in a single day, public services such as education, electricity cut off and countless buildings in a perpetual state of disrepair. A situation that sadly has not changed despite the public outpouring of help and the passing of time.
Even more horrifically perhaps lie deceased individuals who to this very day still lie under the rubble that fell on them almost a year later, as locals live in makeshift tents-tents which paradoxically afforded them better dwelling than prior to the earthquake- if that is something you can wrap your mind around….
A year later, Alexa Winner, our coveted 'it' girl went down to see for herself with the humanitarian foundation 'Wings over Haiti,' how much has changed and what actually transpired between the earthquake a year ago and now, and to begin to appreciate why this may be the case. To hear her tell me- " It appeared as if the earthquake happened just yesterday," wasn't necessarily the most inspiring thing I was hoping to hear. 
Yet in the face of corruption, a continual exploitation of the perceived 'lower classes' and the disappointing honoring of pledges to help victims to date, Ms Winner did come back with some hopeful observations and most telling the spirit of people, specifically children who refuse to yield to dissonance. Yet one could argue that is the plight of mankind- 'to champion and move forward beyond that which unnerves us and paradoxically beguiles us. It is after our lot…" 
We trust you enjoy her compelling entree to a delicate situation that says as much about disaster, fate, humanity and civilization in the third world as much as it says about our reaction and culpability in the modern world – circa 2011.
We've taken the liberty of taking Alexa Winner's article – 'Love it or Haiti it'  out of her blog –somegirlsarebornwinners.blogspot.com and reproduced in full below. We trust it beguiles and equally inspires you, as much as it has for us here at Scallywagandvagabond.com
Scallywag- The Editor.
Please turn to the next page for her journey.