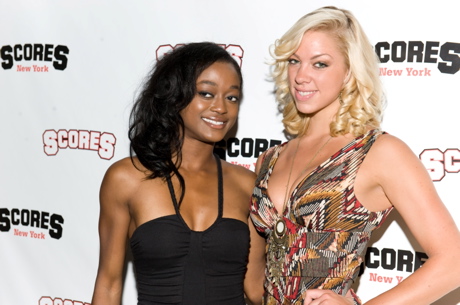 "You know, there's a huge difference between strippers and prostitutes. Strippers entice—they sell sexuality. Prostitutes sell sex." -(Lynn, Score's newest dancer).
Scores Club celebrated their first birthday last night, with Damon Dash, Damon "Boogie" Dash Jr.—the event's guest DJ, Danielle Staub, Joe Francis and Noel Ashman among 100 gorgeous models handpicked at three different casting. Flown in, 25 of them graced the clubs corridors, making it the most dancers the club has ever had in one night.
Scores Club underwent 10 million dollar renovations and reopened last year as Chelsea's premier gentlemen's club. It is a 10,000 square foot facility providing adult entertainment, seating, lap dances and drinks for over 500 guests at a given time.
Though shocked by the level of exposure revealed, in excess—I'd accepted the debauchery only after a couple of drinks and blended in only after more 'normal' people began overpopulating the busty, bare-bellied gypsy costumed models. Intense cleavage, bare backs, midriffs, glitter and styled hair were the identifiable traits of the model dancers;