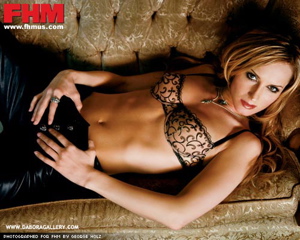 Why it's a bitch to be a closet lesbian.
Chely Wright has been suffering all these years and she finally wants you to know about her pain. Call it clever marketing, profiling or just shameless self promotion, but in Chely's case every little frayed nerve goes a long way in having her fan base love her that extra inch. So without further ado, let's find out what's been troubling the new lesbian on the block.
Reports Pop eater;
Newly out-of-the-closet Chely Wright says she has "cried a million times" about hurting fellow country singer and one-time boyfriend Brad Paisley.
In excerpts from her new book printed in People magazine, the country star — who came out as a lesbian — says an unknowing Paisley was a victim of her sexuality secret.
"I have not been ashamed of myself often," she says in the book excerpts, "but I am ashamed of myself for choosing to be so cruel to another human being."
Can someone please fed ex us a ton of waterproof tissues, because the condensed tears gushing down our cheeks is beginning to blur our vision. In the meantime we applaud Chely for coming out with her horrible secret, even if we are required to dig through our piggy bank to read about it. After all there is only so many things we can cry for…