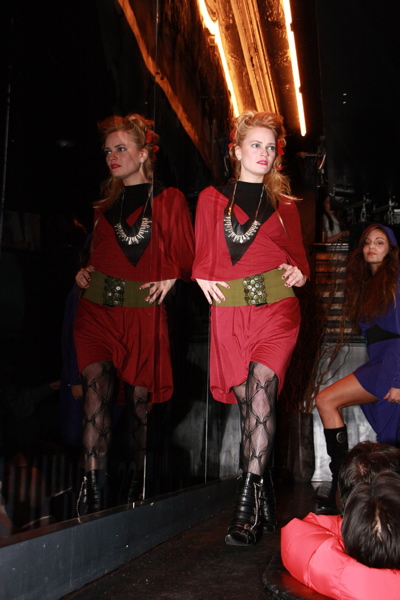 Young and only recently graduated, Hillary Flowers has invented the runways in clubs all over Manhattan. Amnesia and Club Home in the past, she organized yet another pre-fashion week show at Club Roam on 19th street this past Friday. Artists, socialites, and clubbers alike assemble at the open bar, mingled then stood anxiously as the show commenced by the stroke of midnight.
Fall 2010 collection—consisting mostly of dresses, accessories and ribbon-woven up does—exhibited Flower's use of bold patterns, colors and modification. The designer herself initiated the show by appearing in a simple burgundy wrap dress, knee high boots and a plethora of hair-arm- and neck accessories. Followed by a psychedelic patterned orange- brown-hooded cloak the model indiscreetly opened to expose the gold bathing suit (or dance leotard) —variations of each dress would succeed the original version.
Autumn colored splatters decorating white fabrics of varying tactility, were cut into the most beautiful designs—one-shoulder strapped, high collared, A-lined. An Egyptian sari– Safari dress collared with clusters of wooden beads followed by a white mesh wrap dress that exposed a metallic silvery leotard signified the multi-tasking, everyday busy woman. A cross-stitched one shouldered long dress was a lovely, glamorous addition to the casual re-interpretations of classic vintage wear.