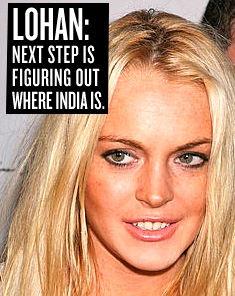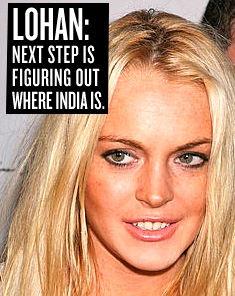 Escaping your tainted public image.
It seems Lilo has decided enough is enough and it's time to give herself a rest from being the consummate media whore and enfant terrible by physically removing herself from the terrible places that she secretly adores- coke dens, bodegas that steal her Blackberry, fancy boutiques and the local rehab centers.
Reports trash gossip journal the NY Post:
Lindsay Lohan is ditching all the drama of her on/off fling with Samantha Ronson and her love/hate relationship with dad Michael and flying off to India to work with children. Sources tell Page Six that Lohan is heading to the subcontinent today to film a documentary with the BBC about impoverished kids. An insider said, "She is excited about escaping the drama of LA and doing something real."
Real? What does that word mean? Does that suggest Lilo has been living a fake incidental life all along? How did we not notice? And why were we so consumed? Is the visage of a blonde once red head from Disney strangling herself metaphorically such a collective turn on?
In any event we're sure Lilo will think of something to upset the Indian authorities, like maybe steal some undernourished Indian kid's crack pipe. In any event we're glad Lilo is heading out to India cause we think the world ought to give someone else a chance to become a self destructive media whore too.