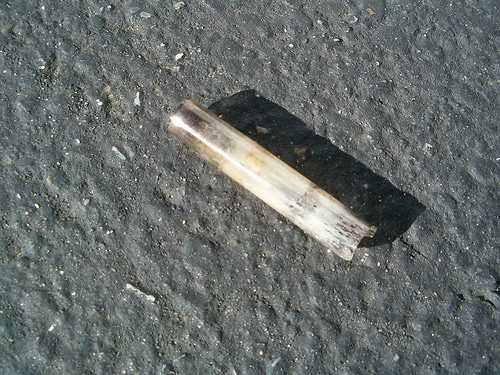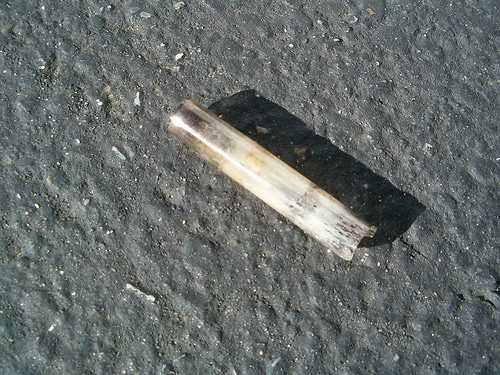 An unidentified Brooklyn woman who was mortally run over by a bus had a crack pipe in her bra report cops.
The woman's death reports the nydailynews came as she attempted to retrieve a dropped cellphone as she alighted the rear of the bus earlier this week on route B44. The woman's demise told horrified witnesses came as the bus pulled away from the curb, unwittingly trapping the woman, described to be Hispanic and in her 50's under the rear right wheels.
Making identification of the woman's body nearly impossible was the fact that the woman's head was crushed beyond recognition as well as the fact she was not carrying any identification on her person at the time of the accident.
An attempt to retrieve the woman's identity by the contents of her phone would also prove to be insurmountable as the cellphone was smashed beyond pieces.
Told an eyewitness, Benjamin Bolden: 'Her body was trembling, and blood was spurting everywhere and I knew she was gone.' 
Offered another witness, Kindu Allen: 'You know how it feels like to watch someone's head explode and brains splatter? I'm traumatized.'
Other witnesses would also tell that the woman had been implored not to go under the bus to retrieve her phone before it was too late.
Perhaps in an effort to help investigators mark the woman's identity and her next of kin, cops would report that the woman's body was marked by a series of tattoos, including a star on her back, a bird on her left foot and the words 'Mr Right' on her wrist and footprints on her back along with a crack pipe in her bra.
It is not necessarily understood if the woman had sought to retrieve her dropped cellphone because she had pressing engagements or valued numbers in her possession.
The driver of the bus, James Maxwell who is reported to have been on the job for 23 years would tell cops he didn't see the woman as he continued navigating the bus along Bedstuy for a quarter of a mile before told of the untimely death of a passenger.
A source would add that the MTA veteran driver was 'devastated with sorrow' and had to be treated at a nearby hospital.
No charges are expected against the driver as no one has yet come to claim the woman's body.