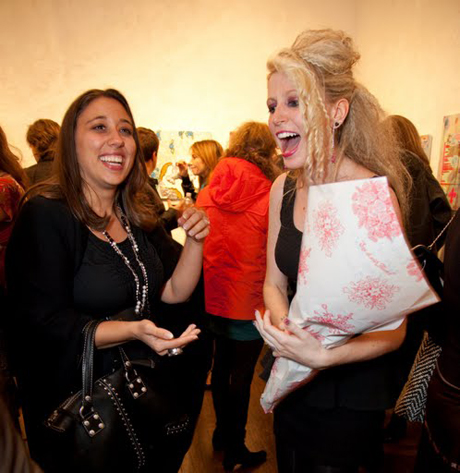 She makes art like cupcakes. Or like personalized M & Ms that come in pink and red only. Both being, of course, equally the colors of lust, sex and gentle waves of femininity. Cavity inducing. Tastes so good it hurts.

Where in this pre/post/menopausal/menstrual feminist recycle of an art scene do babies come from? Are they dropped from storks? Do they fly on the wings of photographers?
Since when is femininity removed from sexuality? Damn it, Amanda wants to know. She is half ingénue with pink, pleading eyes, half Law & Order SVU victim, looking to redeem herself but assuage us all.

Precious Things, Amanda's solo show at the Ward-Nasse gallery tastes like a cupcake, fed to you by an angel, dripping blood out of plucked teeth, plier-pulled mouth.
Eat just one.
There were tethered babies with umbilical cord necklaces and necklaces with galloping horses, dripping sugar plum fantasies across a vagina-pink background of soft pastels. Bubble-gum, cotton-candy, tootsy-roll.
It was one idea too far to be wrong but close enough not to deserve the media frenzy that so often debuts.
Amanda Dolan is the hyper-sexualized artistic rendering of a childhood turned too immediate. She wants to straddle her gift pony until it nuzzles against her sweet thighs and hops over the rules.
Her work makes you laugh, uncomfortably. While it seduces. You wonder if you should feel for her. But ultimately you feel for yourself…