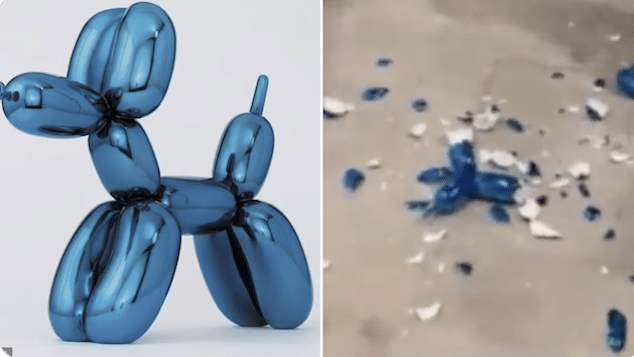 Jeff Koons $42K balloon dog sculpture accidentally broken by curious art collector at a Miami gallery re-ignites question of what constitutes art and how does one value it? 
'Art is what you can get away with.' – Andy Warhol.
The accidental shattering of Jeff Koons 'balloon dog' sculpture, valued at at $42K in Miami has led to art enthusiasts once again grappling with the age old questions, what is art and what exactly is it worth?
The incident happened as a female art collector was admiring the world renowned artist's 'Balloon Dog' sculpture, when curious to find out if the the 15 inch piece was actually a balloon or not, tapped it only to 'accidentally' knock it over and shattering it on the floor at the Art Wynwood gallery in Miami, Florida, Thursday night.
The smashed porcelain sculpture was a miniature version of Koons' famed 12-foot-tall Balloon Dog sculpture that's made out of mirror-polished stainless steel and on display in Los Angeles the Miami Herald reported.
Koons has created a series of the canines between 1994 and 2000 in a variety of colors, sizes and material. The sculptures which have become a hit in the art world, led to one collector shelling out $58.4 million for a massive orange dog in 2013. 
Enough to give you an art attack! Collector shatters $42,000 Jeff Koons dog sculpture at Miami art fair after she tapped it to see if it was a BALLOON and knocked it off stand. https://t.co/TjF9UhbqJZ pic.twitter.com/vS3YDd5N57

— Molly Ploofkins™ (@Mollyploofkins) February 18, 2023
Defining art & its value
Fortunately for the woman, the piece was insured and she wasn't required to pay for the damages. Nevertheless, the broken sculpture, which some suggested was now worth more broken (only to be quickly swept up and discarded in the trash … alas) re-ignited the fraught discussion, 'so what exactly counts for art and how does one actually value it?'
Of note, another porcelain Balloon Dog smashed to bits in 2016, with Koons telling Page Six at the time, it mattered little to him.
'It's a shame when anything like that happens but, you know, it's just a porcelain plate,' the former stock broker and uber multi-millionaire said. 'We're really lucky when it's just objects that get broken, when there's little accidents like that, because that can be replaced.'
Of course a porcelain plate to some, a stretched canvas with acrylic art or oils, but to many the world over, an enigma, a feeling, an emotion, a seminal moment and realization at a particular time. Bid up and collected and treated like a blue chip investment. Or a broken discarded piece should it ever smash to the floor.