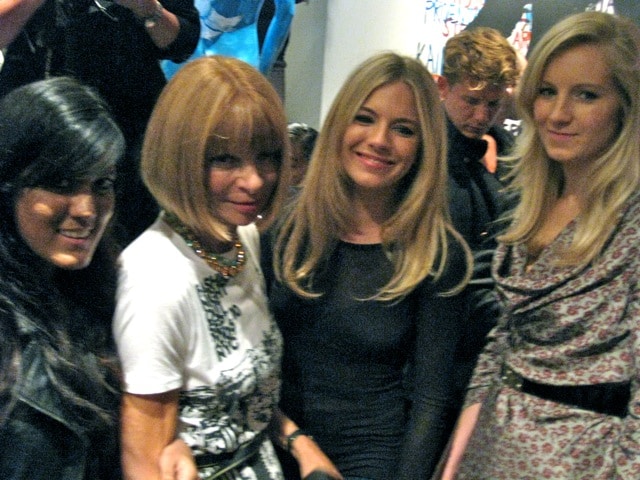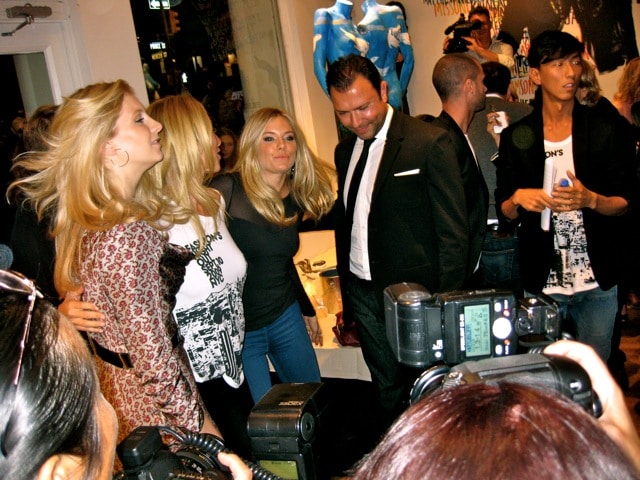 The best way to describe an orgy of fashion, music, and sexy people, is my new guilty pleasure Fashion's Night out in New York city. Do you understand the kind of pressure you become under when there's that many parties going on at the same time. It was like Woodstock for fashion in the streets near the Meat Packing District. I had such a good time,  I ended up loosing blood from a women's purse with way too many rhinestones, getting propositioned by a group of cougars in the Prada store and almost making 50 bucks because this group of girls just wanted to roll with us. 
Pandemonium and a endless amounts of chardonnay lined the street shops that were breathing with the influx of people coming in and out! Not all stores had the attention I'm sure they wanted but had their doors open anyway because of the amounts of people in the streets in the name of fashion. The point was to promote people to spend money despite the recession.  Great food and star service was all in good faith for the economy of New york city's fashion industry. Vera Wang said, "To put it bluntly, if people don't shop, people lose their jobs."
The Helmut Lang store had the best hors d'oeuvres and the cutest staff. Mackage was giving blowouts and Style tips with Phillip Bloch. The Tory Burch Store was off the chain playing Snoop dogg as I walked up with barbecued corn, Corona's and women all over the place buying bags. Running into Russel Simmons randomly walking across the street as we're coming from taking pictures with Steet peeper. Made the cab ride into the second part of the night where The Channel store played with my emotions giving out tonic waters. Jonell Monae was at Dior giving away albums, Lilo was I later heard through Keith our photographer hanging at Ungaro, but I guess we all know that story now and then we went to Intermix. 
Oh my God…that's when things really went off the hook…
As we're walking into INTERMIX, some random group of girls reach over and start begging us to take them in with the Scallywag crew, seeing as everything had become a fortress of getting in and out. Momentarily caught off guard one of the girls then takes out a $50 note and starts pleading with me. No sooner has she started pleading the giant bouncer standing between us and the rest of the free world pushes back the velvet rope forever leaving the drowning members of the imaginary Titanic thrashing wildly for last rites… 
Click here to go to Scallywag's Photo Gallery