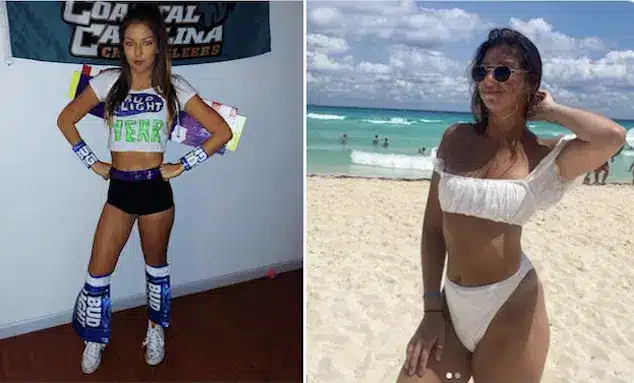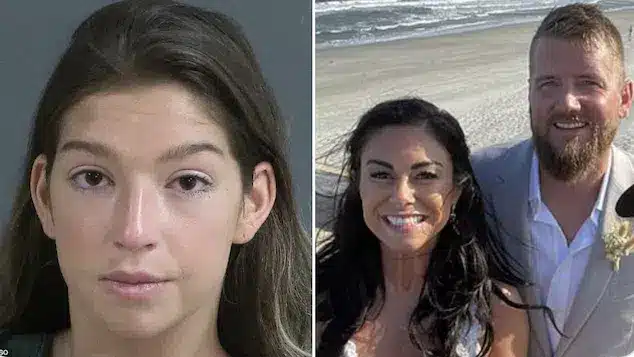 Jamie Lee Komoroski jailhouse log conversations released as DUI driver who killed newly married bride complains her life is ruined and that she wants it to be over. 
'I'm not a bad person!' A new report has described an accused drunk driver of fatally mowing down newly married bride, hours after her wedding, of complaining how her 'whole life is going to be over' as she sat in a South Carolina jail.
Jamie Lee Komoroski, questioned why 'this was happening to me' during conversations with her parents and friends, according to jailhouse recordings obtained by the Post and Courier.
The 25-year-old, accused of killing newly married woman, Samantha Hutchinson, 34, on April 28, when she crashed into the golf cart the newlywed was riding in following her Folly Beach wedding reception last month, was apparently inconsolable while on the phone with her parents.
'I want it to be over.'
'I can't believe this is my life and my whole life is going to be over,' she reportedly said as she cried. 'Oh my God. I just can't believe this happened to me. Why me? I'm going to be here for years and years and years and years.'
After her father instructed her to 'suck it up' and 'get tough,' she replied: 'I can't. I want it to be over.'
Jamie Komoroski is facing three charges of felony DUI resulting in great bodily injury or death and a count of reckless homicide.
She's accused of drunkenly ramming her rented Toyota Camry into the slow-moving golf cart that was also carrying Samantha's new husband, Aric Hutchinson, and two other passengers.
Komoroski — who smelled of alcohol but refused a field sobriety test — was going about 40 mph over the 25-mph speed limit before she barreled into the golf cart, police said.
In the immediate aftermath of the deadly crash, Komoroski according to responding cops insisted, 'she did nothing wrong.'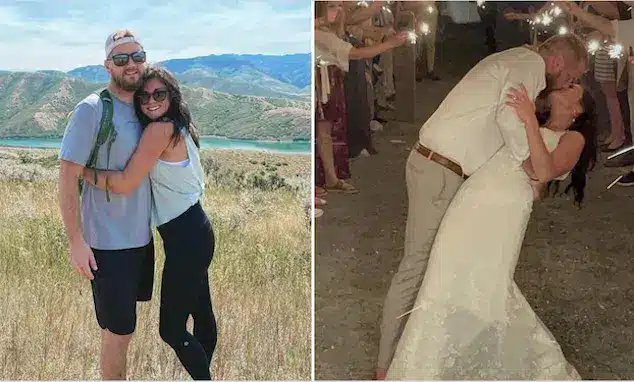 Civil lawsuit filed
Aric Hutchinson, who was seriously injured in the crash, has filed a civil lawsuit against her and the bars that allegedly over- served her. Komoroski has maintained that she only had two drinks prior to the crash, a shot of tequila and one beer an hour prior to the crash. 
When police arrived at the crash scene, Komoroski was observed smelling of alcohol, with the woman estimating to officers that her rate of impairment was an 8 on a scale of one to 10, according to the police documents obtained by WCBD.
Following the crash, Komoroski arrived at the county jail with bloodshot eyes and reeking of alcohol, the Post and Courier reported, citing detention center logs.
She reportedly even banged her head on a nurse's desk when she was denied the use of a phone.
After she was put in a restraint chair, she continued to smack her head as she sobbed, according to the log.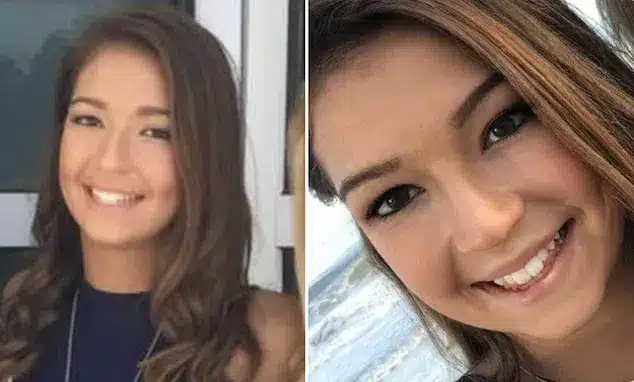 'freak accident obviously' 
In the days following the crash, loved ones tried to be supportive of Komoroski.
'You don't need to be sorry, Jamie, this is what happened and we're going to take care of it,' her father said in a phone call, according to the newspaper. 'We don't care about what happened. We don't care. We care only about you.'
When talking with her boyfriend and other friends on May 2, Komoroski expressed remorse and worried people would think she's a bad person.
She reportedly gave her boyfriend permission to leave her.
At times, she appeared more optimistic about her future, predicting she would not serve any prison time because the crash was an accident.
She also said she was told by other inmates she would get out on bond while awaiting trial, according to the recordings.
'There's been people that have, like, killed people on purpose before and, like, they've gotten out on a bond,' she reportedly told her friends while warning them to not be 'stupid like I was because all it takes is one time.'
Komoroski remains behind bars without bail as she awaits trial and has since been placed on suicide watch. 
She called the crash a 'freak accident obviously.'
'I didn't mean it to happen,' she said according to jail logs. 'I just feel like a terrible person, like, I didn't mean for any of that to happen.'
She later told her parents she hopes the judge knows 'how regretful and remorseful I am, and that I'm not a bad person and that I'll never do anything bad again.'
Her father warned her to keep quiet about the crash because all her communications were recorded.
'But I wanted to make sure that I could say an apology and they said I would be able to say an apology,' she said, to which he replied, 'Listen, stop talking about it.'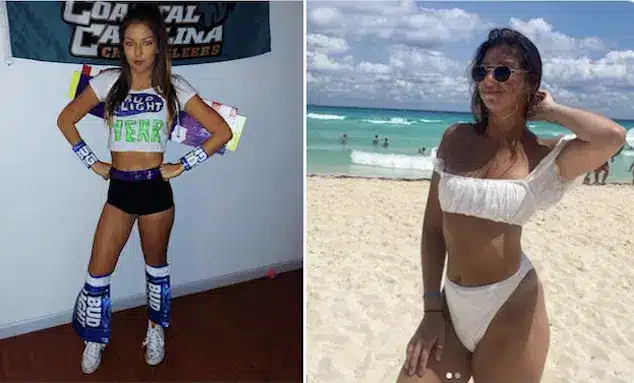 Unrepentant villain? 
Her father in another phone call told her while he thought she would get less than 15 years in prison, he cautioned 'you're going to have to do time,' the Post and Courier reported.
Komoroski's lawyers on Friday filed a motion to get her released on $100,000 bond, on the condition she would attend and complete an inpatient rehabilitation program, WCIV reported.
After the program, her legal team said she would live with her mother in New Jersey, where she is from, and not have access to alcohol or a vehicle, the outlet reported.
Lawyers Christopher Gramiccioni and Nathan Williams also insisted some media reports have painted their client as an 'unrepentant villain who ostensibly had a history of partying behavior, extrapolated from handpicked photographs posted to social accounts appearing to depict the accused attending a Halloween party or socializing with friends while in college.'
If Komoroski was not allowed to live in New Jersey, her mother was willing to live in South Carolina before the trial and watch over her daughter, her lawyers said.
They said she is not a danger to the community if released on bond. 
The attorneys said the statements Komoroski made in jailhouse conversations are those 'of a distraught young woman.'
'She was seeking guidance and support from her family, as many daughters do,' they told The Post and Courier.