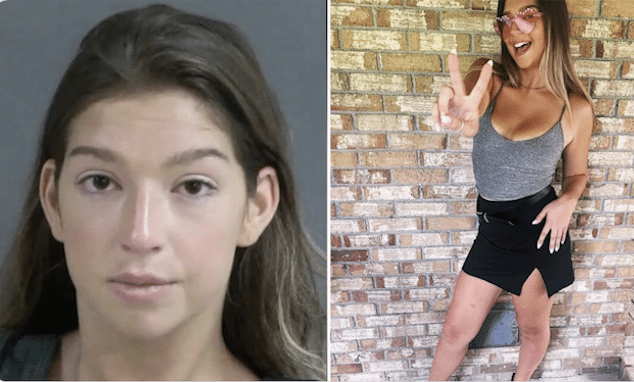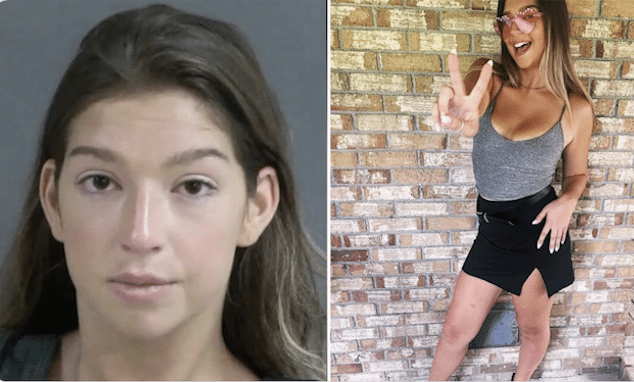 Jamie Komoroski drank at 4 bars before killing newly wed bride, Samantha Hutchinson as she slurred and staggered during her evening of self destruction. 
A new report has told of Jamie Lee Komoroski, the South Carolina woman accused of drunk driving her vehicle into a newly wed couple on their wedding night and fatally killing the bride, 'staggering and slurring' through no less than 4 bars in the immediate hours prior to last month's tragedy.
Aric Hutchinson, 36 and Samantha Hutchinson, 34, had just left their bridal celebrations and were driving a golf cart when they crossed the path with Jamie Komoroski on the evening of April 28, when the DUI driver slammed into them.
On that fateful evening, Komoroski, 25, had started her drinking spree at 'El Gallo Bar & Grill' a small roadside establishment near Daniel's Island some 25 miles and a 40-minute drive away from the couple's Folley Beach reception.
Jamie Komoroski evening of drinking and self destruction
From El Gallo, Komoroski according to the dailymail headed to Folly Beach's Center Street. The heart of the quaint South Carolina beach front town, it is peppered with stores selling flip flops, T-shirts, souvenirs and surf gear as well as bars and restaurants, many casually opened onto the street.
Places like the Drop Inn, a hole in the wall surfing bar, The Crab Shack just a few steps across the street and Snapper Jacks, a yard or two further on.
The bars are just feet from each other – a 'staggering' walk along Folly Beach's main drag for Komoroski, who visited all four venues that night according to Hutchinson's lawyers.
The grieving groom filed a wrongful death lawsuit filed last week against Komoroski and a host of establishments in which she drank on April 28. According to the suit she was drinking with colleagues and a supervisor from her new job.
Part of the culture of the restaurant, as alleged by the suit, was that 'getting the most and/or best work shifts and/ or hours, getting the best tables for the best tips, etc' was 'at least implicitly conditioned upon' getting on well with management who organized nights which included 'the consumption of alcohol.'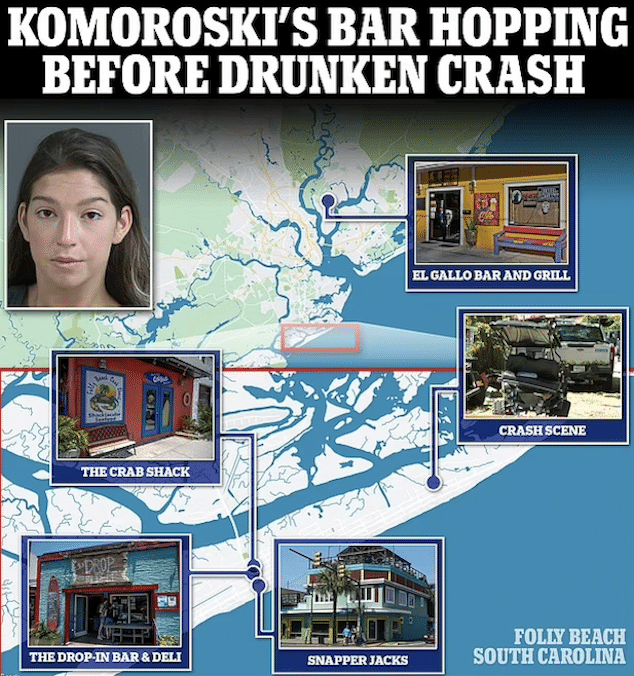 Wrongful death lawsuit sheds new revelations
After drinking at the Drop Inn, Komoroski made her way to the Crab Shack across the road.
At Crab Shack she could have knocked back seven-dollar cocktails and frozen rum-based concoctions like the 'Crazy Colada' or a banana, strawberry, peach or lime, 'Shackaiquiri.' Instead, she allegedly stuck to beer and tequila shots before heading on into the evening.
She didn't get far. A handful of steps along the street she stopped into Snapper Jacks.
The joint offers tacos and tequila-based cocktails served up in vast 'Fishbowls.'
According to Hutchinson's lawsuit, Komoroski kept going and kept drinking. She 'slurred and staggered her way through each of these bars,' drinking beer, tequila shots, and 'shift shots' of liquors on the house until, by the end of the night, she was 'grossly and dangerously intoxicated'. 
Around the same time that Komoroski was 'wrapping up her drunken escapade,' at Snapper Jack's, Hutchinson and Samantha were preparing to leave their reception on the back of their wedding-themed golf cart.
Samantha told friends she wished the day 'would never end.'
Footage obtained by the dailymail showed the couple's golf cart in the final stretch of the night now infamous for the devastating crash that claimed Samantha's life just minutes later.
Surveillance footage from the road on which the crash took place shows the golf cart carrying the bride and groom and two other family members.
They pass by a house on Folly Island's East Ashley Avenue as they return from their wedding reception, at approximately 10.11pm.
Two minutes later a car driven by Komoroski speeds by that same camera.
Traveling at roughly four times the cart's pace it is out of sight in six seconds – set on its terrible collision course and just seven hundred yards from where it ploughed into the golf cart, killing the bride and severely injuring the groom. 
Drunk at the wheel, Komoroski covered the distance in seconds. With more than three times the legal alcohol limit in her system, police have said, she drove at speeds of up to 65mph in the 25mph zone.
Hutchinson was released from hospital after ten days having suffered a brain bleed and undergoing multiple reconstructive surgeries to repair fractured bones in his legs and face and broken vertebrae.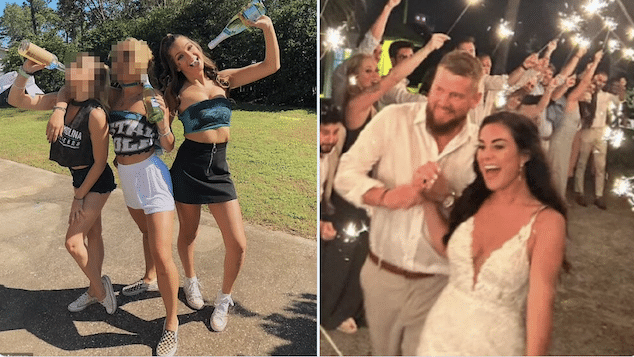 'an unrepentant villain' and 'party girl.'
Komoroski has been charged on three counts of Felony DUI with death and or great bodily injury. She is currently being held without bond in Sheriff Al Canon Detention Center in North Charleston.
Officer Burke noted that as soon as he had rendered what medical aid, he could to the victims he, 'switched hats and started the DUI investigation with the driver Jamie Komoroski.'
In a probable cause affidavit, Komoroski reeked of 'an odor of alcohol coming from her breath and person.' When asked if she had been drinking, she stated that she had, 'one beer and a drink with tequila about an hour ago.'
Komoroski refused to give a breath sample that night, insisting that, on a scale of 1 to 10 – 10 being utterly sober – she was 'an 8.'
Vials of blood taken and tested told a very different story placing her blood alcohol at 0.261 per cent. The legal limit in South Carolina is 0.08 per cent.
Once cleared medically Komoroski, who was uninjured, was taken to Charleston County Jail where she was put on suicide watch having told the arresting officer and hospital staff that she 'wanted to kill herself.'
According to a motion for bond filed on Komoroski's behalf the 25-year-old has been painted 'an unrepentant villain' and 'party girl.'
In snippets of recorded jail visits from family members, Komoroski is shown weeping and wailing 'why me?' filled with apparent self-pity and saying that her life is over.
But in their motion which asked for bond to be set at $100,000 her lawyers assert, that this image of Komoroski is unfair.
They present the picture of a troubled girl, wracked with anguish and willing to undergo the necessary rehabilitation and work to address the underlying problems of dependency, depression and anxiety that took such a tragic turn.
They state that she has 'struggled' with these since her days at the Coastal Carolina University in which she enrolled in 2020.
Dejavu?
She used alcohol to 'cope with loneliness, stress and often crippling levels of anxiety which was then untreated,' they state.
They go on to explain that 'In recent months, Jamie's anxiety has increased exponentially, and in the last year [she] has sought treatment…for severe anxiety and depression.'
According to the bond motion, she now suffers from facial tics 'brought on by mounting and unabated anxiety.'
If released on bond she would, her lawyers suggest, stay with her mother, Traci, in her home state of New Jersey.
In a strange twist it last week emerged that Traci too was once involved in a fatal car crash.
In 2013, Komoroski's 62-year-old mother, Traci, killed Forest Fire Service Warden Jeffery Scheuerer when she could not see him due to heavy smoke as he battled a blaze in Clinton Township, New Jersey.
It was deemed a 'tragic accident' as a sudden wind shift obscured his firetruck which was partially blocking a lane of traffic and its flashing lights. No charges were filed.
Komoroski's new motion for bond will be heard at her next court appearance, June 16.