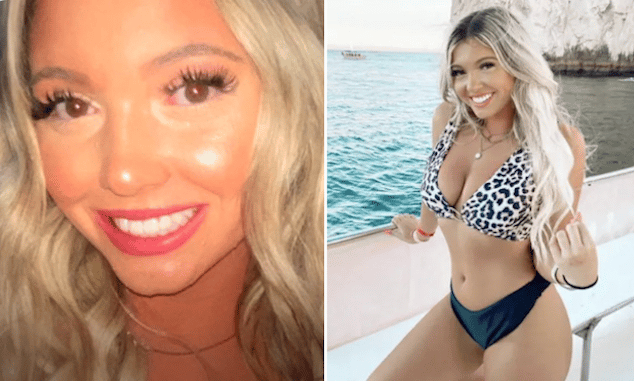 Kaylee Goncalves Idaho murder victim had moved out of home before stabbings but came back to see roommate and attend party. 
One of the four University of Idaho students slaughtered at an off campus residence in November homicide had recently moved out of the home where the murders took place, but returned the day before the attack to see her former roommate and attend a party, her parents said.
Kaylee Goncalves, 21, was set to graduate college early, with an IT job lined up in Austin, Texas, her parents, Kristi and Steve, told Dateline.
Goncalves had recently moved out of the three-story home in Moscow, Idaho where she had lived with her best friend 21-year-old Madison Mogen.
'These girls were best friends since sixth grade, like inseparable,' Kristi Goncalves said. 'Maddie had been a huge part of our life.'
The grieving parents said that Kaylee had just purchased a new Range Rover, and wanted to show it off to Mogen back in Moscow. She also had plans to attend a nearby party. 'That was the last time that I saw Kaylee,' her mother said.
Remembering Kaylee Goncalves, Madison Mogen, Xana Kernodle, and Ethan Chapin #Dateline pic.twitter.com/1K5Xp7sKNZ

— Dateline NBC (@DatelineNBC) January 14, 2023
Off campus residence known as party spot 
In the early hours of Nov. 13, Goncalves and Mogen were stabbed to death at the off-campus home, along with Ethan Chapin, 20, and Xana Kernodle, 20. It is thought all four victims were stabbed circa 4am at the home, presumably while asleep after having returned from revelries earlier that evening. 
Dateline revealed police were called to the residence over a dozen times for noise complaints, rowdiness, drinking. At one point 150 kids were there. One of the victims was seen on police bodycam slurring and saying they'll be quiet.
Bryan Kohberger, 28, a criminology doctorate student at nearby Washington State University in Pullman, Washington, was arrested in Albrightsville, Pa., on Dec. 30 and booked with four charges of first-degree murder and one count o burglary when he was returned to Idaho.
A sheath to a Ka-Bar knife that was believed used in the attack was recovered near Kaylee Goncalves and Mogen's bodies, according to a police affidavit unsealed earlier this month. Kohberger was identified as a suspect by DNA he had left on the sheath's button.
The Goncalves told Dateline that they hoped their daughter in the struggle with the assailant had snatched the sheath and played a role in identifying her killer.
'I just said, 'Can you believe that?'" Kristi Goncalves said, recounting reading the report's details. 'And I said, 'I hope that maybe a struggle, she pulled it off him, in the struggle or whatever…"
Steve Goncalves added: 'It's a checkmate type moment. And our girls were a part of it.'
Not immediately clear is whether the alleged murder suspect had been aware that Goncalves had already moved out and seized his opportunity to strike on the evening of the murders upon realizing the 20 year old had returned.
Prosecutors have yet to establish a murder motive, while others have said that there was no known connection between the PhD student and his alleged victims.
Kohberger is set to return to court on June 26 for a preliminary hearing in the quadruple murder case. If convicted he could potentially face the death penalty.