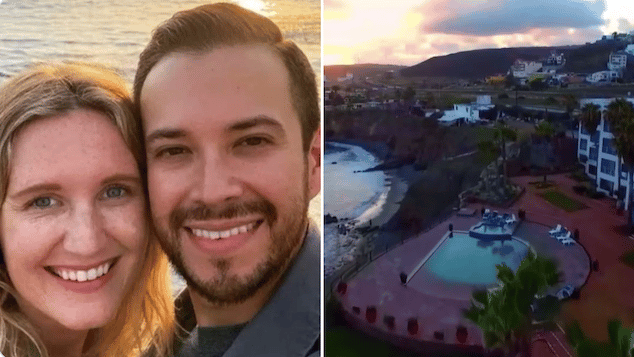 Elliot Blair family dismiss claims the Orange County public defender fell to his death shooing pigeons from balcony while staying at a Mexican resort with his wife, Kimberly Williams during their wedding anniversary. Family vow to conduct their own investigation. 
'Just an accident or a cover up?' The family of Elliot Blair, the California public defender killed at a luxury Mexican resort while on a trip with his wife, have dismissed claims by authorities that he was shooing away noisy pigeons outside from his hotel balcony when he fell to his death.
The attorney general of Baja California said the public defender's wife, Kimberly Williams, told investigators that he was drawn to the noisy birds outside their third-floor room at the 4-star Las Rocas Resort and Spa, the Orange County Register reported.
But Blair's family slammed AG Ricardo Ivan Carpio Sanchez's report that the man's death was accidental, insisting that the attorney was killed in a violent crime when he ventured outside in a T-shirt, underwear and socks.
'It is categorically false that Kim ever stated that Elliot exited their room that night to scare away pigeons or in response to any noise,' the family said in a statement, according to the outlet.
'Kim was asleep at the time this incident occurred,' it added.
What really happened to public defender? 
On Tuesday, the family said the 33-year-old lawyer's death happened in an open-air walkway outside the front door of their room and not in a fall off a balcony as has been reported by Mexican officials.
They also denied that Blair was intoxicated at the time of his death on Saturday.
Blair and his wife — who were staying at the Rosarito Beach resort to celebrate their first wedding anniversary — knew the layout of the hotel after having stayed there several times before, the family said.
They also alleged that Mexican authorities have suggested that Blair's body be cremated, but they rejected that idea because they want Blair's body turned over to them so 'a thorough, complete, independent investigation' can be done.  
The grieving family said Blair's widow has been 'given multiple versions of what happened to Elliot.'
They added that a liaison to the coroner's office has told them that an autopsy found that Blair died as a result of severe head trauma and that the case was going to be forwarded to the DA's office to probe a possible homicide.
The attorney general countered, saying there were no signs of violence or wounds caused by a firearm or a sharp weapon, the Register reported.
Authorities say California public defender Elliot Blair died after falling from the third floor of a Mexico hotel but now his family says they will conduct their own investigation. @DanaGriffinNBC reports on the latest. pic.twitter.com/O9IiLcfCOx

— TODAY (@TODAYshow) January 19, 2023
Family's belief son was murdered 
'This traumatic brain injury could have been caused by a free fall from a third story,' he reportedly said.
John Jenks, a California private investigator who has worked with Blair on several cases, insists the investigation is a 'cover-up.'
'People are not forthcoming with information and evidence. Clearly, the family believes it's murder and they are taking the right steps,' Jenks told the nypost. 
Adding, 'And based on what they're saying here, severe head trauma can mean a lot of different things.' 
The lawyer's death comes as the US State department continues to warn US tourists to stay away from the Baja region due to crime and kidnapping.