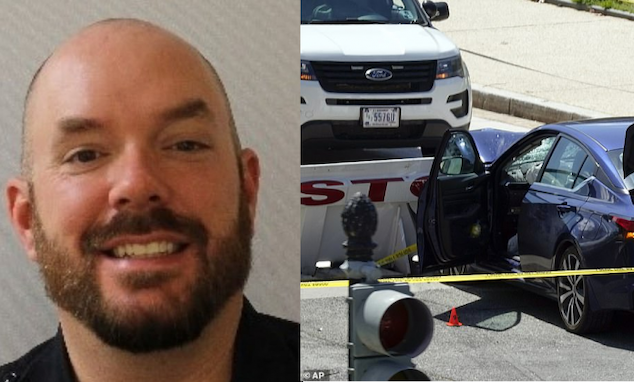 Noah Green Indiana Nation of Islam follower id as US Capitol attack suspect who stormed barricade killing cop, William 'Billy' Evans. Suspect shot dead. No known motive.
Why? US investigators are seeking a motive as to what led to a purported Nation of Islam follower slamming his car into two US Capitol Police officers, Friday afternoon — killing one — before he was shot dead by cops while running at them with a knife. 
The incident took place at a vehicle checkpoint on the north side of the Capitol along Constitution Avenue in Washington DC, just after 1 p.m., 100 feet from an entrance on the Senate side. 
The barricade slamming sent the government building into lockdown along with drawing a massive response from law enforcement authorities and the National Guard.
The slain cop was identified by the Capitol Police as William 'Billy' Evans, an 18-year veteran of the force.
His killing came less than three months after the deadly Capitol riot in which a fellow officer, Brian Sicknick, was among five fatalities as supporters of President Trump broke into the government building.   
UPDATE: The suspect is 25-year-old Noah Green. In a social media post taken down shortly after the shooting, Green said he had lost his job and was a member of the Nation of Islam in search of "a spiritual journey" https://t.co/AHiq2OwoP2

— Dr.WearYourFnMask (@PissOffTrumpz) April 2, 2021
Nation of Islam follower in search of spiritual journey
The driver was identified as Noah Green, 25, of Indiana, according to NBC News, which cited four law enforcement officials briefed on the matter.
Green died after being taken to a hospital, as were the two cops mowed down.
A report via Heavy cited a since removed Facebook profile belonging to Green which the assailant as recently as March 2021, expressing admiration for Elijah Muhammad, the now deceased Nation of Islam leader who was a mentor to Malcolm X. Green referred to himself as "Noah X."
The lockdown of the Capitol was lifted shortly after 3 p.m.
A 12-foot fence, topped with razor wire, was erected around the Capitol to restrict access and block traffic following the Jan. 6 riot reports the nypost.
Of note, the barricade was taken down about a month ago and replaced with a shorter, 8-foot fence that pulled in the perimeter and allowed vehicles to pass by.