Five Unique Cloud Storage Solution Alternatives: B

acking up or storing your data outside of your actual computer includes variety of choices and technologies on offer. 
So you just got your new laptop, and probably familiarized yourself with some of the more popular cloud storage solutions available on the Internet as you set about optimizing for peak performance. There's a good chance that you're already making good use of your Dropbox account and you might already be collaborating with your colleagues through Google Drive too, but all of these solutions also have their disadvantages. There are concerns about security and hacking, for instance, and you might be worried about government spying and the rest of it.
While it's perfectly debatable whether such concerns are really all that big of a deal, you do have many alternatives to consider, even beyond "other" cloud storage services like Box, OneDrive, and Sugarsync. If you're looking for a way to back up or store your data outside of your actual computer, all while giving yourself remote access to this data when you're away from your main computer, then you'll want to consider at least one of the solutions listed below.
Western Digital WD My Cloud
Last year, I had the opportunity to review the WD My Cloud and I think it's a wonderful little device. On the surface, it looks like any number of external hard drives from Western Digital's My Book line of products, but it doesn't connect to your computer via a standard USB cable. Instead, the idea is that it's a simplified NAS for the masses that will provide you with a personal cloud. You can place it in your home office or in another location, accessing it just as you would a cloud service. There are even corresponding mobile apps. You can get the 4TB model for about $219, less if you'd prefer the 2TB or 3TB variants.
Amazon Cloud Drive
In many ways, Amazon Cloud Drive works like most of the conventional cloud services that we already know and use. At the core, you get 5GB of free online storage that you can use to stash whatever files that you'd like, getting unlimited access from any Internet-connected computer via your web browser. That's all well and good, but the primary advantage here is that Amazon's Cloud Drive will automatically back up any of the songs that you buy through the company's music service, allowing you to stream those tunes at will. This does not bite into your 5GB of space, since Amazon already has that MP3 sitting elsewhere on its servers; it just connects that track and that purchase to your Cloud account. Of course, you can always pay for more storage, all the way up to 1TB for $500/year.
BitTorrent Sync
Most people, rightly or wrongly, associate the BitTorrent standard with pirating TV shows, music, movies, software, and the rest of it. However, the BitTorrent peer-to-peer protocol can be used for so much more than that. Case in point is BitTorrent Sync, which effectively uses the same encryption and peer-to-peer system as the primary standard, but you effectively save your data across your multiple computers. You're not actually storing anything in the cloud, but rather you're using BitTorrent to sync your files and folders on a peer-to-peer basis between your own devices. It's still in public beta, so there's surely kinks to be worked out, but this is an intriguing solution for anyone who'd rather not have any external servers stash their data.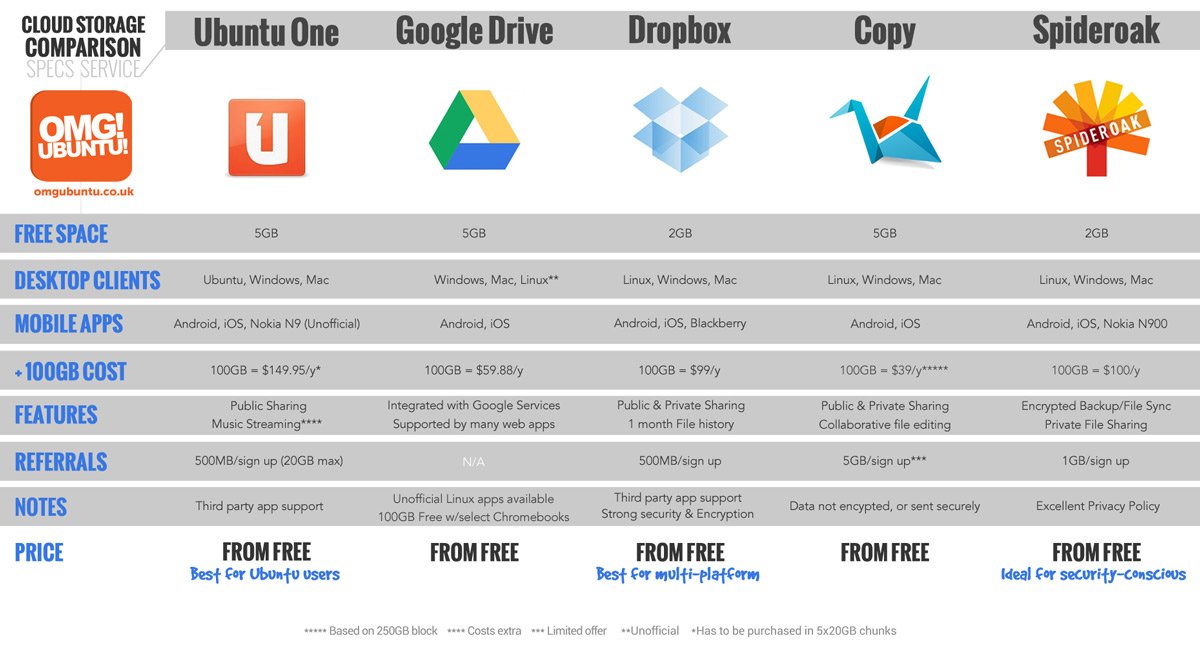 Copy
Most of the free cloud storage services only provide you with up to 5GB or so of space, but not Copy. The basic free account already loads you up with 15GB of space and, if you download and install the accompanying desktop client software, then they'll give you an extra 5GB of storage. That's a good 20GB to get you started. Copy comes by way of Barracuda Networks, so you can have some assurance that they know what they're doing. The data synchronization works much like Dropbox with a dedicated folder that'll match up with your cloud account. And when you share a folder with someone, you split the capacity. A 3GB folder shared between two people means each person gets 1.5GB count against their accounts. 
Space Monkey
Perhaps the most unique solution out of the bunch is Space Monkey. You could say it's almost a hybrid between WD My Cloud and BitTorrent Sync. You buy a 1TB Space Monkey drive for $199 and connect it in your home. Half of your data is stored on this local network drive, while the rest of your data is effectively scattered across all the other Space Monkey drives that other people have. In turn, you're also saving some data from other folks too, all of which is encrypted across this shared network. The service itself is $49/year, but you get the first year free when you buy your drive.