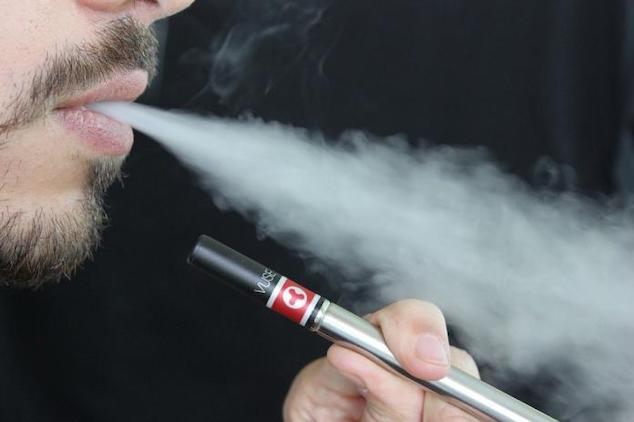 Choosing the right e-liquid for your vaping experience: How to figure for the correct vape juice flavor for your hardware set up. Manufacturers seek to meet FDA Sept 20 deadline approvals.  
At the beginning of 2020, the U.S. federal government put forth a ban on most flavored e-cigarette cartridges and pods, leaving users of JUUL and similar devices with only two flavors – tobacco and menthol – from which to choose. The move was problematic for users of cartridge- and pod-based e-cigarettes, as most people who vape prefer flavors other than tobacco and menthol. If you used an e-cigarette with pre-filled pods at the time of the ban and didn't want to lose access to flavors, the flavored pod ban left you with one option: to buy a vaping device with a refillable pod or tank.
With all of the different types and flavors of e-liquid on the market today, though, buying bottled vape juice for the first time can be a bit of a daunting experience because there's a chance that you may end up with the wrong e-juice for your device, your nicotine needs or your personal taste.
In this article, we're going to help you fix a vaping experience that isn't enjoyable by walking you through the process of choosing the right e-liquid. Vape juice is easily the most important part of any vaping setup, and if any aspect of your e-liquid isn't right for your needs or your vaping hardware, you're not going to enjoy it.
Let's make sure that the next time you shop at E-Cigarette Empire or another vape store, you end up with a vape juice that you love.
Choose the Right Type of E-Liquid for Your Vaping Hardware
Refillable vaping devices fall into two primary categories. There are larger vape pens and mods with glass tanks, and there are smaller systems with removable plastic pods. If you want a device that has excellent battery life and produces huge clouds, you should be using a vape pen or mod. If you want a device that's highly portable and optimized for the mouth-to-lung inhaling style that smokers generally prefer, you should be using a pod system.
Even more important that your choice of equipment, though, is the type of e-liquid that you buy.
If you use a vape pen or mod with a glass tank, you should buy freebase nicotine e-juice. If an e-liquid doesn't specify the nicotine type on its label, it uses freebase nicotine. The most common nicotine strengths for freebase nicotine e-liquid are 3 mg and 6 mg.
If you use a pod system, you should buy nicotine salt e-juice. This type of e-liquid will always say "salt" on the label. The most common nicotine strengths for nicotine salt e-liquid are 20 mg and up.
What's the consequence of buying the wrong type of e-liquid? You'll end up with a vape juice that has the wrong nicotine strength for your vaping equipment. If your vaping device produces large clouds, you need to use an e-liquid with a low nicotine strength. If you use a highly portable device that produces small clouds, you need to use a higher nicotine strength to compensate. If the nicotine strength of your e-liquid is too low, you'll find vaping unsatisfying. If the nicotine strength is too high, you'll consume too much nicotine and may even feel ill when you vape.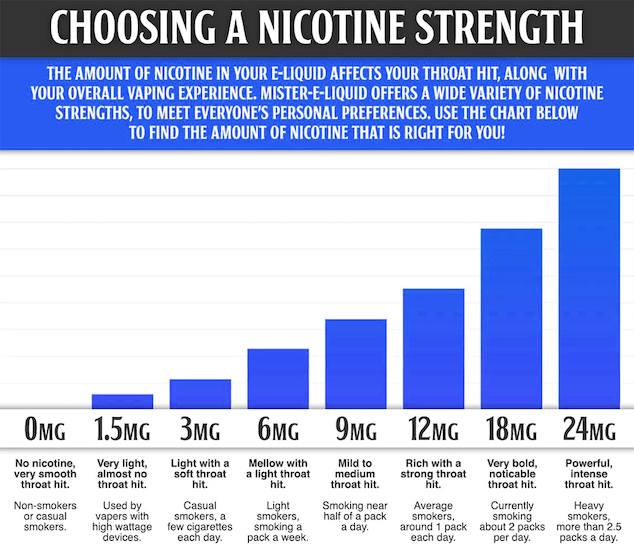 Choose the Right Nicotine Strength for Your Needs
Regardless of whether you use freebase nicotine or nicotine salt, you're going to find that your vape juice of choice is available in a range of nicotine strengths. Choosing the right nicotine strength for your needs is the next step in ensuring that you have a great vaping experience.
As mentioned above, freebase nicotine e-liquid is usually available in strengths of 3 mg and 6 mg. Today's larger vaping devices offer such enormous cloud production that the 3 mg strength is appropriate for almost everyone. Don't buy the 6 mg nicotine strength for your vape pen or mod unless you're absolutely certain that you need it.
Nicotine salt e-liquid is usually available in low-strength (20-25 mg) and high-strength (40-50 mg) varieties. If you aren't a full-time vaper, you should start with the higher strength. If you are a full-time vaper and have already quit smoking, try the lower strength. Adjust as necessary.
Try to Find a Major E-Liquid Brand That You Like
In the United States, there are a few major e-liquid brands and a great many smaller ones. If you're just beginning your journey as a vaper, you should know that the American vaping industry is set to change in a major way in less than a month. By September 9, the FDA has required every manufacturer of e-liquid or other vaping products to submit applications for approval to continue selling those products.
If an e-liquid maker submits applications for its products by the deadline, those products can remain on the market for another year pending approval. The problem, however, is that the applications are so expensive to compile that most of the smaller e-liquid makers simply don't have the money to go through the process.
You can expect, then, that most small manufacturers in the American vaping industry will close in September. Many of the larger e-liquid companies, however, have already released statements telling the public that they have either submitted the required applications or are ready to do so before the deadline. If you want to use e-liquid that's likely to still be available to buy in September, it's probably best for you to stick with the big brands.
Experiment With Flavors Until You Find One You Love
If you're doing everything right with regards to the nicotine type and strength of your e-liquid, all that's left is to choose a flavor that you love – and the perfect flavor for your palate is definitely out there. Keep experimenting with new flavors until you find the one that's right for you. When you shop for some new vape juice flavors to try, the most important thing to know is that most vapers prefer flavors other than tobacco and menthol. E-liquid is at its best when it doesn't try to taste like a cigarette, so you should try experimenting with fruit, candy and dessert vape juices.