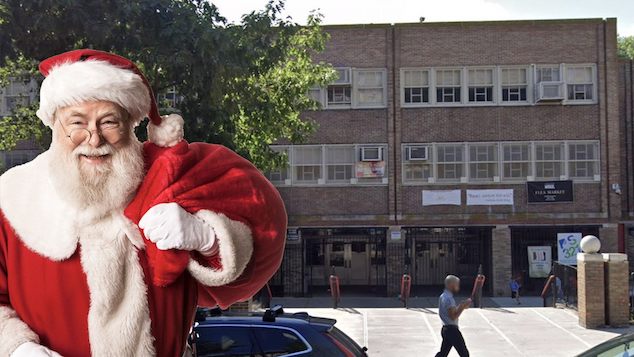 P.S 321 Park Slope teacher Santa Claus drama: Substitute teacher fired after telling first grade students folklore Christmas figure doesn't really exist- after parents complained of crying children.
The indoctrination always begins early. A Brooklyn teacher has been fired following open outcry that ensued after telling her first grade students earlier this week that Santa Claus doesn't really exist along with the Tooth Fairy.
Word of the P.S 321 Park Slope teacher's 'inexcusable' comments got back to 'outraged' parents after the little peckers were reduced to a flurry of uncontrollable tears. Alas. Fantasy only lasts so long- why spoil it for the little innocents?
Retorted a six year old child upon returning home later that day, 'but that's not right, right?'
'It's three weeks before Christmas.' One mother told News 12 after her daughter returned home in tears this past Monday. 'These kids are 6 years old.'
The unnamed woman conceded that while each family believes different things, it was the general sense of folklore that had been transgressed: 'It's what makes New York City great. There's still this magic of childhood.'
Kids, I see a parable here.
The principal of P.S. 321, Liz Phillips said she was 'extremely upset' to hear about the substitute teacher telling kids that Santa Claus and the Tooth Fairy aren't real during a lesson about 'convincing.'
The act landed the teacher on the 'naughty list', according to the principal.
'I guarantee you that this substitute will not be in class 1-216 again,' She said in a letter to parents. 'We take this very seriously.'
Offered Education Department spokeswoman Isabelle Boundy in a statement, 'this substitute demonstrated poor judgment, and has been removed from this class. The principal has sent a letter to families, and we will review this matter.'
Because children and adults should be allowed to believe in all the myths and folklores they want but damn anyone who insists on robbing me of us of our (children's) collective delusions. So what did Santa get you for Xmas?