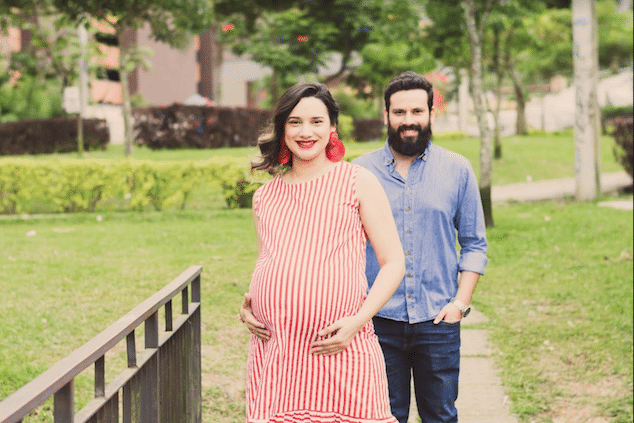 Discover how to look stylish when pregnant! We'll also explain how to dress when pregnant in summer. Find outfit ideas with how to look good during pregnancy and how to look attractive while pregnant.
First and foremost if you're pregnant congratulations on having a baby, we understand that having a child is no easy task. It takes time, commitment, and makes some days are harder than others. You may feel like it's too tiring to put effort into your appearance, but there are methods to become fashionable while pregnant. So how to look stylish when pregnant?
Most women are told that when they're pregnant, they are radiating a glow. So, stop selling yourself short. You're a beautiful woman who is capable of looking just as stylish as everyone else. In this article, we've taken the time to compose multiple types of outfits that take minimalistic effort to put together. We will also teach you that you won't have to wear clothes from the maternity section, as there's plenty of other choices, including this stand out outlet, 'top mom'. 
What is Beauty?
It is said that beauty is in the eye of the beholder. But the problem with society is that they expect you to look your best even when going through all stages of pregnancy. Maternity clothing can be fitting and suit your basic needs with pregnancy outfits ideas. But many of the styles and fashion of clothing are outdated or bland in both design and color. That's why it's important to find how to look attractive while pregnant.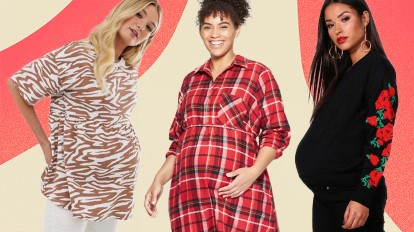 9 Methods How to Look Good During Pregnancy
1. Purchase Basic and Simple Pieces
As you go through the different trimesters, you'll need access to different sizes of clothes. You want to stay clear from any over trendy items that might be out of your price range. Instead, try and focus on getting tops, dresses, and bottoms that can easily be paired with other statement pieces. Not only will this keep you on budget, but it will allow you to mix and match your clothing.
The key is to invest in as many pieces that can be interchanged to create a new outfit. You can easily make them pop by adding other accessories. Stick to neutral colors or simple patterns as they pair better with most other neutral clothing.
2. Jeggings Are Your Friend
Instead of investing in multiple sizes of uncomfortable jeans, consider finding a few pairs of jeggings. Designer jeggings are a thing, but there's also plenty of affordable options. Jeggings keep you feeling comfortable and are stretchy around the waist. 
However, they also come in many stylish designs and colors. Choosing multiple designs and colors can help keep a variety of different outfit choices. Plus, there's hardly any difference in appearance to your old fashioned designer jeans.
3. Learn to Layer
The key to staying stylish while pregnant is learning how to accessorize. There aren't that many options when it comes to affordable maternity wear. So, to spruce them up and give them more character, it's good to layer on different accessories.
Scarfs, bracelets, and belts can be a fun way to change up your look without over-accessorizing — layer on shorts, skirts, or dresses with leggings underneath to give a pop of color. Zip up jackets is also going to be your best friend, as they can be purely used for layering and don't have to fit perfectly.
4. Size Up
If you're starting your pregnancy and haven't reached the second or third trimester, we suggest sizing up. Sizing up ensures that you'll get more than a few weeks use out of the clothes. Additionally, it will make you feel more comfortable because you won't feel so suffocated.
5. Shop Online
While it may be easier to head to your local department store, we can say that online shopping is going to be much more favorable. Some online shops provide maternity clothing for a discount of a price and include many more options. 
The only tricky part is finding the correct sizing. It's best to use a measuring tape to get accurate measurements before ordering clothes. Sizing up one to two sizes can also help prevent the clothes from becoming too small as your stomach and baby grows.
6. Stay comfortable
One of the most significant issues is staying comfortable while you're pregnant. The last thing you need is a tight belt buckle digging itself into your skin as you're walking around. On top of all the symptoms you already have to deal with, the last should be uncomfortable clothing.
Avoid anything restrictive such as a zipper, belt, or a cinched waist. Find clothing that has drawstrings, adjustable buttons, or velcro. These types of clothes will be less restrictive and won't make you feel like you're trapped in your clothing.
Some pregnant women prefer purchasing maternity shapewear that helps prevent tight clothing from scratching up against their skin. These are an excellent choice if you're wearing tight jeans, button-up clothes, or dresses.
7. Maternity Underwear and Bra
It's surprising how much of a difference maternity underwear and bras will make. Everyday underwear can be tight and uncomfortable, which is a considerable no-go in the pregnancy book. On top of that, the bras that dig into your rib cage and shoulders, which leads to extra tension. 
To be the most comfortable, get the correct sizing in maternity wear. This includes undergarments for daytime and as sleepwear. They put less stress on your body and are perfectly stretchable and are breathable.
8. Dresses 
How to dress when pregnant in summer? The most flattering and comfortable clothes out of all types on the market are dresses. While not every woman may enjoy the flowing sensation of a loose-fitting clothing, they will be the easiest in terms of fashion and convenience. Plus, you won't be limited to dresses from the maternity section. You can get by purchasing ones in either large or plus size sizings.
9. Dress For Your Body Type
Each pregnant lady is going to find that the weight distributed differently. Investing in clothing that compliments each body type can be a massive advantage to looking and feeling your best. Form-fitting clothing with a slight since right above the stomach gives off a feminine figure. 
If you are carrying most of your weight lower, then soft waistline pants are recommended or ones that are super high waisted. On the other hand, if you're carrying high then high belts, ties, and any clothes. Clothes that are more blocky and provide a clean separation between the upper and lower body are suggested.
Conclusion
Being pregnant doesn't mean you have to sacrifice your fashion sense; it just means you'll need to shop smarter. There are plenty of online maternity stores that offer a vast amount of different designs, colors, and fashions.