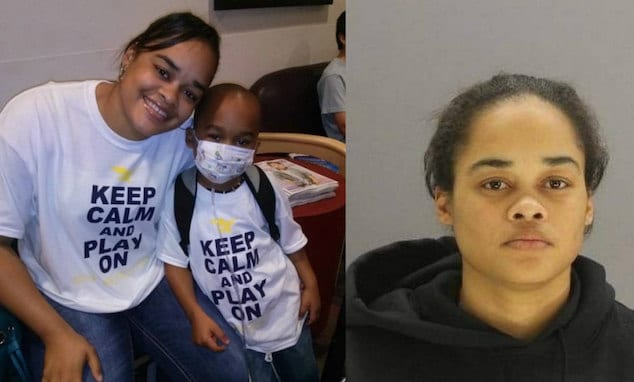 Kaylene Bowen-Wright, Dallas mother pleads guilty to causing son reckless injury after putting her now 10 year old son through

13 major surgeries unnecessarily. 
A Texas mother on Thursday pled guilty in a Dallas County court to recklessly causing injury to her now 10 year old son, after subjecting the healthy child to a series of unneeded medical procedures over the course of the boy's life- including 13 major surgeries.
Kaylene Bowen-Wright, 35, began bringing her son, Christopher, to unnecessary doctors' appointments when he was 11 days old, prosecutors said. His care eventually included more than 320 hospital and doctors' visits the Fort Worth Star-Telegram reported.
By the time he was 8 years old, Christopher had undergone more than a dozen major surgeries.
Over the course of the boy's life, Bowen-Wright restricted her son to a wheelchair and unnecessarily keeping him on oxygen.
On two occasions, the child developed life-threatening blood infections, requiring intensive care. He suffered serious injury from ongoing radiation, an arrest-warrant affidavit noted along with having trouble eating and participating in normal activities as a result of his mother convincing the boy he was sick.
How come it even took doctors 13 operations before realizing Christopher was not even sick? 
Authorities allege Bowen committed the crimes which approximate the clinical condition, Munchausen syndrome by proxy, a mental disorder in which a caregiver lies or exaggerates a child's medical symptoms – in a bid to get attention.
Over the years, Bowen launched fundraisers for her 'sick child', claiming that he was dying from a rare genetic disorder and had cancer.
'Christopher has trouble breathing so basically, his lungs ― and body ― doesn't get the oxygen it needs, so he gets tired,' the mother once told WFAA-TV. 'He can't play as long as the normal kids.' The interview was conducted during a bike rally intended to raise $30,000 for Christopher's care.
Christopher was eventually removed from Bowen's care in 2017 when Dallas hospital staff reported to Child Protective Services that he didn't have cancer or many of the other symptoms his mother insisted the child had.
Christopher's father, who now has custody of the child, responded on Friday to Bowen's plea in the case.
'I am happy that she decided to do the right thing. Eventually, the lies had to stop,' the boy's father, Ryan Crawford, told the Star-Telegram. 'Now, hopefully, those who thought a mother could never do this to their child will see evil does exist.'
The 'bizarre case' has since raised the troubling question – how was it even possible that it took doctors performing 13 surgeries, let alone even one –  on the boy to realize he was never sick in the first place? And what this suggests about the medical establishment and what degree of faith the public should have in America's health care system?
Bowen faces up to 20 years in prison. She's set to be sentenced Oct. 11.
The boy is no longer in a wheelchair.