Iot Wearable Devices: What's in store for Wearable Devices and the Internet of Things? How the technology is set to continue to expand and become ever part of day to day life. 
Wearable Devices and the Internet of Things (Iot) continues to be a hot topic- especially in light of the unbridled technology developments slated to offer an increasing array of once previously unimaginable applications both in industry and in personal use.
While advancements within the domain of the personal computer and the internet have revolutionized the application of information and the construction of platforms in cyberspace facilitating ever increasing array of services and the creation of new 'virtual' industries- it seems we may only just be on the cusp of what lies ahead. 
Google gave us a taste of the future when in 2011, the technology giant released the first prototype of what would become Google Glass. A wearable computer device featuring a head-mounted display in the form of eyeglasses facilitating an array of tasks. A hybrid and extension of buy iot wearables technology first developed in the servicing of manufacturing needs – which continues to lead the charge in IoT know how.
After continued refinement, the product was released to the public in 2015 – tooted as a hands-free smartphone, letting users access the mobile internet browser, camera, maps, calendar, and other apps by voice commands. And just as fast it captivated the public's imagination it was discontinued after users balked at the $1500 price tag and the 'undesirable' tendency of the device to capture whatever the wearer was looking at. Not withstanding users general reticence at having technology 'fitted' to them physically. For now anyway. 
Apple teased the public again when on April 24, 2015 the tech king gave us the Apple Watch- a smartwatch that connects users to the iPhone allowing the delivery of notifications, the making of calls, sending texts and the running of apps. Unlike Google Glass- the launch was a success and has since spawned the release of GPS and accelerated processing power going forward and the 2019 release of Apple Watch Series 4.
Which leads tech enthusiasts to wonder- what's next in store for Iot Wearable Devices?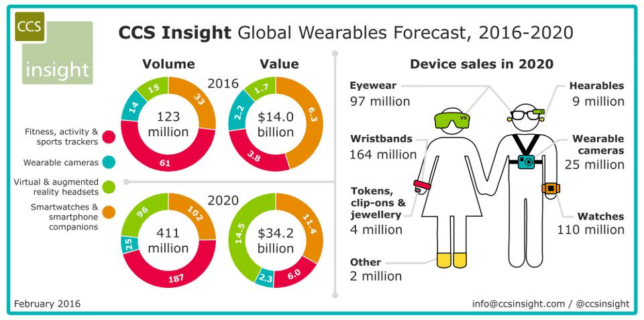 Healthcare Wearable Devices
Leading the charge is the emergence of tools and technologies like smart speakers, machine learning, and 5G which continue to be integrated in modern day devices involving internet connectivity, with a Business Insider's Internet of Things report predicting IoT growth on pace to book $3 trillion in sales annually by 2026. The same report indicates 64 billion IoT devices to be in use by 2025, up from about 10 billion in 2018.
Anticipated to make the bulk of wearable IoT devices a household staple are developments within healthcare as consumers seek to take advantage of products which will allow them to best monitor their personal health, and the ever pressing need of taking care of seniors as baby boomers begin to enter retirement with 10,000 people a day hitting 65 every day.
Fitness Wearable IoT Devices
Fitness trackers are anticipated to be the leading consumer case using wearable devices as increasing consciousness towards 'better health' is leading to more individuals recording their exercise and health stats which can now be analyzed remotely. Information and applications that hospitals, med-tech companies, pharmaceutical companies, and insurance companies will seek to utilize in controlling their expenses along with new products that they can now sell to members.
Wearable Iot Badge Devices.
Wearable Iot Badge Devices are also like to make a dent in the IoT market as governments, employers and financial institutions seek to ensure efficient ways to facilitate identification and security. The devices are likely the response of institutions seeking to ensure against cyber attacks, the leaking and corruption of private information and the increasing threat of cyber terrorism.
Corroborating institutional concern is a 2019 Worldwide Threat Assessment by the U.S. Intelligence Community warning of "financially motivated cyber criminals" increasingly seeking to target critical infrastructure within the health care, financial, government, and emergency service sectors. Expect workers, travelers and key personnel mandated to adopt wearable IoT technologies as the next frontier as society negotiates ever unpredictable outcomes and opportunities.