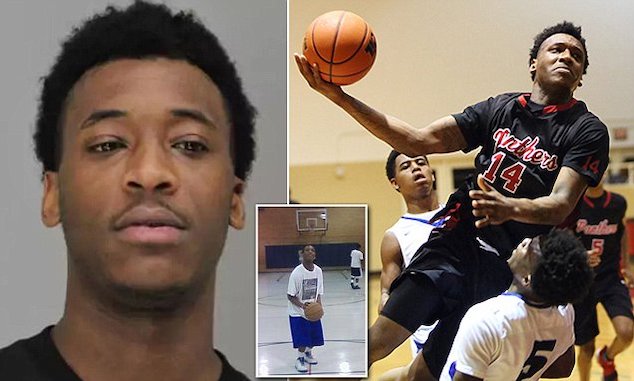 How Dallas man, Sidney Gilstrap-Portley who posed as Hillcrest High school teen, Rashun Richardson as he sought to relive his basketball glory days while groping 14 year old girl.
He just wanted to relive his high-school glory days. A 26-year-old Dallas, Texas man has been sentenced to probation after pleading guilty to posing as a 17-year-old Hillcrest High student so he could play basketball along with groping a 14-year-old girl.
Under a deal with Dallas County prosecutors, Sidney Gilstrap-Portley on Tuesday received six years' probation for indecency with a child and record tampering.
The plea deal spares Gilstrap-Portley of any time behind bars, other than the jail time he's already served. The indecency charge was a third-degree felony punishable by up to 10 years in prison. He must register as a sex offender for 10 years after his probation.
Authorities say Gilstrap-Portley was able to get away with his scheme after claiming to be a Hurricane Harvey evacuee and exploiting a Dallas school district policy for disaster victims while saying he was homeless.
Gilstrap-Portley had played basketball for North Mesquite High School in a Dallas suburb before graduating in 2011. He then played one season at Dallas Christian College the Dallas News reported.
How a 26 year old Dallas man reinvented himself as 17 year old high-school teen, Rashun Richardson: 
Dallas school district officials say Gilstrap-Portley posed as 17-year-old Rashun Richardson at Hillcrest. He first enrolled at Skyline High School before eventually shifting to Hillcrest High School, where he starred in the Hillcrest Panthers 11-10 season in 2017-18 and was voted a district offensive player of the year by the district's high school coaches.
But there's more.
He also dated a 14-year-old girl while pretending to be a student. Gilstrap-Portley was 25 years old at the time — six years removed from graduating from North Mesquite High School in 2011.
According to an arrest affidavit, Gilstrap-Portley had asked the teen girl to have sex onnly to decline the man's advances.
Gilstrap-Portley's cover was exposed in May 2018 after one of his former North Mesquite coaches recognized him when he played in a tournament the month before.
In a television interview after Gilstrap-Portley's bust, his father said his son, who had a fiancée and a young child, wanted to reboot his life.
'He made errors. There was no ill-intent,' Sidney Portley told WFAA-TV. 'We apologize for that happening. It was mis-channeled determination. His passion is basketball. He tried to push 'rewind' in his life.'
Gilstrap-Portley declined overtures for media comment following his sentencing as he 'rushed' out of the courthouse with his family.