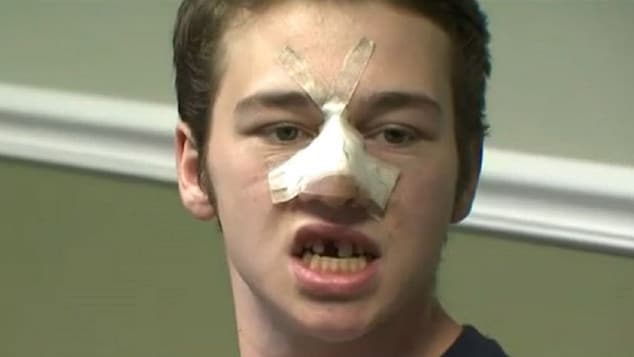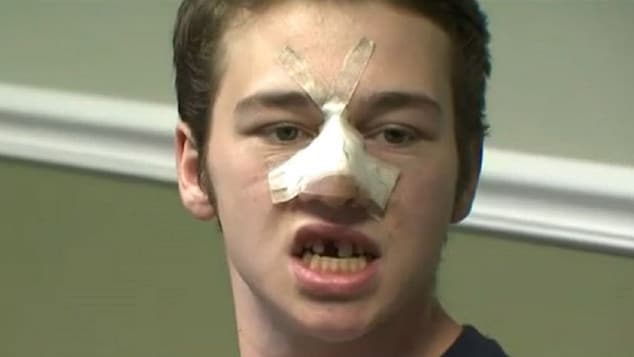 Ethan Treto Center Moriches high school student files $10M lawsuit against a Long Island school district after the school failed to protect him from bullies that left him severely beaten and with horrendous injuries. 
A battered high school student has filed a $10 million lawsuit against a Long Island school district after an off campus party beating last month left him with his nose broken, teeth knocked out and face cut at the hands of bullies the school failed to protect him from.
Ethan Treto, 18, during a Tuesday press conference said the attack stemmed from a dispute in a school bathroom at Center Moriches High School in late May, the student's lawyer said.
Treto said he told a school security guard after a clique of about 10 bullies blocked him walking into a bathroom stall because they were vaping, attorney Kenneth Mollins said.
Two days later, at a house party over Memorial Day Weekend, the boozed-up bullies jumped Treto, knocking out a number of his teeth, breaking his nose and knocking him unconscious.
'They jumped him, and they beat the hell out of him,' Mollins said.
'They kicked him and beat him up while he was on the ground. They broke his nose, they fractured his teeth, they lacerated his ear,' Mollins added.
The savage beating left Treto unconscious and hospitalized.
'Somebody came up, hit me in the head with a bottle, and that's when I was on the ground, and that's when they did all this. That's when they knocked my teeth out, punched my nose in and broke it. And then after all that happened, they dragged me across back to the street, back to party, as, like, a trophy. And they were picking up my teeth … holding up my teeth,' Treto said during Tuesday's press conference.
Treto now has stitches throughout his mouth, jaw and ear, and he's in the midst of ongoing nose and jaw surgery.
Mollins claims the school is legally on the hook for the beating because they have a code of conduct that includes a ban on injuring or making threats to another student off campus.
Ethan Treto Center Moriches lawsuit: '…they think 'they're untouchable.'
Of disconcert a report via News12 Long Island cited the battered student's mother, Debra Treto who said, 'she was still reeling from last month's beating' from two known bullies who had been involved in a verbal dispute with her son in a school bathroom a few days earlier prior to her son's heinous beating. 
The fight was filmed and posted on social media along with Treto reporting the bathroom incident to a a school security guard. Nevertheless for reasons not immediately understood the school declined to censure the offending students and preempt matters from escalating.
Senior Derek Pedone, a football and lacrosse player, and junior Anthony Raccuglia- described as being part of a clicque of jocks are named in a lawsuit the family is now filing against the school district. News 12 has confirmed that both teens are facing misdemeanor assault charges related to the house party incident.
Ethan Treto says his bullies have an attitude that gives the impression that they think 'they're untouchable.'
Pedone and Raccuglia are scheduled for arraignment on July 27.
Center Moriches High School to date has declined to publicly address the student's suit.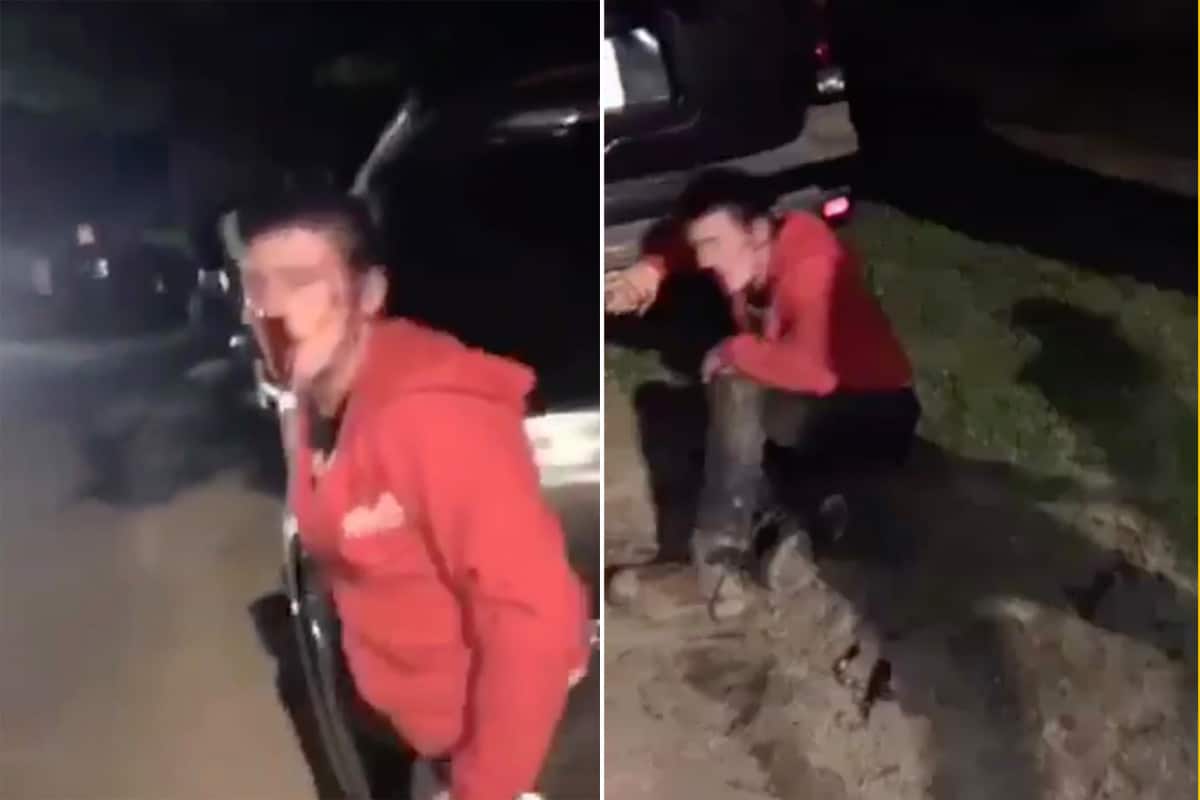 Ethan Treto says he was bullied by boys who were vaping in his school bathroom, then beaten at a house party Memorial Day Weekend. His family, suing Center Moriches School District, accusing them of protecting the attackers, who are student athletes. There's video, too. Awful. pic.twitter.com/MvPjHk2gjY

— Stacey Sager (@staceysager7) June 11, 2019