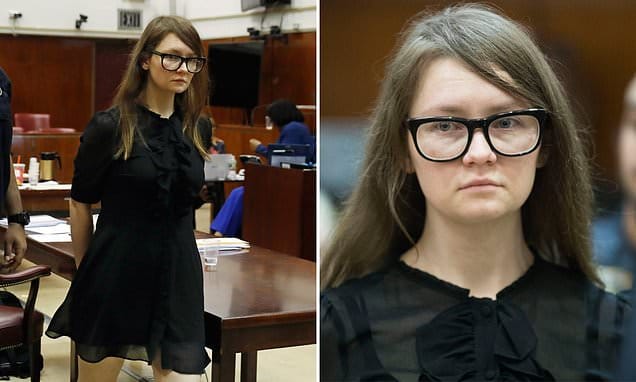 Anna Sorokin guilty: How fake German heiress aka Anna Delvey conned her way through $275K over the course of ten months in NYC's socialite world.
Fake German heiress Anna Sorokin aka the Soho Grifter was on Thursday found guilty of scamming friends and a variety of businesses, including banks circa  $275,000 over the course of ten months.
Jurors returned after two days of deliberation, finding the wannabe socialite who had adopted the nom de plum of Anna Delvey– guilty of three counts of grand larceny and four counts of theft of services. Scheduled to be sentenced on May 9, Sorokin faces up to 15 years jail.
The convictions follow the one time 'downtown Manhattan darling' being on trial over the past month on grand larceny and theft of services charges after swindling friends, banks and hotels out of $275,000 in a 10-month odyssey. 
During trial testimony, prosecutors claimed Sorokin living in luxury New York hotel rooms that she couldn't afford, promising a friend an all-expenses trip to Morocco and then stiffed her with the $62,000 bill along with peddled bogus bank statements in her quest for a $22 million loan for a private arts club. 
During closing arguments on Tuesday, prosecutors portrayed Sorokin as a profligate con artist, while her lawyer insisted she was an aspiring businesswoman taken in by New York's extravagance.
Her defense attorney, Todd Spodek, insisted Sorokin had been 'buying time' and planned all along to settle her six-figure debts, portraying her as an entrepreneur who got in over her head.
Sorokin had ambitious business plans to build a private arts club in New York and that she was 'persistent and she was determined to make her business a reality', the attorney claimed.
She may have led an unethical and unorthodox lifestyle, he added, but Sorokin was 'enabled every step of the way by a system that favors people with money.'
Fake German heiress Anna Sorokin is convicted on seven counts of theft and fraud and faces 15-years in jail https://t.co/kpLVIJSWeO pic.twitter.com/Uh74YgCjzo

— Daily Mail US (@DailyMail) April 25, 2019
Anna Sorokin Guilty: Her dizzy ascent explored.
Sorokin according to prosecutors deceived friends and financial institutions alike into believing she had a 60 million euro wealth overseas that would cover her lavish hotel stays and jet-setting lifestyle.  
Sorokin accordingly fabricated a persona of a German heiress who claimed traveling in celebrity circles who 'tossed' around crisp $100 bills. 
But behind the jet-setting lifestyle and expensive designer clothing, prosecutors said Sorokin was simply a fraudster just trying to get a taste of the high life. 
Sorokin was born in Russia in 1991 and moved to Germany in 2007 when she was 16 with her younger brother and parents. 
Her father had worked as a truck driver and later as an executive at a transport company until it became insolvent in 2013. He then opened a heating-and-cooling business specializing in energy-efficient devices. 
After moving to London to attend Central Saint Martins fashion school, Sorokin returned to Berlin and interned in the fashion department of a public relations firm.
She then relocated to Paris where she secured a coveted internship at the French fashion magazine Purple. It's believed to be around this time that she changed her name from Sorokin to Delvey. 
Sorokin was already brushing shoulders with rich people in the years before she came to New York and started dazzling Manhattan's social elite.
Acquaintances say Sorokin had spent several years playing the part of an art-obsessed German heiress across the world.
By the time Sorokin arrived in New York in early 2016, she seemingly had the social connections to make a name for herself, as well as a designer-clad wardrobe that exuded wealth.
It wasn't long before the NYC socialite elite found themselves unwittingly taken in (which on some level exposed the fickle veneer of artifice in that world), attending bashes Sorokin threw on behalf of celebrities, artists, CEO's at some of downtown's uppity venues, including Le Coucou restaurant in SoHo.
Fake #Russian billionaire #heiress is #indicted on grand larceny charges https://t.co/dxFdQNBrAC @MailOnline

— NY Jᴜsᴛɪᴄᴇ Sᴇᴇᴋᴇʀ (@NYJusticeSeeker) August 22, 2018
Anna Sorokin Guilty: And then one day it all fell apart like a big stacked domino game.
Invariably there were questions as to how the 'German socialite' acquired her wealth from. Sorokin gave varying accounts, including her father being a Russian oil billionaire or a diplomat. Others were under the impression that her parents were high up in the solar energy business.
In reality Sorokin did not have a cent to her name, according to prosecutors. Her father was described as being a former truck driver in Russia, now running a heating and cooling business.
Prosecutors told of Sorokin managing to avoid suspicion among her wealthy friends in New York for months.
People around her say they didn't even think twice when she asked them to put taxi fares and plane tickets on their credit cards. She would often blame her situation on issues with moving her assets across from Europe. Associates recall laughing it off as forgetfulness – because she was so rich – when they had to hound her to pay them back.
But it was her ruse to secure a $22 million loan (purportedly to fund her new arts club) in November 2016 that Sorokin's 'make believe' world eventually came crumbling down in a series of falling domino like machinations in months ahead.
Bogus bank statements purported to substantiate Sorokin having $67 million in assets – only to have her loan application rejected and eventually brought to account for her attempted fraud. A series of bad checks, unpaid overdraft loan of $100K and bounced checks and unpaid bills, hotel evictions, was more than the make believe heiress could get away with before Sorokin was arrested in October 2017 and accused of having stolen $275K through multiple scams between November 2016 and August 2017.
Prosecutors rest their case against fake German heiress Anna Sorokin, 28, as she wears ANOTHER new dress https://t.co/WpAtB8DDto

— Daily Mail US (@DailyMail) April 23, 2019
Anna Sorokin Guilty: Still becoming the uber socialite she desperately coveted. 
The verdict capped an at times bizarre five-week trial, which was frequently delayed by Sorokin's sobbing fits over her wardrobe.
Noted the nypost: 'Celebrity stylist Anastasia Walker dressed Sorokin for the proceeding in haute pieces from Yves Saint Laurent, Miu Miu and Victoria Beckham, but often had difficulty coordinating the outfit exchanges with jail officials at Rikers Island'.
As Sorokin awaits her fate and the possibility she might be deported to Germany before her sentencing, one thing became palpably obvious- in some way- Sorokin had become the socialite star she had desperately sought to portray herself as.
Netflix has since partnered with TV producer Shonda Rhimes to create a series based on the fallen fraudster's life- where a young Russian woman born into a family of drudge and meandering nothingness had managed the impossible – to become an uber NYC socialite beckoning the attention of NYC's real elite – even if it was all on sheer pretense and on other people's dime.
'How I even conned myself' Fake Russian billionaire hostess appears in court
Anna Sorokin wannabe socialite busted skipping pricey hotel bills and yummy food