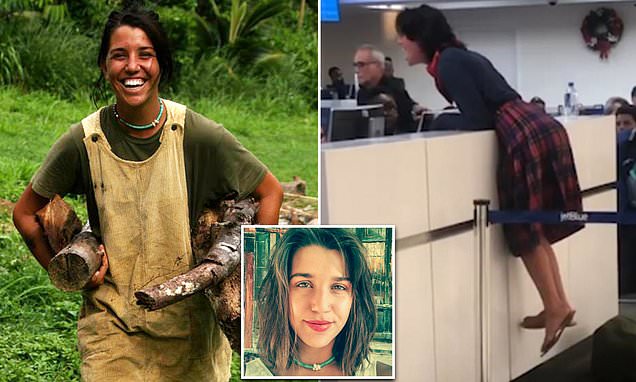 Sabrina Thomas: JetBlue female passenger caught on viral video having manic tantrum at Florida's Fort Lauderdale-Hollywood International Airport. As filmed by Dre London. 
Also making the tabloid rounds is viral video of what appeared to be a 'drunk' JetBlue female passenger leaning over a counter- screaming manically at an airline worker, demanding that she be allowed to board a flight.
The video posted on Monday on Instagram shows the San Marcos, California based passenger since identified as Sabrina Thomas, 26, hurling insults and threats at an airline employee at Fort Lauderdale-Hollywood International Airport, calling him a 'rapist' as she hoists herself onto the counter.
The unhinged traveler was one of many passengers held up for 20 hours when technical issues forced the airline to wait for another plane, according to Yahoo Lifestyle.
'Who does that to a woman like me? Get me out of here!' the unidentified woman yells.
We guess the #government #shutdown is taking a toll on just about everyone. This woman threw a tantrum in a #JetBlue #airport terminal then walked off like it was nothing. . . pic.twitter.com/TXOwYZSunL

— LoVetta Jenkins (@ChattyPassenger) January 8, 2019
Sabrina Thomas Jetblue passenger denied access on flight after appearing very drunk:
The meltdown was posted on the social media site by user Drelondon (Dre London).
'While in Fort Lauderdale airport everyone remained calm apart from this woman who went crazy on #JetBlue staff called him a rapist & she said she had a gun on me + many crazy things in front of kids,' he wrote in the caption.
Naturally the suggestion of the woman having a gun on her sent the individuals recording he unfolding incident aghast and delicious disbelief (it's worth listening and watching at least three times).
But it gets grimmer….
JetBlue told Yahoo that the woman, who also claimed to be homeless, was scheduled for a flight that did not have any major delays, but was denied boarding because she appeared sloshed.'
'On January 6, crew members at Fort Lauderdale-Hollywood International Airport requested assistance from local law enforcement after a customer was denied boarding for indications of intoxication and became disruptive,' an airline rep said.
Following the incident, footage shows the woman sitting on the floor with local law enforcement around her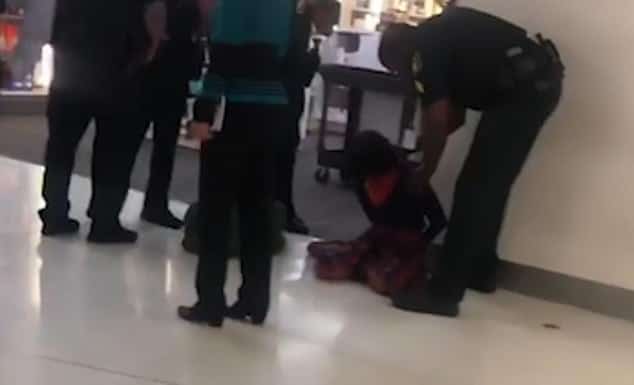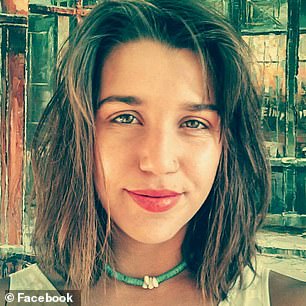 Sabrina Thomas JetBlue: 'I'm racist against white people'
According to an incident report obtained by dailymail, a sheriff's deputy responded to the F concourse at the JetBlue Terminal 3 at Fort Lauderdale-Hollywood International Airport for a passenger causing a disturbance shortly after 5pm Sunday.
The deputy wrote that when he encountered Thomas, she threw a duffel bag at the wall and hurled her passport on the floor.
'She then threw at me a boarding pass that she ripped into several pieces,' the report stated.
Citing the passenger's 'aggressive actions,' the responding officer said he grabbed her hands and restrained them behind her back.
After the 26-year-old reportedly ignored multiple verbal commands to turn around the sit on the floor, the deputy 'directed' her to the floor and handcuffed her, at which point the woman 'again became irate and started to scream profanities.'
Thomas, who is white, was quoted as yelling, 'I'm racist against white people, I f***ing hate white cops.'
Thomas was eventually escorted off the concourse and transported to Broward General Hospital as an involuntary Baker Act patient after displaying what the officer termed as 'bizarre behavior' and making 'irrational statements.'
Jetblue woman social media reactions:
And then there were these social media reactions that caught this author's attention, see what you think?
The way she loses her entire mind then walks away like nothing happened is CRAZY https://t.co/35GJIsxneo

— Sarah Colonna (@sarahcolonna) January 8, 2019
70 years ago if a hysterical White woman just like this called a Black man a "rapist", he was lynched with no questions asked! Then they would've cut off body parts for and kept em souvenirs…😒 https://t.co/g6QYk4Xj6o

— ( ͡° ͜ʖ ͡°) (@KingMike33) January 8, 2019