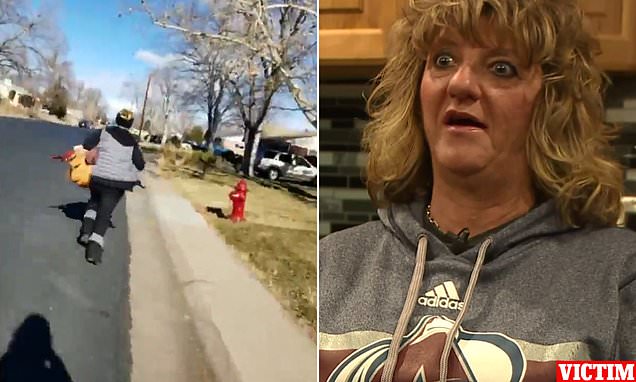 Renee Abeyta a Lakewood, Colorado resident gives chase to a porch pirate suspect after being alerted by home surveillance a Christmas package had been stolen. 
Going viral on Xmas Eve is video of a Lakewood, Colorado woman giving chase to a 'porch pirate' suspect upon being alerted by a home surveillance device.
Stepping out of her home, Renee Weber Abeyta surveys the scene- only to see nothing apparently amiss.
It's while checking her home security system's app on her cell phone that the homeowner realizes what has happened.
Video captured the moment a woman non-nonchalantly walked up to Abeyta's front door, picking up a package before bolting.
Rather than leaving it be or calling police- Abeyta instead gets in her car and begins to give chase to the woman who fled by foot.
Posted Abeyta on her Facebook wall of the unfolding saga: 'The Bad Santa came out of me today. Never would I have ever acted out like this but when someone steals s#&& from you on camera my inner self said NO WAY!'
Renee Abeyta: 'I thought no way this is happening to me'.
KDVR reported Abeyta saying the stolen item was a cooking pot cover purchased as a Christmas gift.
Told Abeyta, 'I thought no way this is happening to me'.
At one point, Abeyta gets out of her vehicle and begins to run after the suspect by foot.
'What's your name? Did you just steal something?' Abeyta could be heard saying as she recorded the woman after she had parked her car.
'Give it. I am going to call the f****ng police,' she continued. 'I've got you on camera, b**ch, give me the f****ng thing now!' 
At one point in the video, the fleeing thief expresses her innocence.
'Leave me alone lady,' she blurted out. 'I did not take anything.'
'You f***ed with the wrong person. What's wrong with you,' Abeyta is heard retorting.
After a lengthy chase, Abeyta was able to force the woman to come to a stop and hand over the package.
She was willing to run a couple of more miles.
'Hopefully that girl and other people don't steal stuff because it's Christmas,' Abeyta said. 'I mean these presents are for people.'   
To date no word yet on the identity of the alleged porch pirate perpetrator.