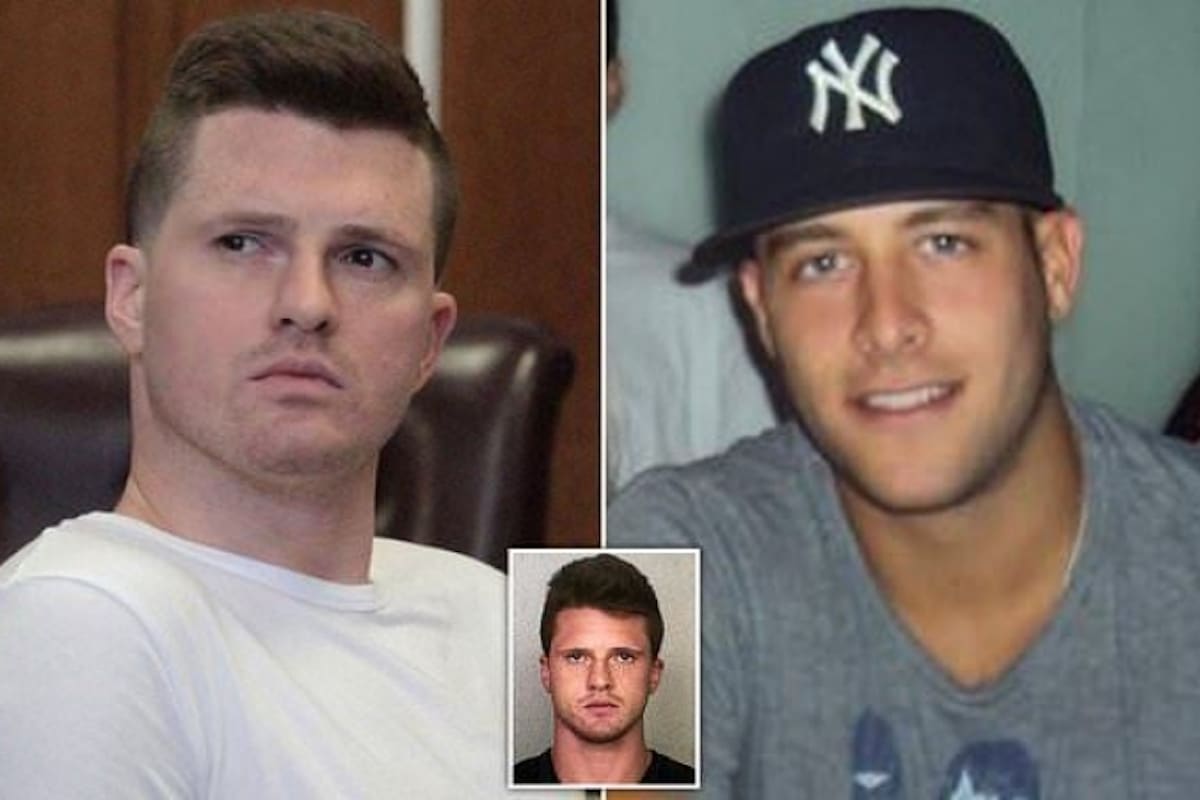 James Rackover the surrogate son of Manhattan's jeweler to the stars is sentenced to maximum term in the murder of Joseph Comunale following drug fueled parting on the U.E.S. 
The surrogate son of an upscale Manhattan jeweler was on Wednesday sentenced to consecutive maximum prison terms for the slaying of a Connecticut man during an after hours party at an upscale Upper East Side apartment.
James Rackover, 27, a former Florida ex convict who led an opulent lifestyle courtesy of his rumored lover and benefactor, Jeffrey Rackover- 'jeweler to the stars' was sentenced to 28 2/3 years to life behind bars in the murder of Joseph Comunale, 26. 
The sentencing came after a jury convicted Rackover of second degree murder, hindering prosecution and concealment of a human corpse.
'This is precisely the rare kind of case that maximum consecutive sentences are reserved for, and no other lesser sentence would make much sense,' Manhattan Supreme Court Justice James Burke said during sentencing.
SENTENCED: James Rackover will spend at least 28 years in prison for the 2016 murder of a young man in his luxury Manhattan apartment. https://t.co/FZg2G6rbFp pic.twitter.com/GzVhaCFFMp

— 48 Hours (@48hours) December 6, 2018
James Rackover sentenced: Argument over dwindling cocaine.
The heinous murder and destruction of Comunale's corpse came after an evening of drug fueled partying at Rackover's upscale Upper East Side apartment went horribly wrong.
Prosecutors argued that Rackover and his co-defendant Larry Dilione, 30, who will be tried separately, slaughtered the Hofstra graduate after an argument over cocaine on Nov. 13, 2016.
A third defendant, Max Gemma, who was present during the killing but did not take part, is facing lesser charges for helping to cover up the crime.
Dilione met Comunale for the first time early that morning and headed to Rackover's luxury Grand Sutton fourth floor pad for an afterparty. A pad whose pricey monthly rental was taken care of courtesy of Jeffrey Rackover who lived 28 floors above his surrogate son. 
After an argument likely sparked by their dwindling supply of cocaine, according to prosecutors, Comunale was dead.
The two men relentlessly beat him until he was unconscious before dragging him to the bathtub and stabbing him 15 times, according to Assistant DA Antoinette Carter.
James Rackover sentenced: 'I slit his throat and stabbed him'.
Prosecutors presented evidence of an attempt to bleach the crime scene along with the recovery of bloody bags in a trash room. 
From there the two men stuffed Comunale's body in the trunk of Rackover's Mercedes, and drove to Oceanport, NJ, where they ditched Comunale's body in a shallow grave and dousing it in gasoline and setting it alight.
Rackover's sentencing followed testimony days earlier from the son of Fox5 "Good Day New York" host Rosanna Scotto, Louis Ruggiero, who testified that Rackover confessed to the crime a day after the murder.
'I slit his throat and stabbed him', Ruggiero testified his former friend telling him.
Defense lawyers Maurice Sercarz and Robert Caliendo said Dilione was the actual killer and that Rackover was only guilty of helping to cover up the murder. 
Rackover will be eligible for parole in 2047.