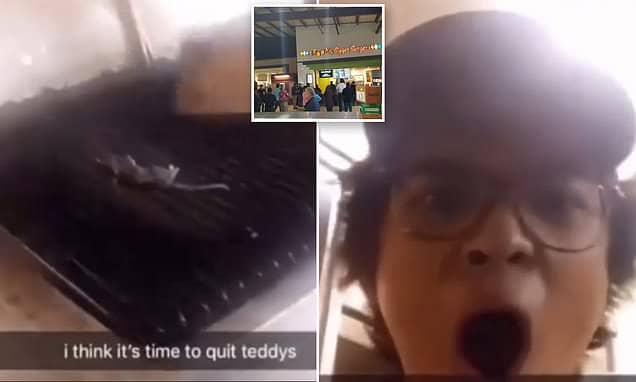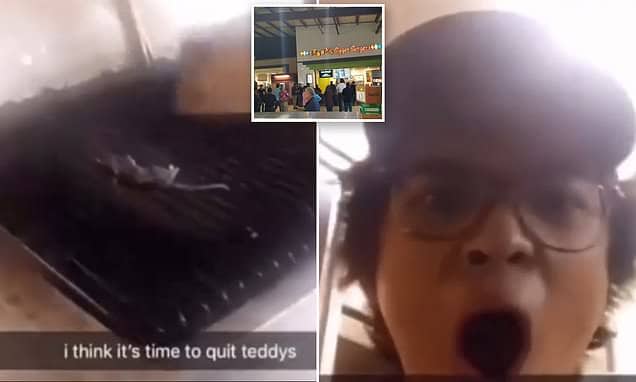 Teddy's Bigger Burgers rodent rat grilling video fiasco. A Mapunapuna- Honolulu burger joint temporarily closes its doors after viral video.
A burger joint in Hawaii has 'temporarily' closed its doors after video surfaced of a rodent being 'sizzled' on a grill at the hands of a worker.
'We are horrified a former employee would create something like this trying to destroy our reputation without regard for our 20-plus years of quality and aloha,' Teddy's Bigger Burgers President Richard Stula told Hawaii News Now.
The video, which surfaced on Snapchat, appeared to show two teenage workers joking as they fry up a rat next to a beef patty at the restaurant in, Mapunapuna– Honolulu. 
'Braaaaah. Gnarly. Employees at Teddy's Bigger Burger cooking a rat at the 99 ranch location. Ummmmm … so gnar,' read the caption of the since removed viral video. 
Commented one of the workers during the clip, 'I think it's time to quit Teddy's.'
The video ends with one staff member smiling and the other opening his mouth to pull a shocked face.
Don't eat at Teddys Burger in Mapunapuna.
They cooking rats on the grill 🤢😷🤮 pic.twitter.com/3OTTVFgita

— KidBranz 🤙🏽 (@HawaiiKidBranz) November 22, 2018
Teddy's Bigger Burgers rodent rat grilling video fiasco: 'we are horrified.' 
The incident led to the fast food restaurant firing two employees — with the Honolulu burger outlet now planning to conduct a 'complete sanitization' of equipment and replace utensils. 
'We will then send a corporate team in to inspect and complete a thorough audit of the location before it is allowed to re-open,' Stula told Fox News.
Adding, 'We are horrified that a former teenage employee would conduct themselves in that way and make such a video of which we are investigating its authenticity.'
No mention of how or where the rodent came to be found before being grilled.
To date the identity of the alleged involved workers has not been publicly released.
The state's Department of Health had been scheduled to inspect the restaurant Friday.