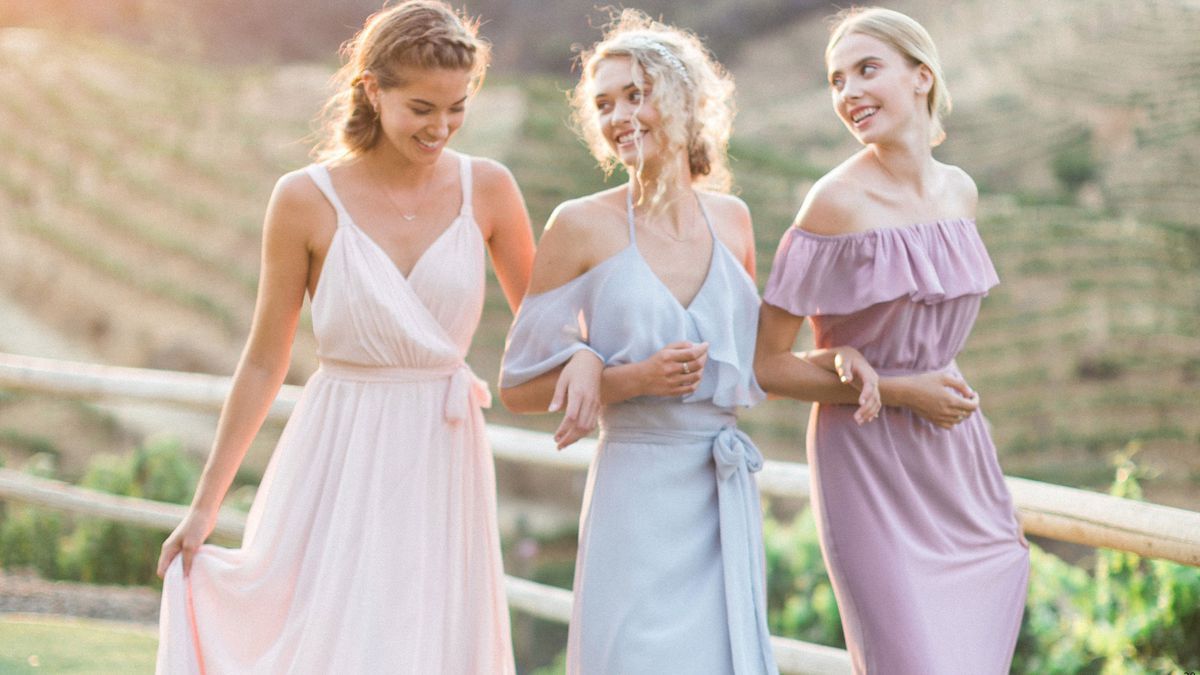 Bridesmaid attire that best matches your upcoming wedding. Figuring out how to dress your bridesmaids (even the bride and groom) and guest attire requires imagination and some guidance. 
Weddings are stressful, especially for the people getting married. From narrowing down the list of guests to figuring out where everyone will sit, the planning and preparation can quickly transform into a daunting task. Then, of course, there's also the matter of the bridal party and what the bridesmaids will wear. They should like the color and style of their dress, but so should you. It is your day, after-all.
Catering to meet all tastes might seem difficult, but it isn't impossible. Here are a few tips to help you choose outfits that both you and your selected guests will love.
No theme
Themed weddings are either loved or hated, but themed attire—especially if the selected theme is so out-of-the-box, it forces guests to buy new outfits—can definitely alienate your invitees.
If you want to ensure your guests have a great time even before they come to your party, don't enforce an attire theme. If you do decide to do one, though, be considerate and make it a general theme that is open for interpretation.
For instance, choosing a Harry Potter theme for your wedding might force a lot of people to go out and buy cloaks. Your wedding will be ripped of creativity and it'll look like your guests are wearing a uniform, not an outfit. However, if you go with something more general like a whimsical or vintage theme, you will find a bit more creativity—adding an element of intrigue and surprise—while still maintaining those fun magical elements from your favorite movie series.
Designated length
When it comes to choosing your bridesmaid dresses, length will come into question. It is important for you to keep in mind that your bridesmaids will most likely recycle their dresses to use for future parties. In comparison to formal events, the average individual gets invited to more casual parties where longer dresses might seem out of place. Therefore, it might be a nice gesture from you to opt for mid-length dresses for your guests, especially if your wedding is on the casual side.
If you decide to go for a long dress option, keep it a simple style. Not only will such dresses be appropriate for semi-formal parties, but they can be tailored and shortened to create a new dress for future use.
Whatever you decide, it is important to pay close attention to the style, length, and price point so that your bridesmaids don't have to carry a big burden when it comes to your selection. Shopping for these items doesn't have to be a hassle.
Instead of wasting time going into shop after shop, make it a fun girls' night in and shop for bridesmaid dresses online. Not only will you have access to many more selections, but you might score them at a much more affordable price.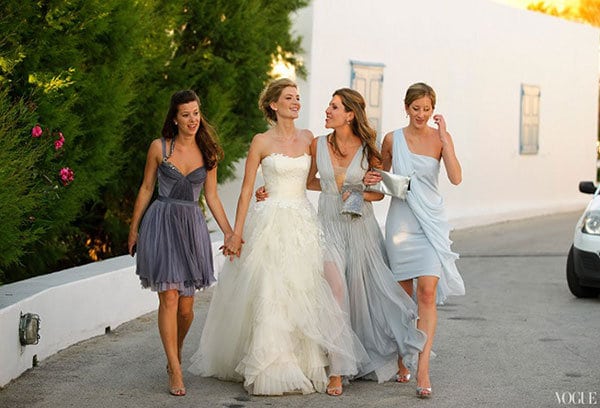 Classic style
Trends change, and things go out of style, but there are designs you won't regret wearing twenty years from now. A simple but elegant sheath, a strapless A-line dress, or a Grecian inspired one shoulder gown are examples of iconic dresses that won't ever go out of style. Sure, there might be trendy designs on the market, but opting for a simple cut or a traditional color ensures your wedding photos won't ever look dated.
Reasonably expressive
Colors and patterns aren't bad, but keep in mind that a wedding is a rather formal event typically associated with optimistic, pastel colors. Bridesmaid dresses don't have to be boring, but going back to the timeless point, try to resort to colors that aren't a sign of the times. Muted hues and pastels, particularly lilacs or peach tones, are popular color choices. Whatever you choose, make sure your bridesmaids are comfortable with the selection and will be happy to wear the color with pride.
Comfortable
Your bridesmaids do so much for you, so in return, you should make sure they're comfortable, mentally, emotionally and physically in the days leading up to your special event. In order to look great in an outfit, one must be in a great state of mind. This is where you come in.
It is far too easy to get caught up in the stress of creating a perfect wedding. While your bridesmaids are there to help you, they can ultimately take on the stress themselves and feel overwhelmed in the process.
Positive reinforcements or small gestures of kindness can go a long way in helping your bridesmaids feel valued and confident. Not only will this help them feel comfortable, but it will also enforce them to do better for you, as they know their actions aren't going unnoticed. When people feel amazing, they look amazing. And having a wedding filled with positivity will make the memories—and pictures—that more special.
Getting married is wonderful, but putting together a wedding is a lot of work. While a wedding is your day to shine, it's also important to remember that there are more people involved. From your guests, bridesmaids, caterers, and everyone in between, many hands come together to create your magical event. By keeping these peoples' budgets, interests, and efforts in mind, it will surely pay off for you in the best way possible.