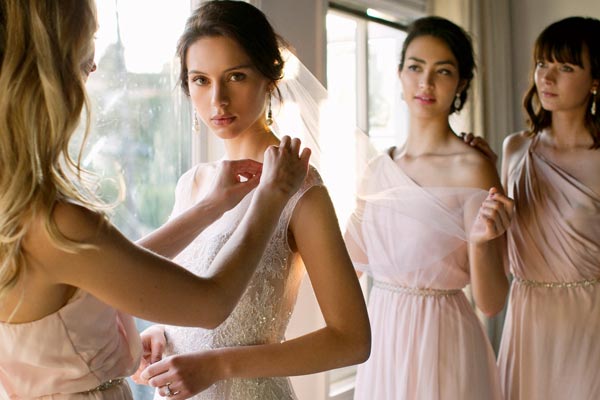 Dress Your Bridal Party Online: How selecting bridal gowns for an upcoming wedding became a signature trend on the web, where designers offer an array of choices.
Dressing a bridal party used to be a cottage industry. Every neighborhood had a seamstress who specialized in making bridesmaid gowns.

That's the way it used to be. Skilled seamstresses are not so common anymore, and this type of sewing is unfortunately a dying craft.
On top of this, the department stores that once had bridal departments fully staffed to help you with style, fabric, and fitting have shuttered those departments.
The internet dresses up
The web has stepped in to make everything bridal available online. Even Amazon and eBay sell new and used dresses and accessories for the bride and her attendants. Still other web outlets sell ready-made and off-the-rack dresses.
Lindsey Unterberger of Glamour cites the advantage of "skipping the exhausting bridal boutique experience."  Azazie dresses offers this advantage and more, starting with beautiful design, custom fitting, and professional craftsmanship. So, if you're going to shop bridal online, pick a company that conscientiously supports workers and sustainability issues.
Bridal choices
The Azazie Prima, for example, offers classic styling in organza. Its sweetheart neckline tops a floor length trumpet-mermaid skirt with romantic chapel train. The dress is detailed with hand-worked flowers and a lace-up back.
Azazie's Isadora is a contemporary look far removed from the frills of the Prima. Thoroughly modern and sophisticated, this sleek A-line flows chicly to the floor with a center front slit and just enough train to sweep behind. Its real eye-catching attraction is the hand-beaded, intricately sequined bodice and criss-cross strap across a bare back.
Mother of the Bride
Mothers of bride and groom have choices, too, from the short to the long of it. The Azazie Aracely, for example, puts mother in knee-length lace and chiffon. Smart and simple, the design, shown here in navy, comes, in 40 colors to complement the bridal color scheme. Its sheath skirt, with just a suggestion of a slit, flows just loose enough below an embellished scoop neckline.
The Azazie Makena is an elegant A-line cut on a floor-length dress in chiffon. It has a V-neck and back, and a dainty lace applique on the bodice for an elegant touch above intricate horizontal pleats above the waist. Detail continues the the back.
And, the Bridesmaids, too
Azazie's Grace is a contemporary and perky spin on a cocktail dress for young women. Its knee-length but full skirt makes a great profile for dancing the night away. The chiffon with front and back V-neck remains comfortable regardless of the weather on wedding day.
Or, you can go long and modern in the floor length Azazie Rebecca in crinkle chiffon. It's dusty rose in this image, but it comes in eight other color choices. It features a blouson top with spaghetti straps to top the sensual design.
What Azazie does besides the dresses
Shoppers choose designs and order online. But, they can also chat with their Azazie host to refine details, sizing, fabrics, and more. Each dress is cut and sewn to fit your exact measurements. Standard size or custom-sized, the dresses are made to order.
This is a new retail platform basically outsourcing the work and expertise of family-owned dressmakers. By avoiding heavy advertising, brick and mortar store overhead, and extra inventory, they are able to offer value that emphasizes design, material, and craft.
Insisting on artisan dressmaking, Azazie works with quality tailors in the business and artistry of handmade clothing, high quality fabrics, and made-to-measure beauty. The process reduces waste, encourages work productivity, and improves the wages and working conditions of their employees and contractors.
Jillian Kramer, writing for Brides, recommends buying on line on the condition that you really understand your size requirements – bust, waist, height, and so on, and that you learn about fabrics and secure fabric swatches or samples. Also, she strongly advises understanding the payment and return policy.