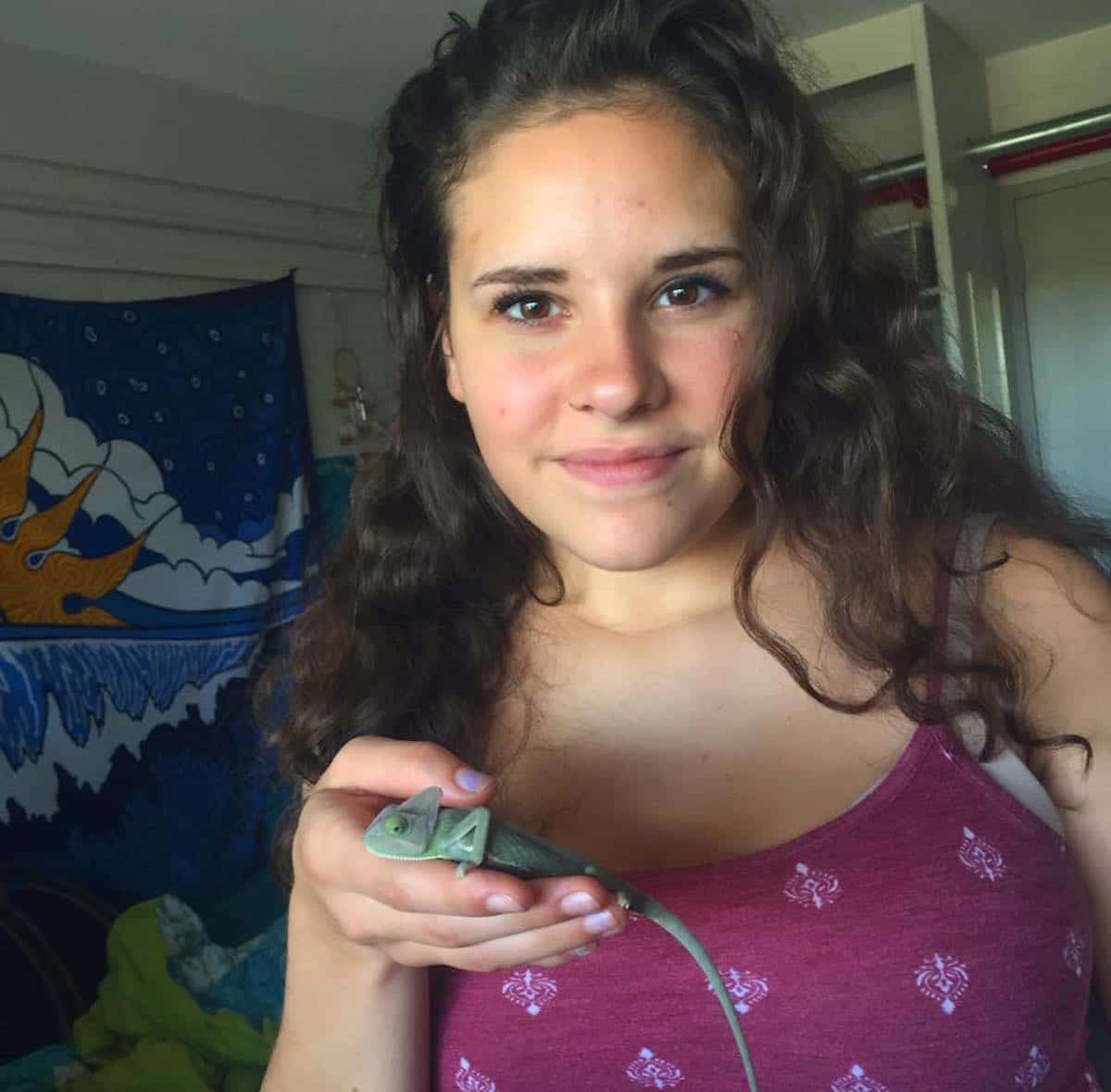 Mikaela Dixon $75 hush pay off: United Airlines passenger pleasures self but isn't reported to the FBI during five hour California to Chicago flight.
A United Airlines female passenger has accused the airliner of having paid her $75 'hush money' after a man sitting next to her pleasured himself 'for hours,' while her accompanying boyfriend was asleep.
Buzzfeednews reported Mikaela Dixon, 21 flying on a United flight from Orange County, California to Chicago, Illinois on August 11 when the 'sexually offensive' behavior took place.
Tweeted Dixon, 'My bf was asleep in the window seat, I'm in the middle, and the man is in the aisle. I had no idea what to do, I couldn't get up bc I didn't want to go anywhere near him.'
Dixon claimed that she was not comfortable asking for assistance because she did not want for the man to hear her report him. She described the perp as being in his fifties, wearing an orange tank top and blue shorts and 'rubbing himself' through his pocket, 'making noises and breathing heavily.'
'I sat there shaking until he got up to go to the bathroom as we landed,' she added. 'Attendants came over, moved my seat, [and] at this point the guy came back and knew what was happening.'
At one point, Dixon woke up her boyfriend, Jared Ijams, to make sure she wasn't seeing things. But she wasn't.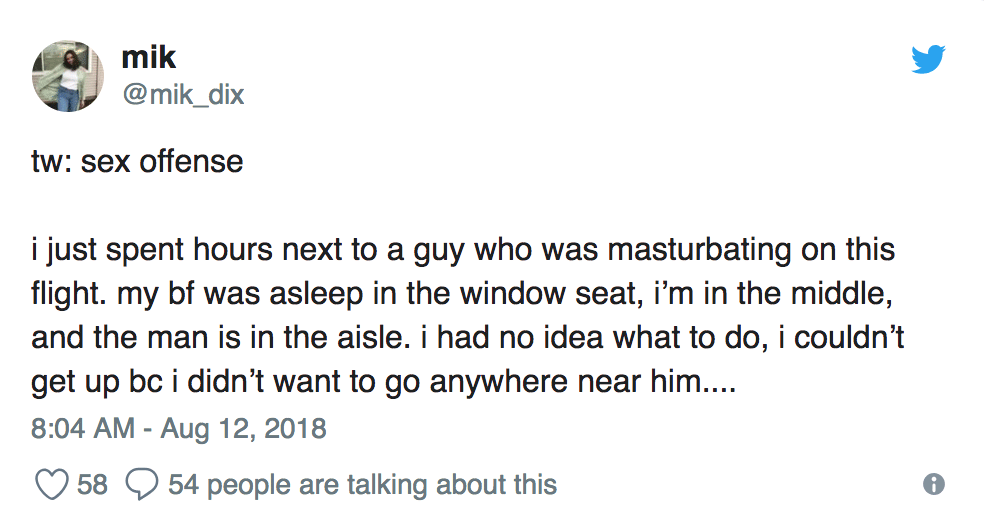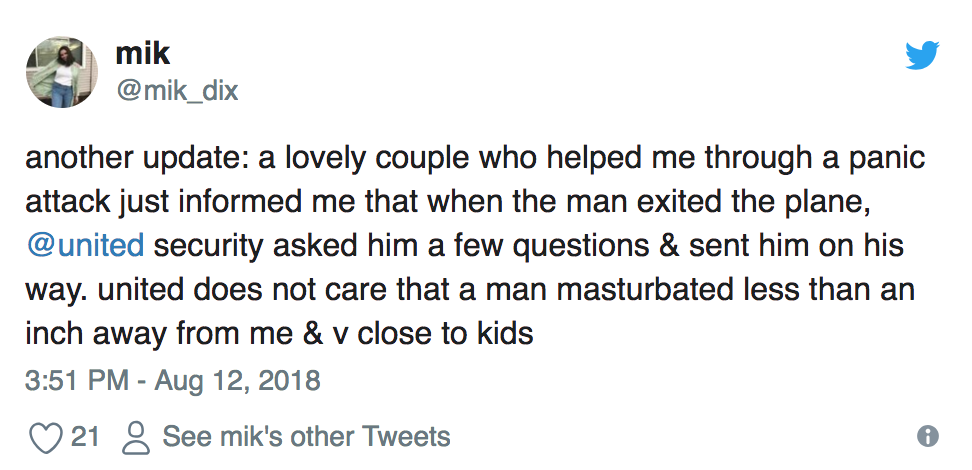 Mikaela Dixon paid off by United Airlines: 
The Lewisburg, Pennsylvania, native explained that the man tried to talk with other passengers on the plane but emphasized that they had 'all heard what he did and ignored him.'
She described the man's actions to the flight attendant, claiming that he could hear her because he was only a seat behind her. 
Dixon said: 'The plane stopped at the gate & he BOLTED, tried so hard to get off but another guy blocked him.' 
She explained that the man allegedly was detained as he exited but she is unsure what became of him. 
Told Dixon, 'United Airlines gave me $75 and told me I'm not allowed to know what happens to him unless I press charges against him,' 
'Sooo i got my hush money and now i have to wonder forever whether this guy got away with it?'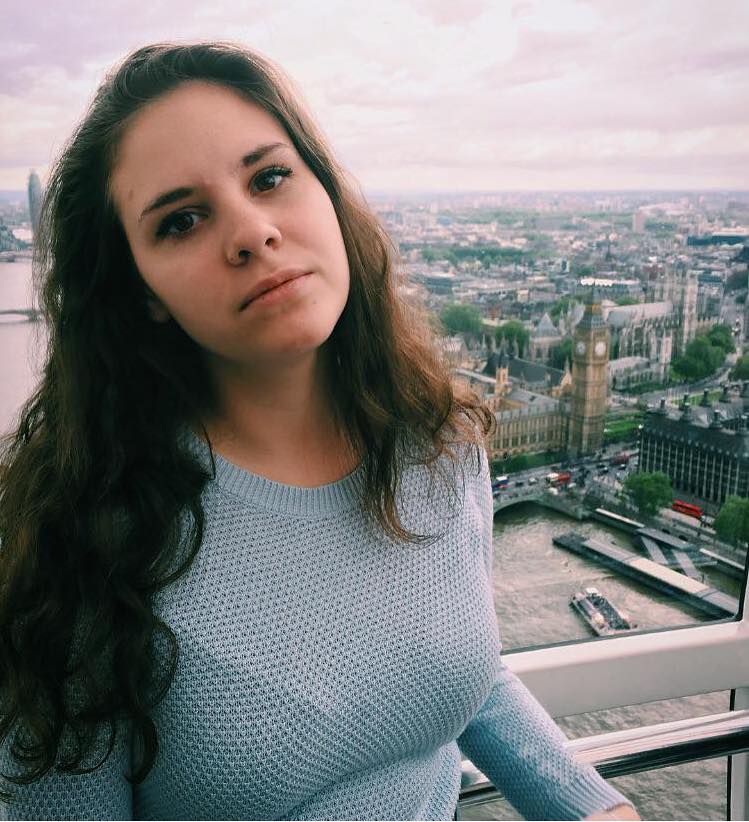 Mikaela Dixon: 'United Airlines lied about everything'.
Dixon claims that she suffered one of 'the worst panic attacks' of her life and could only sit in the seat, and is baffled as to why nothing appeared to be done to the man. 
Officer Michael Carroll of the FBI told BuzzFeed News that they received a 911 call from a citizen, not the airline, and that the man in question had already left when an officer arrived at the scene.
'They were desperately trying to keep it internal,' Dixon told BuzzFeed.
Dixon posted United lying about 'everything' and letting the man go after only a few questions. It wasn't until Dixon called the cops that a report was filed with the FBI. 
'Basically United lied about everything, let the man go after a few questions, and refused to involve law enforcement until I called the cops myself and forced them to file a report w [sic] the FBI,' she tweeted.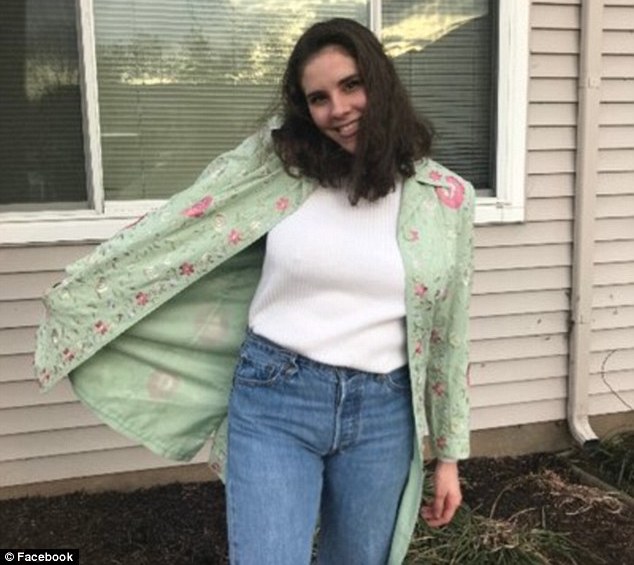 The incident of sex offenses on flights and being reported: 
The FBI points out that sex offenders on flights take advantage of the fact that some victims might not report an incident because they are embarrassed or don't want to cause a scene.
In 2014, 38 cases of in-flight sexual assault were reported to the FBI. That number increased to 63 in 2017. There's no further breakdown for the type of sexual assault.
The airline released a statement claiming that they were 'investigating the matter to learn more about what happened.'
'The safety and well-being of our customers is our top priority. Our customer was immediately moved to a different seat when the flight attendants were made aware of the issue and the aircraft was met by our security personnel,' a spokesperson said.
'Although United Airlines, as a company, cannot press charges on our customers' behalf, we will provide as much assistance as possible to law enforcement authorities should they investigate this matter further.' 
Of disconcert, a 2017 survey found that 1 out of 5 flight attendants had received a report of passenger-on-passenger sexual assault during a flight. The findings showed that law enforcement was contacted or met the plane less than half of the time.
To date it remains unclear why United Airlines seemingly declined reporting the sex assault to the FBI and wha penalties, if at all, the perp now faces….