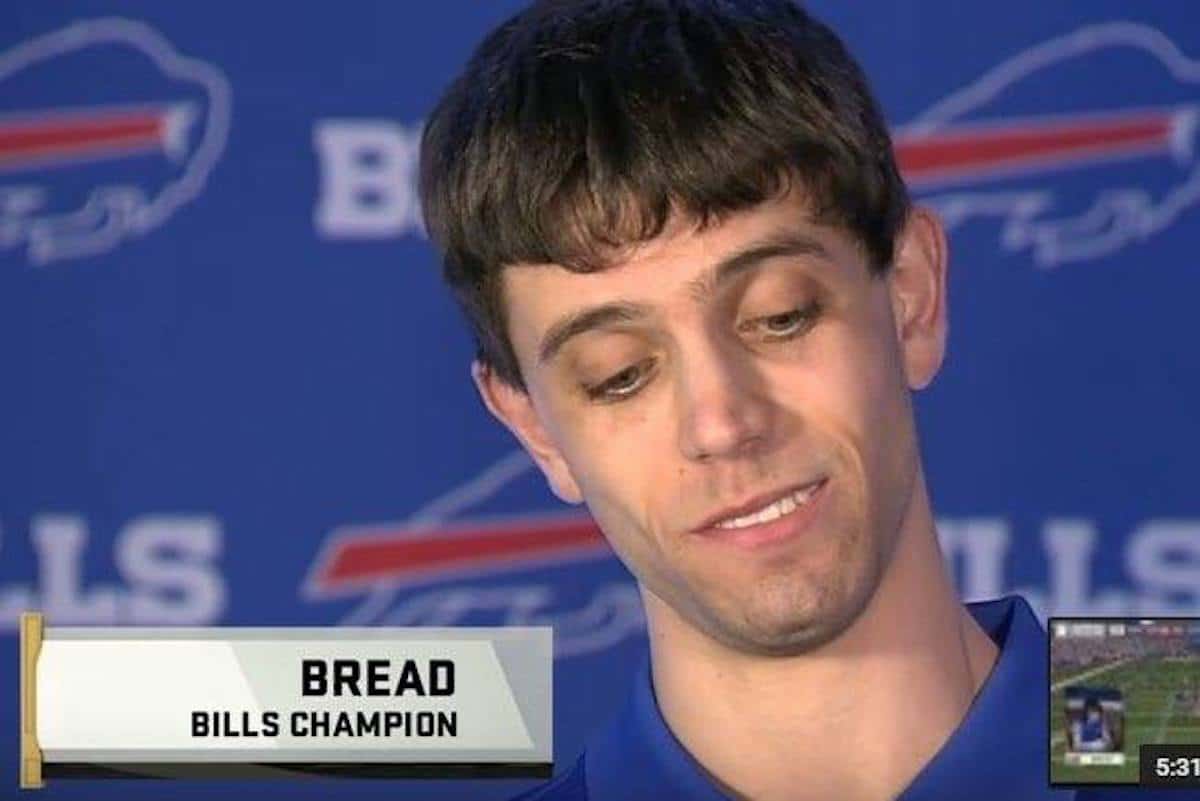 David Katz 

Madden 19 NFL 

football video 

pro gamer takes revenge on fellow participants after losing at Jacksonville Tournament. 
David Katz a 24 year old 'disgruntled' professional gamer has been identified as the suspect allegedly responsible for the mass shooting at a Florida video game tournament that led to two individuals killed and eleven injured along with the suspect's own suicide shooting death.
The incident which took place at the Jacksonville Landing complex in Jacksonville circa 1.34pm Sunday, involved the shooter using a semi automatic handgun equipped with laser sight.
A livestream of the tournament caught the moment a laser from Katz's weapon landed on the chest of one of the players before shots rang out.
Social media identified the two fatal victims of Sunday's Jacksonville mass shooting at the hands of disgruntled Madden football video gamer as fellow pro gamers, Taylor Robertson, 27 and Elijah Clayton, 22.
Nine of the non-fatal injuries were gunshot wounds and two were sustained while fleeing the chaos, Jacksonville Sheriff Mike Williams said.
Williams said that Katz is from Baltimore and had traveled to Jacksonville for the Madden 19 video game tournament. His car was seized by police near the scene. 
About 150 gamers competed in the competition for a $5,000 prize. The winner was set to go on to a finals tournament in Las Vegas with a $125,000 prize. 
VIDEO of 24-year-old David Katz, the Baltimore gamer believed to have been the shooter at the Jacksonville Landing. Sheriff says he killed himself. Listen to how announcers describe him. pic.twitter.com/YkiAokUBHg

— Vic Micolucci WJXT (@WJXTvic) August 27, 2018
David Katz Jacksonville mass shooting suspect: Was acting weird
One of the gamers to defeat Katz in the tournament told ActionNewsJax that Katz was acting 'weird' on Sunday and wearing the same clothes he wore yesterday, the first day of the tournament.
The gamer said that when he beat Katz on Saturday in the pool round, he tried to shake his hand, only for Katz to stare blankly. 
An announcer for one of the gaming tournaments Katz previously played in described him, 'He is not here to make friends. He's all business, he's focused, and to even get him to open up to talk to you about anything – it's like pulling teeth, man.'  
Witness, Javarius Long, told the Tampa Bay Times that the shooter was 'nerdy'. Long said he got mad after losing, left the venue, and came back and started 'blasting everybody'. 
Of note, Sunday's shooting followed Katz winning the Madden tournament two years ago according to miamiherald.com.
Interview of David Katz aka Bread, the shooter at #JacksonvilleLanding who killed two gamers and himself in a very tragic incident today at #Madden19. Our prayers with the victims. pic.twitter.com/Gj8q4stprR

— Haroon Haider (@haroonhaider) August 27, 2018
Congrats to David Katz, the Madden 17 Bills Championship winner!

Thanks for following along, Bills fans. https://t.co/YHJHzlFElc pic.twitter.com/incdEhLxkT

— Buffalo Bills (@buffalobills) February 27, 2017
David Katz Jacksonville mass shooting suspect: Broken childhood who retreated into gaming.
Come Sunday night, FBI and ATF agents raided a home in the upscale Federal Hill neighborhood of South Baltimore. It is believed to be the home of Katz's parents, where the shooter himself also lived. 
Katz is known to have gone by the gamer monikers 'RavensChamp', 'Bread' and 'TREXHAVAHARTATAK'. He won the Madden 17 Bills Club Championship in February of 2017 in Buffalo, New York.  
Court records relating to his parent's divorce showed Katz as a child having 'significant health problems'.
At the time of the 2014 court filing, the shooter's father worked for NASA, and his mother worked for the US Food and Drug Administration. 
The dailymail reported Sunday's shooting breaking out during the Madden 19 tournament at the Good Luck Have Fun video game room (yes the irony…) inside Chicago Pizza, a restaurant inside the shopping complex that sits on the north bank of the St John's River.  
The tournament took a deathly turn when during livestream, one of the players was seen with a dot appearing to be a laser 'dancing,' on his chest and neck seconds before shots and screams are heard, with the feed cutting out.   
Commentators went silent as the first gunshots were fired and people began screaming. 
The stream then cut out with a message appearing saying 'controller disconnected'.
'Oh f–k! What did he shoot me with?' one victim can be heard yelling between shots in the clip, which didn't capture video of the carnage.
"I was actually one of the people that beat him…"

GAMER and WITNESS talks about suspected #TheLandingMassShooting shooter David Katz. Says he was acting 'weird' all weekend. #BREAKING #Jacksonville #JacksonvilleLanding #JacksonvilleLandingShooting @ActionNewsJax @WOKVNews pic.twitter.com/7ZwqKbMzGM

— Ryan Nelson (@RyanANJax) August 27, 2018
David Katz Jacksonville shooting victims describe terror:
One witness told CNN he saw the gunman shoot multiple people before killing himself and that it appeared he had a laser sight on the gun to help him target victims. 
Police arrived on the scene within two minutes of receiving the first 911 calls at 1.34pm, Sheriff Williams said. 
Witnesses said people trampled each other while fleeing the gunfire. 
One of the gamers in the tournament, Drini Gjoka, revealed his horror after he was shot in the hand and ran for his life.
'The tourney just got shot up. I'm leaving and never coming back. I am literally so lucky. The bullet hit my thumb. Worst day of my life,' he tweeted.  
'I will never take anything for granted ever again. Life can be cut short in a second.'
One gamer, Larry Legend, was shot three times in his chest and hand. His mother tweeted: 'My son was shot 3 times please keep him in your prayers'. 
'@oLARRY2K was shot in chest and hand I was with him. I have his bag and phone. Plz retweet this to notify 2k community. He is at Florida Shands hospital. didn't look life threatening to me but injured bad. I love you bro,' fellow gamer BUCTILLIDIE tweeted.  
Another witness, Ryan Alemon, told CNN he hid in the bathroom for about 10 minutes before fleeing the bar when he was certain the shooting was over.
'Everyone was running, they were dropping because they were getting shot. I heard yelling, I heard 'Help me, I'm shot',' he said. 
'As I was going in the restroom, I stayed in there, and I just heard – there was just so many gunshots, at least 20 of them at the most.'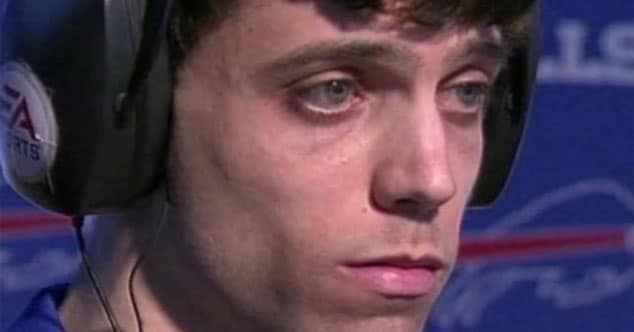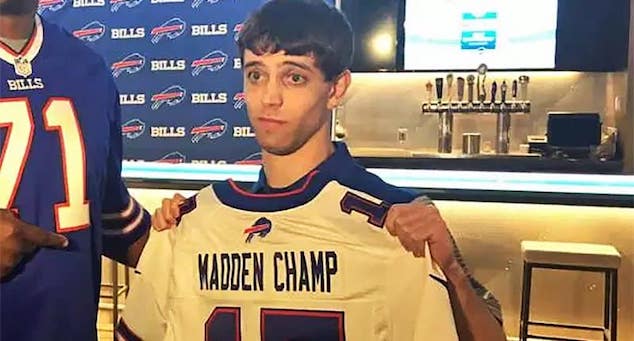 David Katz Madden 19 NFL football video pro gamer mass shooter: premeditated? 
By about 4.30pm, SWAT teams had cleared the Jacksonville Landing of potential victims and witnesses. 
Multiple emergency crews were spotted on the scene and police barricaded a three-block radius around the mall. 
The shooting follows close on the heels of another public shooting in Jacksonville, at a high school football game on Friday night, in which one was killed and two were injured.
The shooter in that incident, described only as a lone black male, is still at large and being sought by police. 
Welcome to a brave new America…