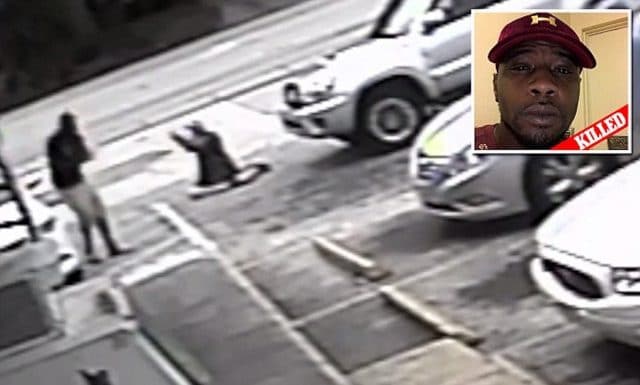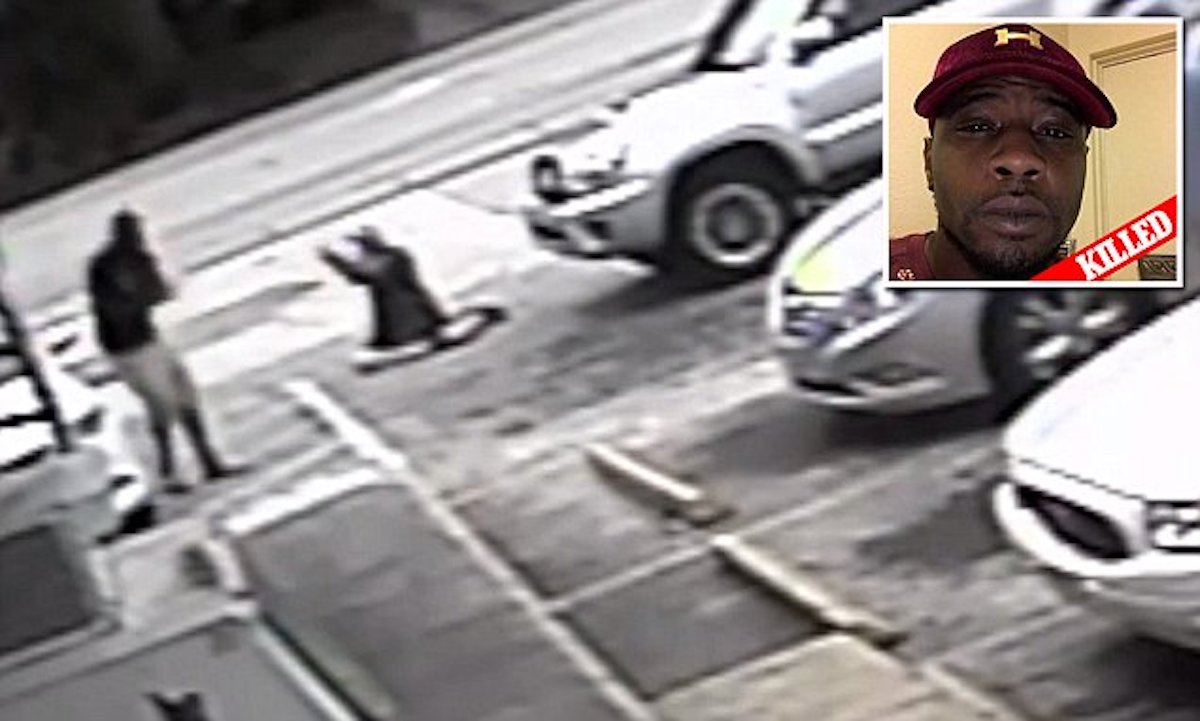 Clearwater stand your ground shooting no charges: Should Michael Drejka be charged with the murder of Markeis McGlockton? Florida's Stand your ground law leads to protests and demands of overhaul. 
A Florida gunman won't face charges after fatally shooting another man in a dispute over a handicap parking space after invoking the state's controversial 'stand your ground' law. 
Shot dead at the hands of 47 year old 'disabled', Michael Drejka was African American man, Markeis McGlockton following the 'white man' taking exception to McGlockton's girlfriend and mother of his three children, Britany Jacobs, 24 becoming embroiled in a verbal assault which led to the boyfriend coming outside of a convenience store and pushing Drejka with open arms on to the ground.
Drejka, presumably believing his life was in imminent danger or great bodily harm (thus invoking the Stand your Ground law) took out a licensed concealed handgun as he struck the ground and fired a single round into his aggressor. Never mind social media since debating who was really the aggressor?
The shooting led to McGlockton dying moments later as he stumbled back into the convenience store and dropping dead in front of his dazed five year old son. 
Debate remained whether McGlockton sought to pursue further physical action, with video seemingly showing the man backing away, while many wondered why the man ever resorted to forcefully pushing Drejka to the ground in the firs place and resorting to other less confrontational ways to defuse tensions in the parking lot at a Clearwater, Florida-Circle A Food store.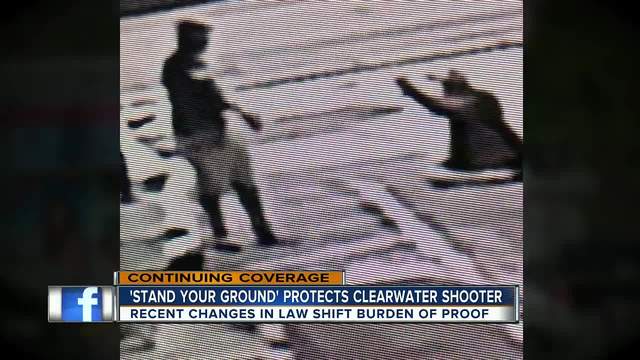 Michael Drejka using Stand your Ground law to act out predatory behavior?
The incident which took place last Thursday led to Pinellas County Sheriff Bob Gualtieri announced the following day the shooting being 'within the bookends of stand your ground and within the bookends of force being justified,' reported the Tampa Bay Times.
Of note, Gualtieri stressed the following, 'I'm not saying I agree with it, but I don't make that call'.
'Our job and our role is not to substitute our judgment for the law and what the Legislature has crafted as the framework,' he continued, 'but to enforce it equally and fairly as we're required to do.'
Gualtieri told of his offic forwarding the case to the State Attorney's Office for a final decision, with the agency over the weekend deciding not to move forward with any charges against Drejka. A decision which has since led to many crying foul, pointing to racist discriminatory undertone and the state condoning heavy handiness against minorities. 
The decision not to press charges has since led to wide protests, with many challenging the circumstances leading up to what many called 'McGlockton's murder.'
'He had to shoot to defend himself. Those are the facts and that is the law,' told Sheriff Bob Gualtieri over the weekend. 'No matter how you slice it or dice it, that was a violent push to the ground.'
But was the law being applied in a limited view and without regard to context and the actual threat of life threatening action? And what of the legitimate claim that some would seek to use the law to justify predatory behavior and act on biases?
Michael Drejka (not a cop) harassed Brittany Jacobs for parking in a handicap spot

Her boyfriend & father of her children, Markeis McGlockton defended her

Drejka murdered him in front of his 5 yr old son

Police defended Drejka & refused to charge him pic.twitter.com/OT3EaphsHF

— Bishop Talbert Swan (@TalbertSwan) July 22, 2018
Stand Your Ground Law: Should the law be changed? 
Surveillance video shows a white car pulling in and parking in a handicapped spot at a convenience store. The passenger and his 5-year-old son go into the store to buy snacks.
Moments later, an SUV pulls up. Cops say the driver, Drejka, was upset that the white car was in a handicap spot without a permit. In turn the man exchanged words with the driver, Britany Jacobs who remained in the white vehicle with the couple's two other children.  
Drejka is then seen reaching into his pocket, pulling out a pistol and firing a shot into the chest of McGlockton, who died of his injuries, leaving his girlfriend devastated.
'He wanted me to move my car,' Jacobs told CBS News. 'But I have my right to park anywhere I want to park.'
Adding, 'My man was trying to protect his girls like any man would.'
Store surveillance tape later showed there being many available parking spaces that the couple could have chosen to park, discounting Jacob's claim there were no alternate parking spots available.
Of note, the decision not to press charges led to Clearwater police Chief Dan Slaughter saying Florida's 'stand your ground' law needs 'significant improvements'.   
Citing Florida state legislature changing the law last year so the burden of proof is on the prosecution, not the defense, Slaughter opined, 'Those are standard, affirmative defenses that would generally be the responsibility of the defense to prove.'
Adding, 'I can think of no other law that has the provisions included to make an arrest so complicated.'
Debate surrounding the Clearwater shooting comes off the Stand your Ground law making headlines as George Zimmerman stood trial for shooting unarmed black teenager Trayvon Martin in 2012. He was acquitted of murder in what many decried as an instance of racial provocation….and the NRA's lobbying grip on law and legislators.
Stand your ground law? Florida argument over handicapped parking spot leads to 'justified' deadly shooting
Under Florida's stand your ground law, since I fear that Michael Drejka would kill me if we ever crossed paths, I have to right to hunt him down and kill him first, right?

— Joe Davis (@jdavis0403) July 21, 2018
The owner of the Circle A Food Store tells me this is not the first time Michael Drejka has picked a fight like this. Owner says he called police last month when Drejka started a fight with another man who parked in handicapped parking. Says Drejka threatened to shoot that man

— Kellie Cowan (@KellieCowan) July 20, 2018
Michael Drejka, 47 Of Clearwater, FL deserves to live out his life being reminded every day he is a coward and murderer.

— The Saucy Jalapeño (@roughchop) July 21, 2018
We tried to get a comment from Michael Drejka today following Pinellas Co. shooting that has become a #StandYourGround case, but he posted this sign on his door. @abcactionnews pic.twitter.com/LFzcen9R9v

— Sarah J. Hollenbeck (@SarahHollenbeck) July 20, 2018
Call Bernie McCabe, the state prosecutor for Pinellas Cty, and tell him to prosecute Michael Drejka, another gun owner who wants to use the law too see what it feels like to murder. It's Bernie's call, so you call him (727) 464-6221. Bernie seems too busy for social media.

— sengineoperator (@Fucujustfucu) July 21, 2018