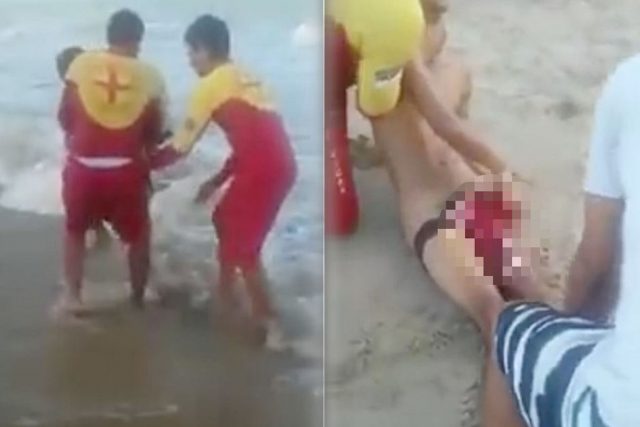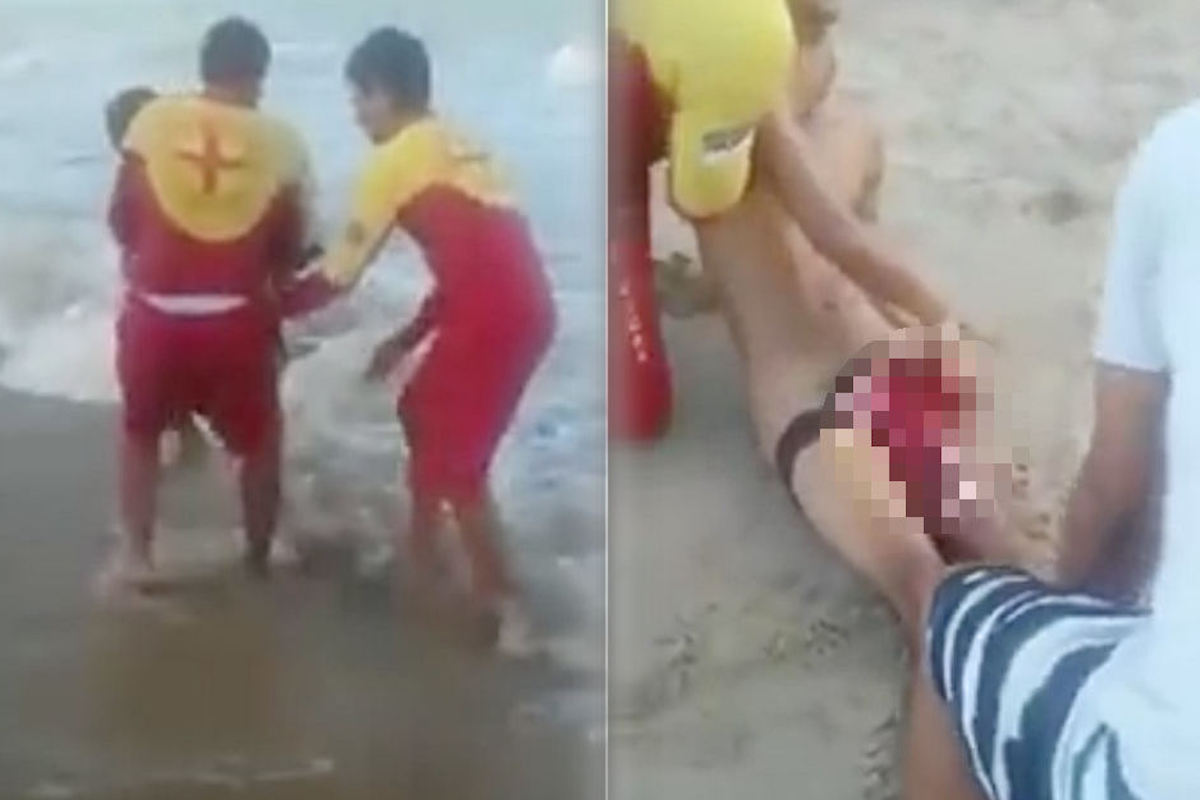 Jose Ernestor da Silva Brazil shark attack: Video emerges of the moment a Brazilian teen being attacked along Great Recife in the north. The attack happened despite warning signs. 
Video footage has emerged of the shocking moment a Brazilian teen boy being dragged out of the water by a fearless lifeguards after moments earlier having his penis and leg bitten off by a shark.
Despite life saver's efforts to save the 'shocked' teen, local media told of Jose Ernestor da Silva, 18, soon after fatally succumbing to his wounds. The attack which occurred Sunday afternoon at Piedade beach at Great Recife, on Brazil's north-east coast, left bathers who had been swimming nearby visibly distressed and shaken.
Tragically the shark attack happened just as lifeguards had warned the teen to come closer to the shore.
Lifeguards rushed into the water to save him and drag him onto the sand.
He later died in hospital after having suffered two heart attacks on the way. 
The young man had his left leg amputated and had veins re-attached to his penis in a three-hour operation as doctors tried to stem his blood loss but the victim died hours later.
Irebere umusore Jose Ernestor da Silva watakaje igitsina n'ukuguru-Amafoto https://t.co/pPDCeUeoat pic.twitter.com/eo1v75WYZy

— frank irad (@FrankIrad) June 4, 2018
Jose Ernestor da Silva ignored both his parents warnings and that of lifesavers: 
The attack ironically occurred after the victim had been ordered by his mother not to go to the beach following a shark attack in April in which a 34-year-old tourist lost an arm and a leg reported the dailymail.
Despite undergoing emergency surgery, the victim had lost part of his penis and a huge chunk of his thigh had been ripped out by what is believed to be a tiger shark, according to medics. 
Told Director General of the hospital, Miguel Arcanjo, during a press corps meeting: 'He arrived unconscious, with an extremely serious injury. After the surgery he was taken to the Intensive Care Unit.
'He lost a lot of blood, which was replaced, but he suffered hypovolemic shock and passed away.' 
Rodrigo Matias, from Recife's fire department, said Ferreira was swimming with his brother and friends in deep waters near the shore, in an area marked by signs warning of shark attacks.
Seeing that the group was drifting further out, lifeguards called for them to return to shallower waters.  
He said: 'At the exact moment in which the lifeguards asked for them to come closer to the beach, he was bitten.'
Ambulance medic Wagner Monteiro said Ferreira had a heart attack after arriving at the local Aeronautica Hospital, and another as he was being transported to the Restauracao Hospital in the centre of Recife.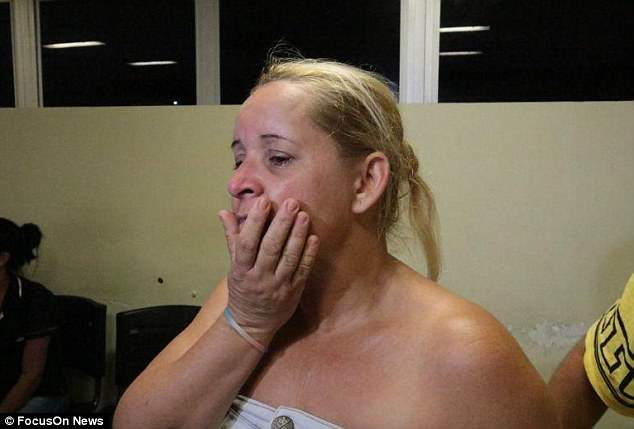 Jose Ernestor da Silva mother: 'My son was in love with the sea'.
Jose's mother Elisangela dos Anjos, 42, told Brazil's JC Online website that he had gone to the beach without her knowing, and she only knew about after his his brother Ezequiel, who was with him, called her from the beach following the attack.
Told the mother, 'He would go in secret, because he knew that I thought it was dangerous. I wasn't worried because I thought he was somewhere around the house.
'When I heard about it I went crazy, all the neighbors heard me screaming.'
The mother told of Jose Ernesto, being, 'n love with the sea'.
'He always went with friends to the beach and other places, but he never said 'I will.' Jose knew that I and his father would say no,' Elisângela said. 'If I did, I would not let him leave. He had to go in hiding.'
The mother noted her son being her son being good and affectionate young man.
The victim's father told of his son, one of five siblings, having gone to the beach without telling relatives where he was going.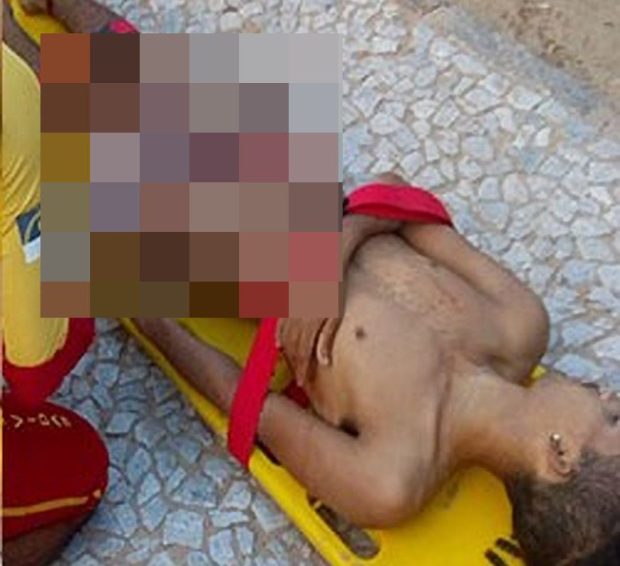 Jose Ernestor da Silva Brazilian shark attack leads to authorities seeking to strictly enforce warnings: 
On the day of the attack, Brazil's globo reported firefighters conducted more than 20 interventions to keep bathers out of the sea, because of the danger at the site.
This weekend's incident is the 65th shark attack registered along the coast of Brazil's Pernambuco state since 1992.
Some 80 per cent of the incidents have occurred along the 18-mile stretch of beach in the region of Recife, a popular holiday resort for foreign tourists.
More than 110 warning signs have been installed along the coastline where the attacks have taken place. Swimmers continue to bathe in the waters despite the warnings and highly reported instances of attacks. 
Following Sunday's attack local authorities once again pledged to strictly enforce warnings to bathers. It remained to be seen how effective such warnings and efforts would be as swimmers continued to swim wantonly….