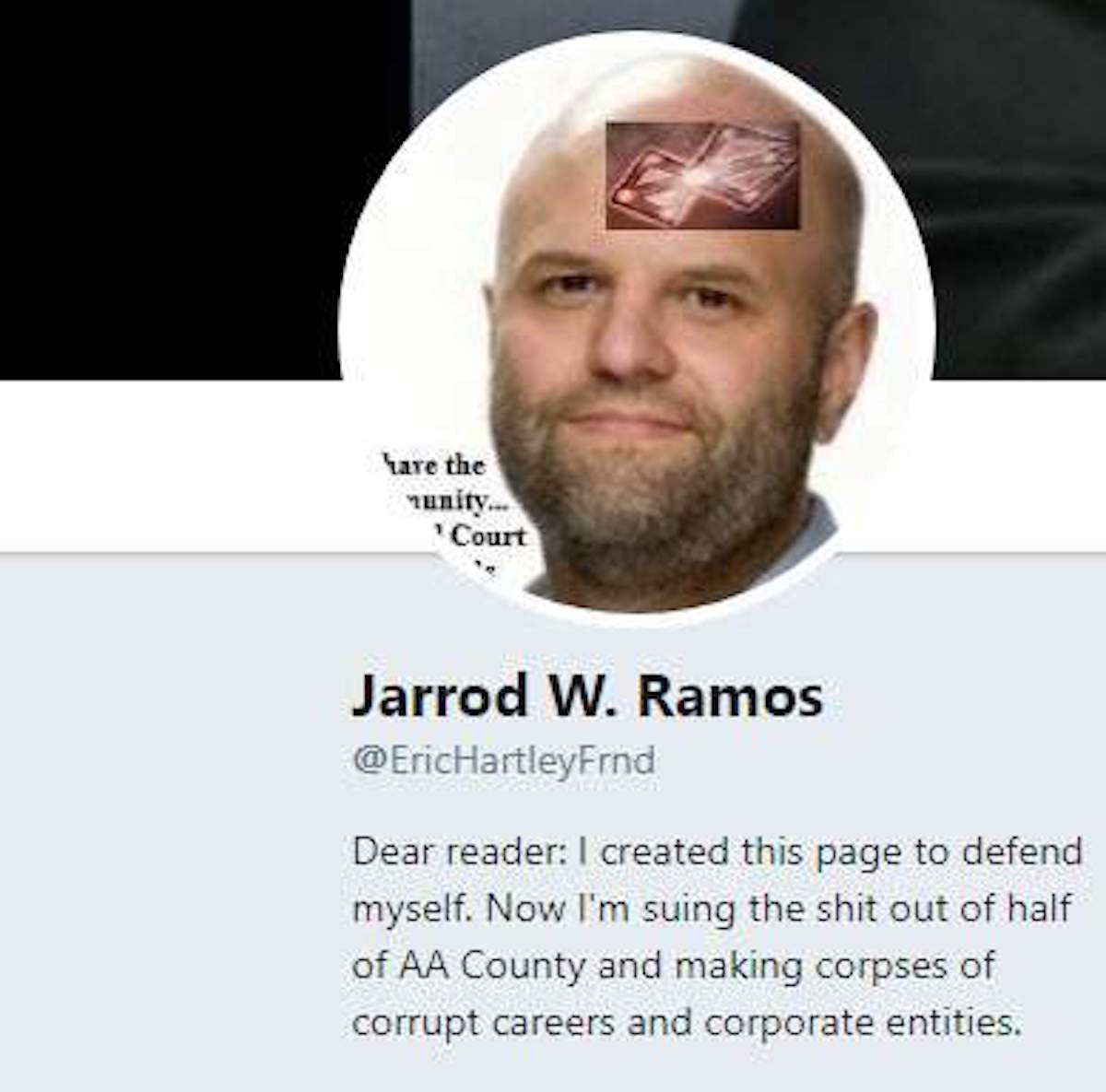 Annapolis Maryland shooting suspect, Jarrod Warren Ramos twitter account veiled threat against former Capita Gazette columnist Eric Hartley 'Journalist Hell awaits.'
Jarrod Warren Ramos a 38 year old Maryland man has been identified as the gunman suspect who fatally shot five individuals and injured up to 20 at an Annapolis newsroom, the result of an ongoing 'beef' with Capital Gazette.
CBSnews cited police saying Jarrod Ramos walking into the Annapolis offices of the Capital Gazette, a media subsidiary owned by the Baltimore Sun firing off a volley of gunfire through glass doors.
At the time of his apprehension, police said the man, said to be a federal employee, was in possession of a shotgun and was carrying smoke grenades or flash-bang grenades which he used during his attack.
Officials say Ramos did not exchange gunfire with police before he was taken into custody after hiding somewhere in the building, underneath a desk. According to authorities, he has not been 'forthcoming' with interrogators.
'This was a targeted attack on the Capital Gazette,' Anne Arundel County acting police chief Bill Krampf said at a press conference Thursday evening. Krampf declined to name the suspect. 'This person was prepared to shoot people. His intent was to cause harm.'
Ramos was taken into custody at the scene while refusing to cooperate with authorities. He carried no identification and had damaged his finger tips in an apparent effort to thwart identification by law enforcement, sources said. Authorities resorted to using facial recognition software and comparing his face to databases of passports and driver's license photos.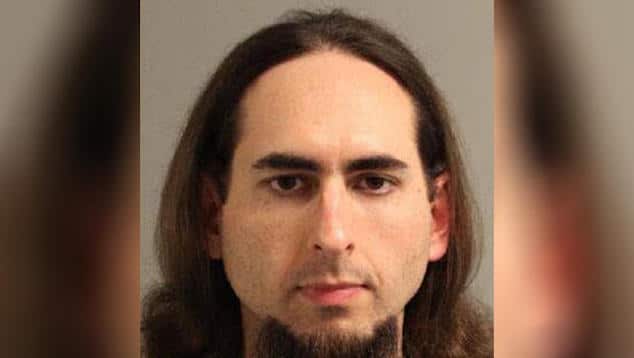 UNCONFIRMED: More information on Jarrod W. Ramos, the *alleged* #CapitalGazette shooter, taken from his *suspected* Twitter account (@EricHartleyFrnd). There is a lot to go through, you need to look at it all:@capgaznews @CNN @FoxNews @MSNBC pic.twitter.com/wooIL9jXKv

— Alexander Leslie (@aejleslie) June 29, 2018
Jarrod Warren Ramos twitter account referencing defamation suit and action against Capital Gazette. 
A Twitter account matching Jarrod Ramos name with a location of Laurel, Maryland, includes years of tweets railing against Capital Gazette with respect to an ongoing defamation legal dispute with the company.
According to an unreported 2015 opinion filed in the Maryland Court of Special Appeals, Ramos pleaded guilty to criminal harassment in July 2011.
Five days later, an article about the case appeared in The Capital, one of Capital Gazette's publications. The story detailed accusations by a woman, a former high school classmate  who said Ramos harassed her online and off for months, calling her employer and trying to get her fired.
In an email from April 2010, Ramos wrote: 'Have another drink and go hang yourself, you cowardly little lush. Don't contact you again? I don't give a (expletive). (Expletive) you.'
After months of messages from Ramos, the woman called the police with Ramos pleading guilty to a misdemeanor charge of harassment in 2011.
The Twitter account that matches Ramos' name began tweeting about Capital Gazette several months after the conviction.
But there was more, come July 2012, Ramos filed suit against Capital Gazette for defamation, according to the 2015 court filing, citing columnist, Eric Hartley. The complaint was just four paragraphs long, but Ramos filed a longer 22-page claim several months later.
Along with the Gazette, the baltimoresun reported Ramos also naming Thomas Marquardt, the paper's former editor and publisher, as defendants.
In 2012, a judge dismissed the lawsuit on the basis that 'there is absolutely not one piece of evidence, or an assertion by you that the statement [in the article] was false.'
'I think people who are the subject of newspaper articles, whoever they may be, feel that there is a requirement that they be placed in the best light, or they have an opportunity to have the story reported to their satisfaction, or have the opportunity to have however much input they believe is appropriate,' Judge Maureen M. Lamasney said when dismissing the case. 'But that's simply not true. There is nothing in those complaints that prove that anything that was published about you is, in fact, false.'
Underscoring Ramos' hostility, Maryland's second-highest court last week upheld a ruling in favor of Capital-Gazette Communications, a former reporter and a former publisher accused of defamation.
Ramos had appealed a 2013 decision to the Maryland Court of Special Appeals, which upheld the prior ruling in an opinion filed Thursday.
'A lawyer would almost certainly have told him not to proceed with this case,' the court wrote in the opinion. 'It reveals a fundamental failure to understand what defamation law is and, more particularly, what defamation law is not.'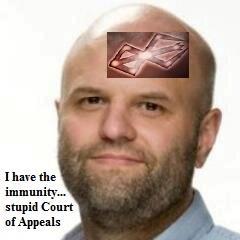 Jarrod Warren Ramos twitter account: 'Eric Thomas Hartley knows from experience, but doesn't appreciate how bad it can get. Journalist Hell awaits.'
Of note, a twitter page in Ramos' name on Thursday featured a picture of the Gazette columnist, Eric Hartley's picture as its avatar, and a banner image included photographs of Marquardt and the Capital's former owner Philip Merrill.
The page's bio read: 'Dear reader: I created this page to defend myself. Now I'm suing the s— out of half of AA County and making corpses of corrupt careers and corporate entities.'
The account regularly commented on Anne Arundel County news and referenced a deadly shooting at French newspaper in 2015.
In 2015, Ramos posted a vague threat at Hartley on Twitter, saying, 'Eric Thomas Hartley knows from experience, but doesn't appreciate how bad it can get. Journalist Hell awaits.'
Hartley no longer works at the Capital newspaper. As of 2016 he was a reporter for the Virginian Pilot newspaper in Norfolk, Virginia, and even once wrote a column headline, "Why I Am a Journalist."
Ramos' account had been dormant since January 2016. Then at 2:37 p.m. Thursday — moments before the Capital shooting — the account posted a message that read: 'F— you, leave me alone.'
Ramos was also apparently a supporter of Donald Trump, appearing in one Twitter post to threaten the Capital Gazette newspaper company that referring to Trump as "unqualified" could "end badly" for the paper.
Asked by reporters on Thursday if he believed his violent anti-media rhetoric may have motivated the Annapolis shooter, he walked away without answering, CNN reported. Later in the day, Trump posted a Twitter message expressing 'thoughts and prayers' for the shooting victims and thanking first responders.
Photos: Capital Gazette shooting victims, four journalists and sales rep.
Why? Annapolis newsroom shooting leads to five random shot dead at hands of gunman
Fuck you, leave me alone @judgemoylanfrnd.

— Jarrod W. Ramos (@EricHartleyFrnd) June 28, 2018
So fortuitous having an open mic to go outside the record in the Court of Appeals. And they think *you're* stupid!? pic.twitter.com/R2KfeFmvmI

— Jarrod W. Ramos (@EricHartleyFrnd) June 6, 2015
"Can you please talk to us about the dead reporters in Annapolis?"

"Do you have any words of condolence for the families, Mr. President?"

"Why are you walking away?"

Pres. Trump does not comment when asked about the deadly Maryland newsroom shooting.https://t.co/5ZcmEVQW9z pic.twitter.com/heIzI7S4Ck

— NBC News (@NBCNews) June 28, 2018