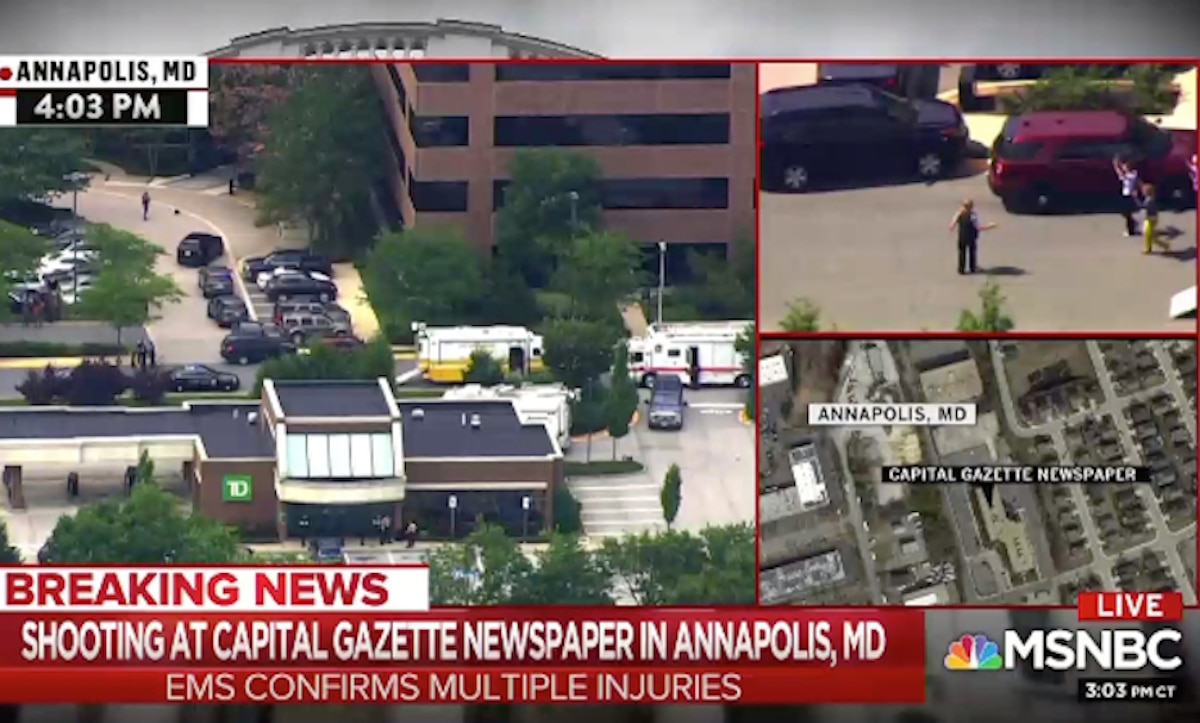 Annapolis newsroom shooting at the Capital Gazette: Did calls to take out journalists lead to one gunman targeting a media newsroom? 5 dead and 20 injured.
It has happened again in America. A lone gunman on Thursday walked into the Capital Gazette in Annapolis, Maryland with a shotgun where they proceeded to open gunfire, striking multiple people, killing at least five and wounding no less than 20.
The mayhem happened around 2:40 p.m. inside the paper's newsroom, in an office park outside the city center.
Anne Arundel County Sheriff Ron Bateman told Fox News that a suspect was apprehended after the shooting and that a shotgun had been recovered following the new America bloodbath. Bateman confirmed five individuals being fatally shot and that the shooter had been the sole shooter and the building evacuated. The suspect, now in custody was being interviewed.
Phil Davis, a Gazette reporter,  said that a lone gunman had shot through the glass door of the offices and then opened fire on the newspaper employees.
Tweeted the reporter, 'A single shooter shot multiple people at my office, some of whom are dead,'
Adding, 'Gunman shot through the glass door to the office and opened fire on multiple employees. Can't say much more and don't want to declare anyone dead, but it's bad.'
Davis told The Baltimore Sun that numerous people got hit by gunfire, though it's unclear how many.
Told the reporter later, 'There is nothing more terrifying than hearing multiple people get shot while you're under your desk and then hear the gunman reload'. 
'I don't know why he stopped,' he said.
Moments later the police arrived, and surrounded the shooter.
An intern, Anthony Messenger, tweeted, 'Active shooter at 888 Bestgate please help us.' He also wrote that an editor was shot.
The Capital Gazette is owned by The Baltimore Sun and police were also present in that paper's newsroom.
Annapolis newsroom shooting: Did 

Milo Yiannopoulos comments incite gunman?
To date, authorities have not released any information on the suspect or a potential motive, nevertheless commentators on social media pointed out recent overtures to 'take down' members of the press.
Of note, the Gazette newsroom shooting comes two days after right wing provocateur Milo Yiannopoulos said he 'can't wait for vigilante squads to start gunning journalists down on sight'.
Responding to the shooting, Yiannopolis said there was no evidence, as his critics said online, that he may have inspired the attack.
Photos: Capital Gazette shooting victims, four journalists and sales rep.
Annapolis shooting suspect twitter warned of 'hell' for Gazette newspaper.
There is nothing more terrifying than hearing multiple people get shot while you're under your desk and then hear the gunman reload

— Phil Davis (@PhilDavis_CG) June 28, 2018
Massive police response to shooting in my newsroom in Annapolis. @capgaznews pic.twitter.com/M1Bjwa0mMh

— Joshua McKerrow (@joshuamckerrow) June 28, 2018
"Can you please talk to us about the dead reporters in Annapolis?"

"Do you have any words of condolence for the families, Mr. President?"

"Why are you walking away?"

Pres. Trump does not comment when asked about the deadly Maryland newsroom shooting.https://t.co/5ZcmEVQW9z pic.twitter.com/heIzI7S4Ck

— NBC News (@NBCNews) June 28, 2018
There aren't usually NYPD officers lined up at the entrance to the NYT building. One of them said it was a "precaution" after the newsroom shooting in Annapolis. pic.twitter.com/Y7cWULCe2i

— Liam Stack (@liamstack) June 28, 2018
The shooting today in the Capital Gazette newsroom in Annapolis, Maryland cannot reasonably be separated from the President's mission to villainize the press as "the enemy of the American people."

— Lauren Duca (@laurenduca) June 28, 2018
Last time a newsroom was attacked in Western city, was Paris 2015 and shooting at Charlie Hebdo.

That was declared terrorism, carried by ISIS, led to rallies to defend freedom of Press. Similar horror today, different suspect in Annapolis, MD @capgaznews .
HT @SanamF24

— Joyce Karam (@Joyce_Karam) June 28, 2018
Now five dead, others injured in Annapolis newsroom shooting. I am heartbroken for my professional colleagues I never met, and now never will. Please take this as a lesson before you start calling for attacks on the press.

— Joe Strupp (@JoeStrupp) June 28, 2018