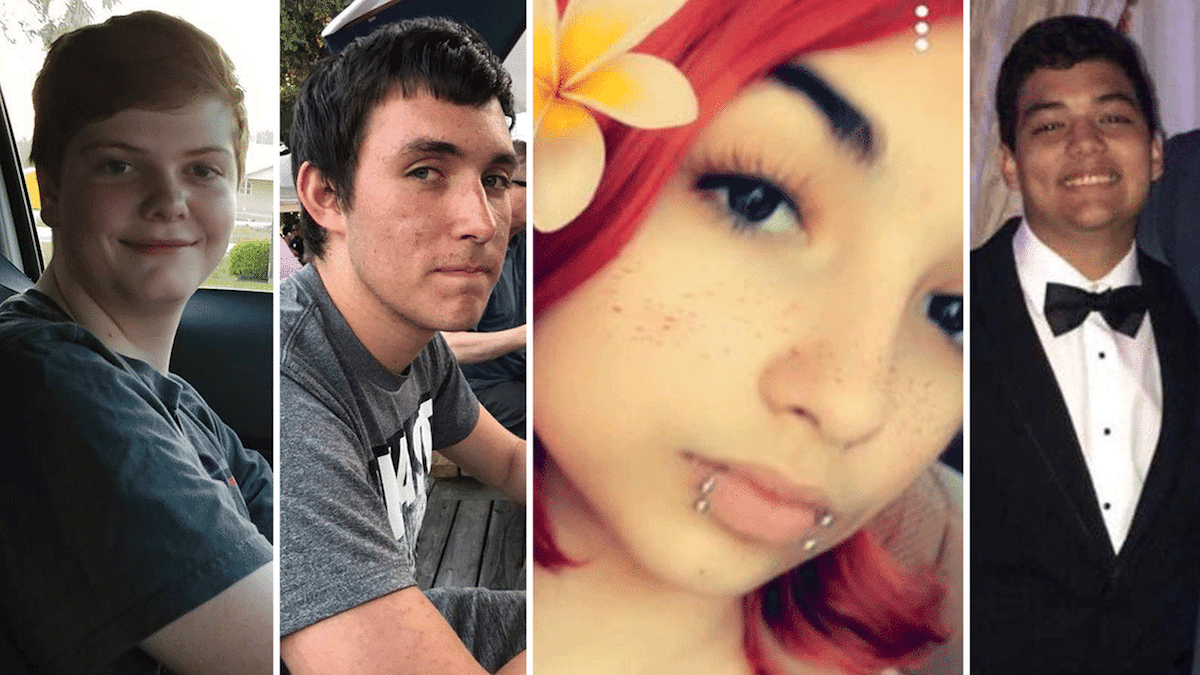 Santa Fe High shooting victims identified: School teachers, Ann Perkins and Cynthia Tisdale. Students, Chris Stone, 

Sabika Sheikh, Angelique Ramirez, 

Kim Jessica Vaughan and Shana Fisher. But were their deaths in vain? 
Authorities have released the names of two teachers and six students among the ten individuals who were shot to death by suspected Santa Fe High School gunman, 17 year old teen, Dimitrios 'Dimitri' Pagourtzis.
Identified was substitute teacher Ann Perkins, 64, and art teacher Cynthia Tisdale. Fellow classmates shot and killed included Christian Riley Garcia, 15, Pakistani student Sabika Sheikh and Santa Fe High School Student Chris Stone. Also identified late in the day as fatalities were teen students, Angelique Ramirez, Kim Jessica Vaughan, Aaron Kyle McLeod and Shana Fisher.
All five victims were confirmed dead at the hands of the honor roll junior who has since been described as keeping to himself and having a predilection for guns and video games. 
In total ten individuals lost their lives at the hands of Pagourtzis along with another ten being injured when the junior walked into a classroom circa 7.30 am, including Santa Fe Independent School District police Officer John Barnes who was critically injured as he sought to confront the shooter.
Police revealed gunfire ringing out as the student suspect donning a trenchcoat entered a classroom wearing a 'Born to Kill' T-shirt, yelling 'Surprise!' as he fired indiscriminate gunfire. Police said the youth had entered school premises with a concealed shotgun and a .38-revolver. 
According to a charging document, Pagourtzis deliberately picked his victims, choosing not to shoot students he liked so he could have his story told.
Video: Texas gunman dancing at Greek Orthodox Church days before mass shooting.
Santa Fe victim predicted 'spurned' gunman would kill her.
Santa Fe gunman family: 'His actions are incompatible with the boy we love'.
Santa Fe High school shooting: 17 year old Nazi fan kills 8 classmates & 2 teachers.
Ann Perkins was a beloved teacher, family friend, & woman. She enjoyed spending time with her children, grandchildren, & students. She lived an impeccable life filled with traveling, love, family, & a bit of champagne. Rest easy our beautiful nurturing angel. I love you. ?☀ pic.twitter.com/E4F1ss1hQb

— ☯︎ (@lemonylyd) May 18, 2018
Perkins' daughter Ashley pleaded for information about her mother's whereabouts on Friday before news of her death was confirmed.
A Facebook post confirmed the fallen teacher as being a grandmother (of eight) with one of her students describing her as 'wonderful' and 'amazing'. 
Noted a tribute to Perkins, 'It is with an extremely heavy heart that we are asking you to please keep TNT Alumni, Ashley, and her dad, Steve, in your prayers.
'Ashley's mom, Ms. Ann, has passed away as a result of today's tragic events. She was an amazing mom and an adored substitute who was loved by all.'
Posted another on Twitter: 'Ann Perkins was a beloved teacher, family friend, & woman. She enjoyed spending time with her children, grandchildren, & students. 
'She lived an impeccable life filled with traveling, love, family, & a bit of champagne. Rest easy our beautiful nurturing angel. I love you.'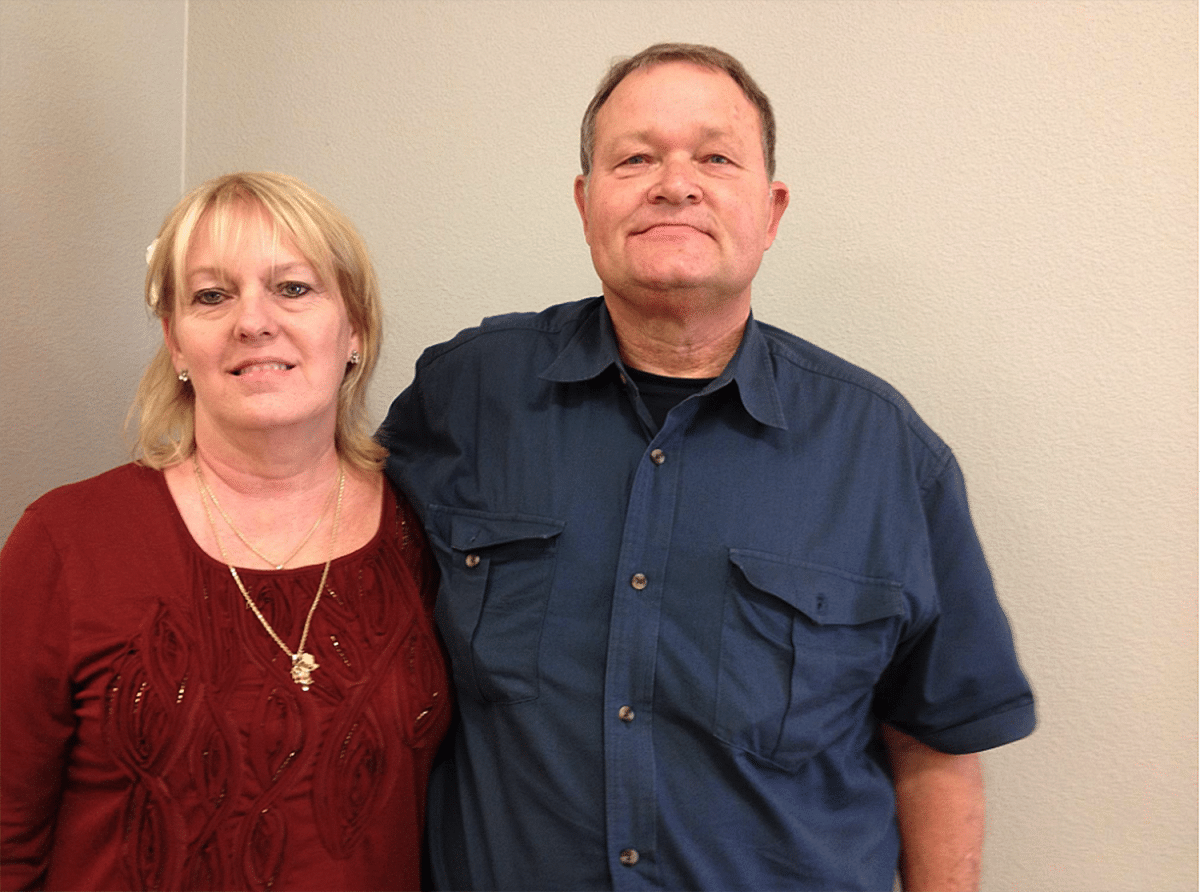 Confirmation of Cynthia Tisdale's shooting death came via her brother in law on Facebook.
'Cynthia Tisdale went to work today at the Santa Fe High School as she had done many times before,' John Tisdale wrote. 'She was teaching the art class today and a little after 8 AM a demon-possessed Son of Belial enters the room and starts shooting… killing 8 students and 2 teachers… one being my sister-in-law Cynthia, who was a member of Anchor Bible Baptist Church in Pharr, TX. 
'Her husband Reverend William Recie Tisdale is in bad health with a terminal lung disease. They have 4 children Recie Jr, Joseph, Autumn and Shannon. Your prayers are appreciated and requested for all of the family.'
Leia Olinde says authorities confirmed to her family that her aunt, Tisdale, was killed. She says Tisdale, who was in her 60s, was like a mother to her and helped her shop for wedding dresses last year.
Olinde says Tisdale was married to her husband for close to 40 years and had eight grandchildren. She says she 'never met a woman who loved her family so much.'
Posted Olinde's fiance, Eric Sanders, 'words don't explain her lust for life and the joy she got from helping people.'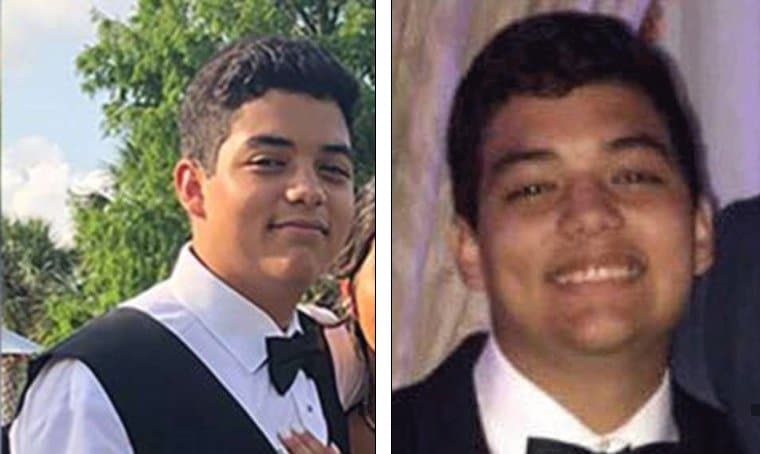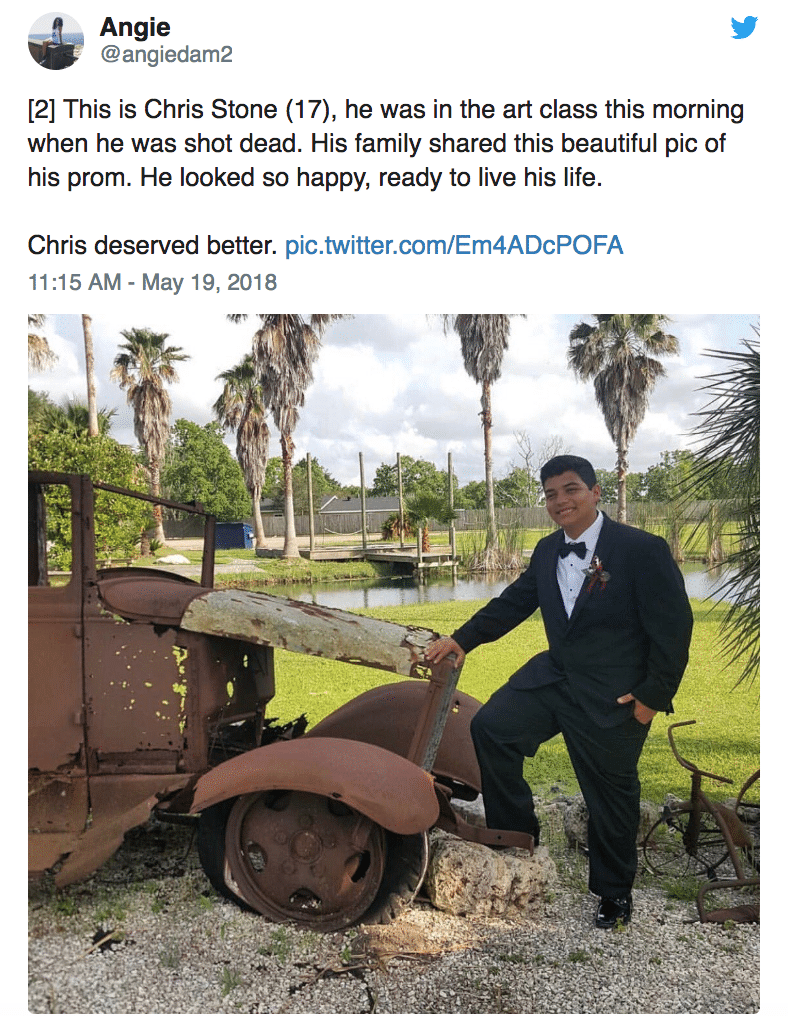 ABC 13 confirmed Santa Fe student Chris Stone was almost among the dead. His family had spent the day desperately searching for him.
A Facebook post told of Christian Riley Garcia, 15 having been an active member of local Crosby Church.
Posted the church's pastor, 'The violence at Santa Fe High, hit us all, but Crosby Church unites together in prayer for all the families affected and we mourn the loss of our own student Christian Riley Garcia 15 years old.' 
'He has grown up in our church, I baptized him many yrs ago. I just left his wonderful, loving family and extended all of the prayers and love for them from our Church.'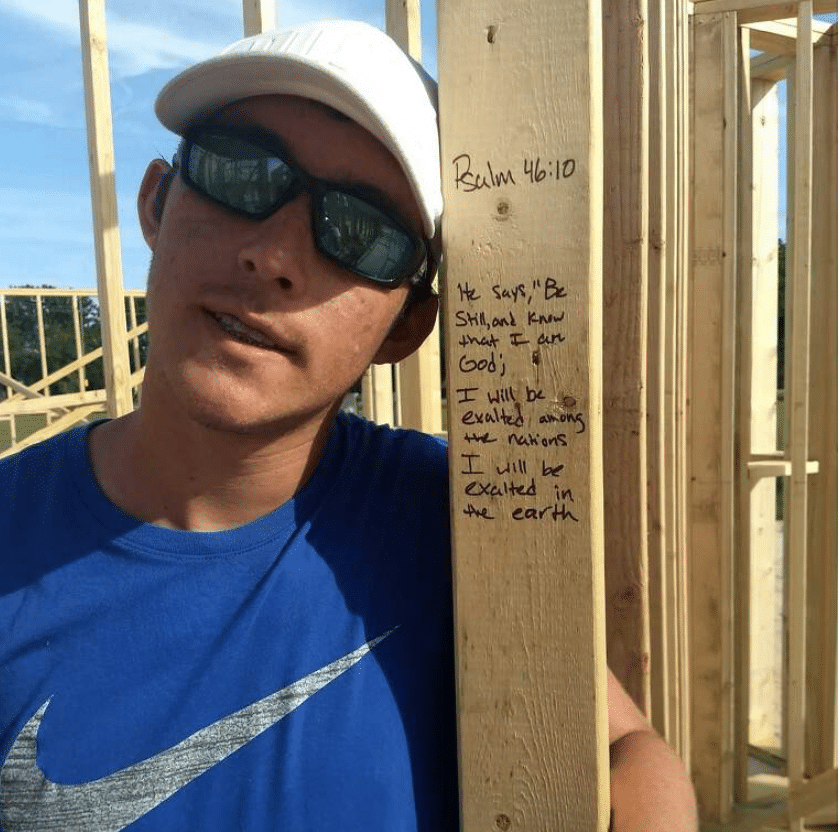 Exchange student Sabika Sheikh was part of the YES Pakistan program, and her death was confirmed by the Pakistani Embassy in Washington D.C.
'Our thoughts and prayers are with Sabika's family and friends,' Ambassador Aizaz Ahmad Chaudhry said in a statement, CBS News reports.
Wrote YES program manager Megan Lysaght in an email to YES Pakistan students: 'Please know that the YES program is devastated by this loss and we will remember Sabika and her families in our thoughts and prayers.'
This is Sabika Sheikh, she was a Pakistani exchange student in Santa Fe Texas.

Sabika has unfortunately passed away today during the #SantaFe school shooting.

She was supposed to go back home on June 8th back to her friends and family after being separated for 10 months. pic.twitter.com/i2JJ73hxqw

— Ramy Bary (@Ramy_Bary) May 18, 2018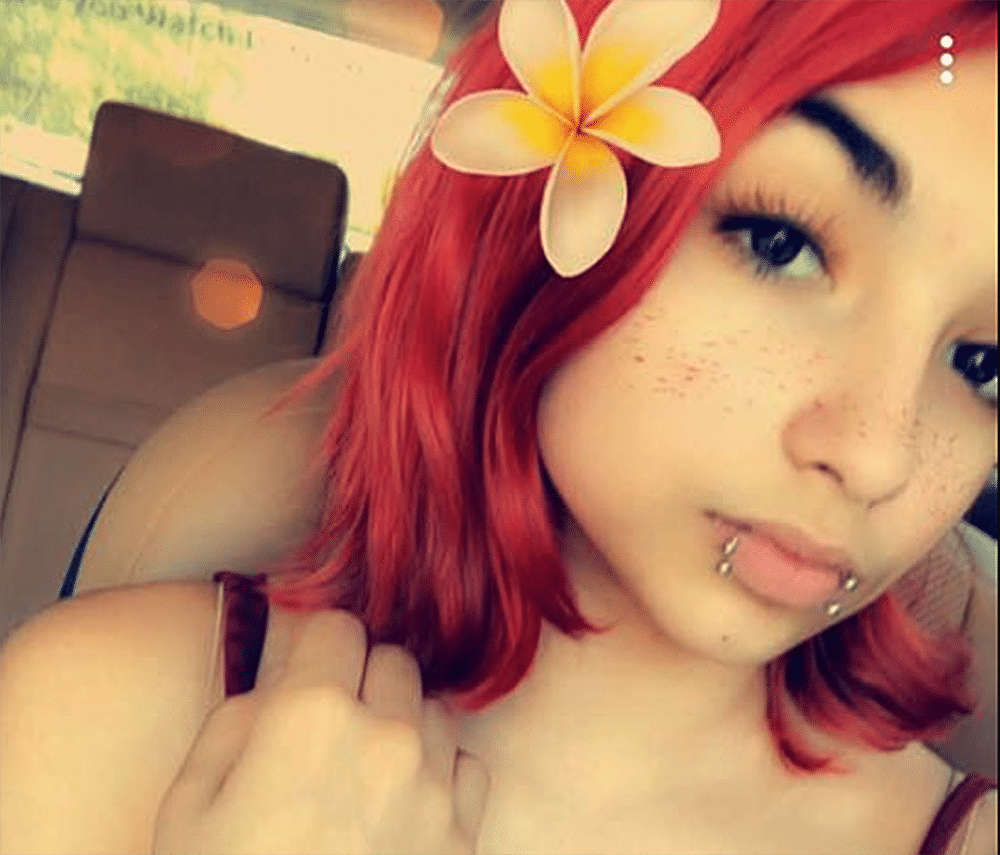 Also shot and killed was Angelique Ramirez, with the girl's aunt Sylvia Pritchett having posting a message earlier Friday, saying that authorities told her family Ramirez had been shot in the leg. She posted an update later announcing Ramirez had died.
Shana Fisher was in art class at the time of the #SantaFe High School shooting. Sadly, Shana has been identified as one of today's victims.

RIP Shana Fisher ? pic.twitter.com/sdLqjnQkqR

— I Yam What I Yam (@Nvr4Get91101) May 19, 2018
The mother of Santa Fe shooting victim Shana Fisher said authorities confirmed her daughter was killed Friday. But until she views the 16-yr-old's body she won't accept what the authorities said. #kens5eyewitness #KHOU11 pic.twitter.com/BlVonNoCf5

— Marvin Hurst (@MHurstKENS5) May 19, 2018
Also confirmed deceased was 16 year old female teen girl, Shana Fisher.
Also confirmed dead was female teen girl, Kim Jessica Vaughan. The teen was shot dead during art class.
Student, Kim Jessica Vaughan, was also in art class at the time of the #SantaFe High School shooting. Sadly, Kim has been identified as one of today's victims.

RIP Kim Vaughan ?

Kim (left) with her mom Rhonda Hart (right). pic.twitter.com/2VNjQKqn2T

— I Yam What I Yam (@Nvr4Get91101) May 19, 2018
Santa Fe RHP Rome Shubert (@rome_shubert17), a sophomore and @UHCougarBB commit, was injured during the tragic shooting at Santa Fe High School. Rome was shot in the back of the head, but is out of the hospital and back home: "I was scared for my life and I'm still shaken up." pic.twitter.com/XXxn1zZkQU

— Mark Berman (@MarkBermanFox26) May 18, 2018
Rome Shubert, a University of Huston baseball commitment and a sophomore pitcher for Santa Fe High School, was shot in the back of the head, managing to survive.
'I'm so grateful and blessed that god spared me life today,' he tweeted following the shooting. 'Today I was shot in the back of the head but i am completely okay and stable.'
He told the Houston Chronicle was in his classroom when gunshots rang out. 
Told the student, 'I was sitting doing my work and he walked in, tossed something on the desks behind me,'
'Then three loud pops and I jumped under my table and flipped it in front of me and I guess he ran out in the hall and I took off out the back door and when I was running I realized I was shot in the back of my head.'
The teen said he didn't realize he had been shot at first because he was so scared and had so much adrenaline. The bullet 'missed everything vital'.
In a follow-up tweet, Shubert posted, 'Thank you for all your prayers and the support. Prayers going out to all the others who are affected.'
This hero school resource officer was shot when he confronted today's school shooter. John Barnes, 49, suffering a gunshot wound to the arm as he stopped the teen gunman today at #SantaFeHighSchool. Prayers to Ofc. Barnes and ALL those hurt or killed in today's school shooting. pic.twitter.com/JxTTPSPzL5

— Kari Lake Fox 10 (@KariLakeFox10) May 18, 2018
John Barnes, 49, a retired Houston police officer now working as the Santa Fe resource officer and was first to confront him, was shot in the elbow and was hospitalized in critical condition. 
Dr. David Marshall, chief nursing officer at University of Texas Medical Branch in Galveston, said Friday afternoon Barnes is in stable condition.
Marshall says a bullet hit Barnes' arm, damaging the bone and a major blood vessel around his elbow. He says the blood vessel has been repaired, and that Barnes is expected to emerge from surgery within a few hours.
Houston Police Chief Art Acevedo tweeted that Barnes, who is married, was sworn in as an officer in 1995 and retired from the force this past January.
Police told of Pagourtzis surrendered when confronted by police, with the teen having backed out of his original plan to  commit suicide at the end of the massacre, but not before planting explosives around the school.
Upon his arrest, Pagourtzis was being held without bond in the Galveston County jail on charges of capital murder and aggravated assault of a peace officer.
A judge denied bond for Pagourtzis when he made his initial court appearance Friday evening via closed circuit video from the jail. The judge also took Pagourtzis' application for a court-appointed attorney.
Pagourtzis has been charged with capital murder in the Friday morning shooting. He did not enter a plea at the hearing. 
In addition to Pagourtzis, two others were detained, said Harris County Sheriff Ed Gonzalez. It is not clear if they are connected to the shooting.
To date authorities have offered no motive as to the shooting which comes as the 16th mass school shooting in the USA since the beginning of the new year.
There is nothing wrong about praying for victims & first responders at the school shooting at Santa Fe High School in Texas. We should pray for them.

But there is something very wrong if that is all you do.

Especially when you take massive sums of money from the @NRA. https://t.co/kICEOhsAPY

— Ted Lieu (@tedlieu) May 18, 2018
"They were nice students, I'm sure their families loved them a lot. School's going to be different without them." – Aiden Gomez is a Santa Fe High School student and knew some of the school shooting victims https://t.co/Ytc4l0F3Xo pic.twitter.com/7wg8X4WlpG

— CNN (@CNN) May 18, 2018