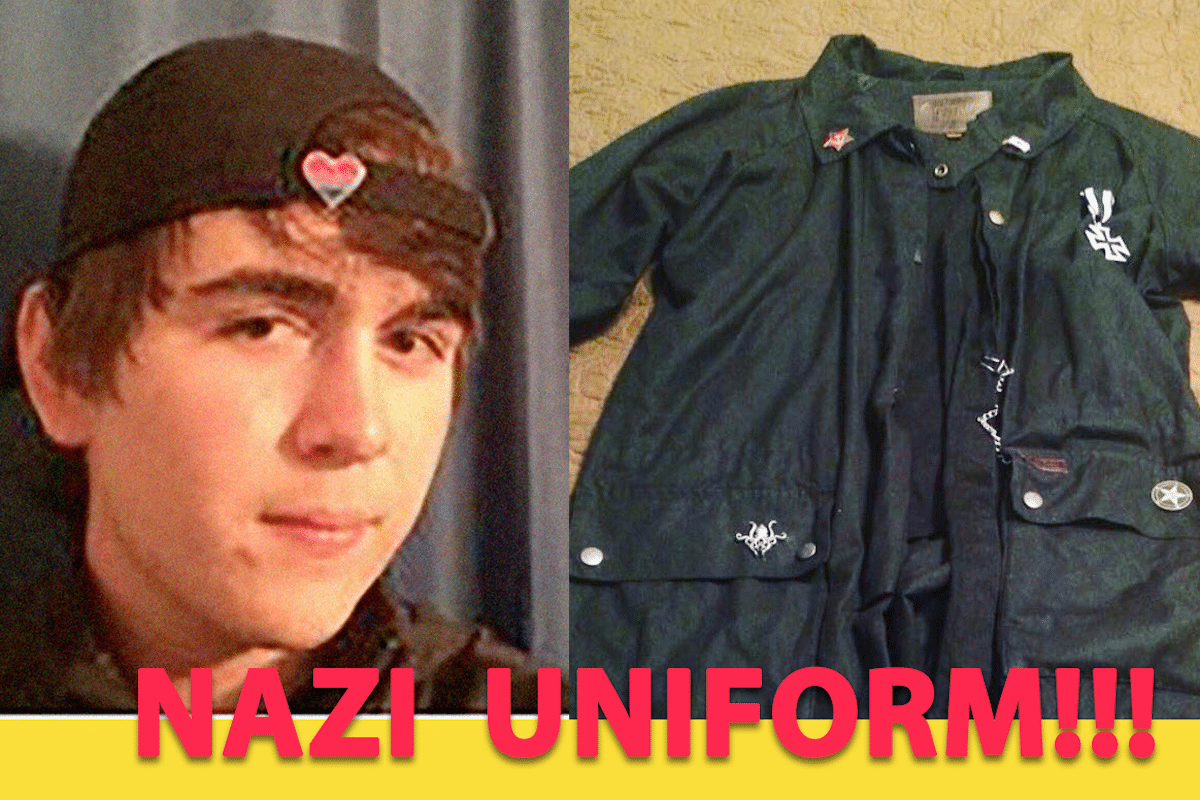 Dimitrios Pagourtzis Facebook & Instagram accounts: Santa Fe High School mass school shooting suspect profile showed clues of teen in rebellion and love of violence. 
Dimitrios 'Dimitri' Pagourtzis a 17 year old Texas boy has been identified as the alleged suspect who shot and killed up to ten fellow students at Santa Fe High School Friday morning.
The shooting comes as the student donning a trenchcoat entered a classroom wearing a 'Born to Kill' T-shirt, yelling 'Surprise!' as he proceeded to fire a volley of indiscriminate gunfire where he fatally shot 10 people, most of them his classmates. 
Following the school mass shooting, Galveston County Sheriff Henry Trochesset told of Pagourtzis being taken into custody where he was held without bond at Galveston County jail on charges of capital murder and aggravated assault of a peace officer. 
The teen's arrest follows Pagourtzis exiting the shooting scene with a pistol by his side while wearing a Make America Great Again cap. The red hat was made infamous by President Donald Trump during his recent presidential campaign and has since become a symbol of extremism, oppression and vilification of minorities and national discord.
Along with fatally shooting nine students along with a school teacher, the Texas teen also wounded ten others, including a responding police officer who was reportedly shot in the shoulder.
Click2Houston reported the critically injured officer as Santa Fe Independent School District police Officer John Barnes.
Following the mass school shooting Chron.com, citing law reinforcement sources reported the gunman carrying out the massacre with a shotgun and a pistol. Officials told of the 'troubled' student having no prior criminal convictions. 
Video: Texas gunman dancing at Greek Orthodox Church days before mass shooting.
Santa Fe victim predicted 'spurned' gunman would kill her.
Santa Fe gunman family: 'His actions are incompatible with the boy we love'.
Photos: Santa Fe High School shooting victims I'd.
This hero school resource officer was shot when he confronted today's school shooter. John Barnes, 49, suffering a gunshot wound to the arm as he stopped the teen gunman today at #SantaFeHighSchool. Prayers to Ofc. Barnes and ALL those hurt or killed in today's school shooting. pic.twitter.com/JxTTPSPzL5

— Kari Lake Fox 10 (@KariLakeFox10) May 18, 2018
Dimitrios Pagourtzis – 17 – was identified as the shooter suspected of killing at least eight people at Santa Fe High School.

He appears to own a Nazi Cross in a Facebook picture & was following Trump and his family on Instagram.#EnoughIsEnough pic.twitter.com/8rQ8gvxosr

— ΛᄂIПΛ (@Alina__IV) May 18, 2018
#SantaFeShooting suspect 17-year-old Dimitrios Pagourtzis posted these pictures on Facebook and Instagram. Law enforcement sources confirm suspect's identity to CBS News. pic.twitter.com/aWTXqasPSc

— Brian New (@BrianNewCBS) May 18, 2018
I Go to look up the Texas school shooter on Instagram and found this guy who posted this using the shooters name dimitrios pagourtzis. The profile and video have been removed but I grabbed it before he deleted it. I also have screen shot of the profile #schoolshooting @News12LI pic.twitter.com/f1Ei1rIbUH

— Peter Wolfinger (@PeterWolfinger) May 18, 2018
Dimitrios Pagourtzis: Born to Kill. 
Clues as to the teen's 'destabilized' state of mind came April 30 when the youth on his now deleted Facebook page shared a photo of a black T-shirt with the words 'Born to Kill' printed across the front. CW39 reported that witnesses saw the suspect wearing that same shirt and combat-style boots. 
Other photos shared on Pagourtzis's page the same day in April depicted a dark-colored trenchcoat festooned with various insignia, including the Nazi Iron Cross, which the teen wrote stood for 'bravery.' 
Students remarked the suspect wearing the heavy laden trenchcoat everyday to school despite the oppressive hot temperatures of spring summer months in the region.
Additional patches on the garb included the rising sun, a Communist hammer and sickle pin and a depiction of the idol Baphomet, which Pagourtzis said symbolized 'Evil.'
A week prior, a photo showing a handgun and a knife appeared on an Instagram account associated with Pagourtzis. The page has since been taken down reported the dailymail.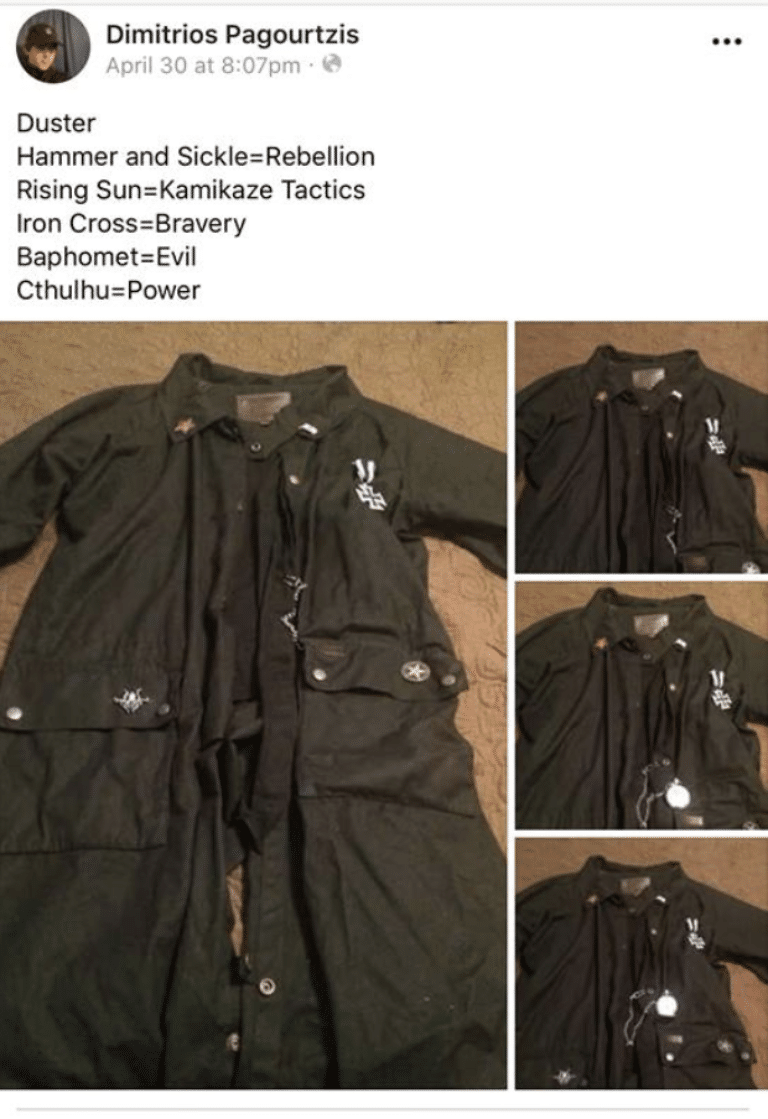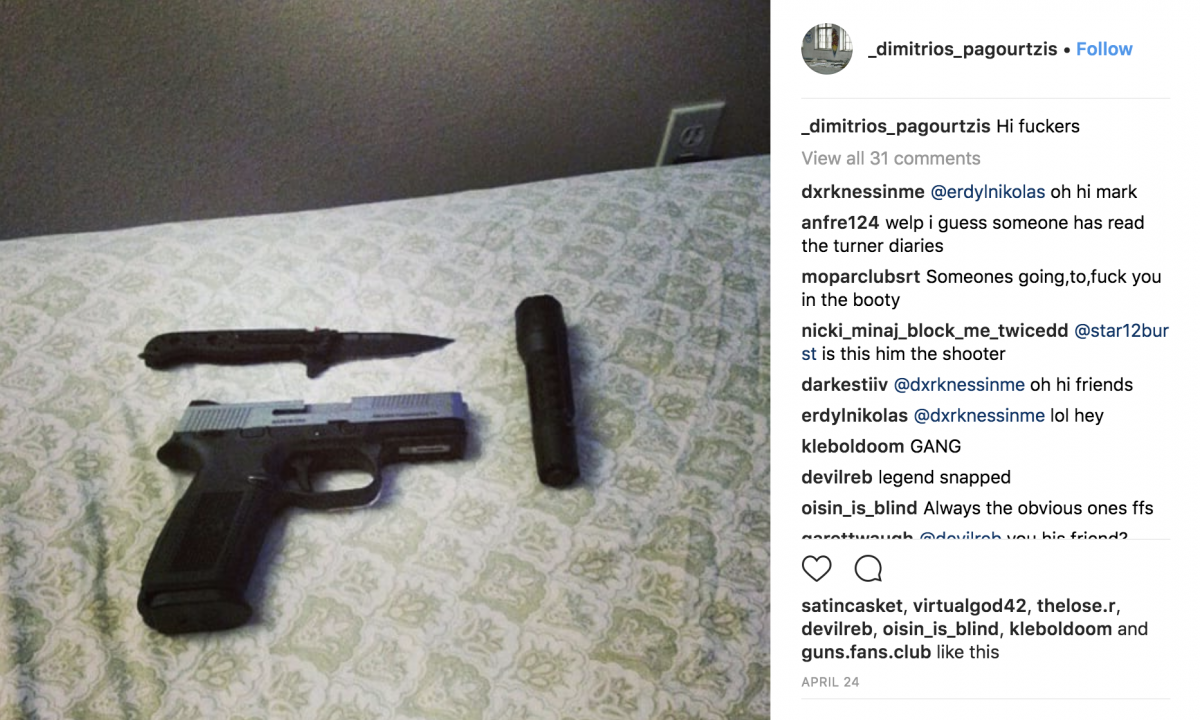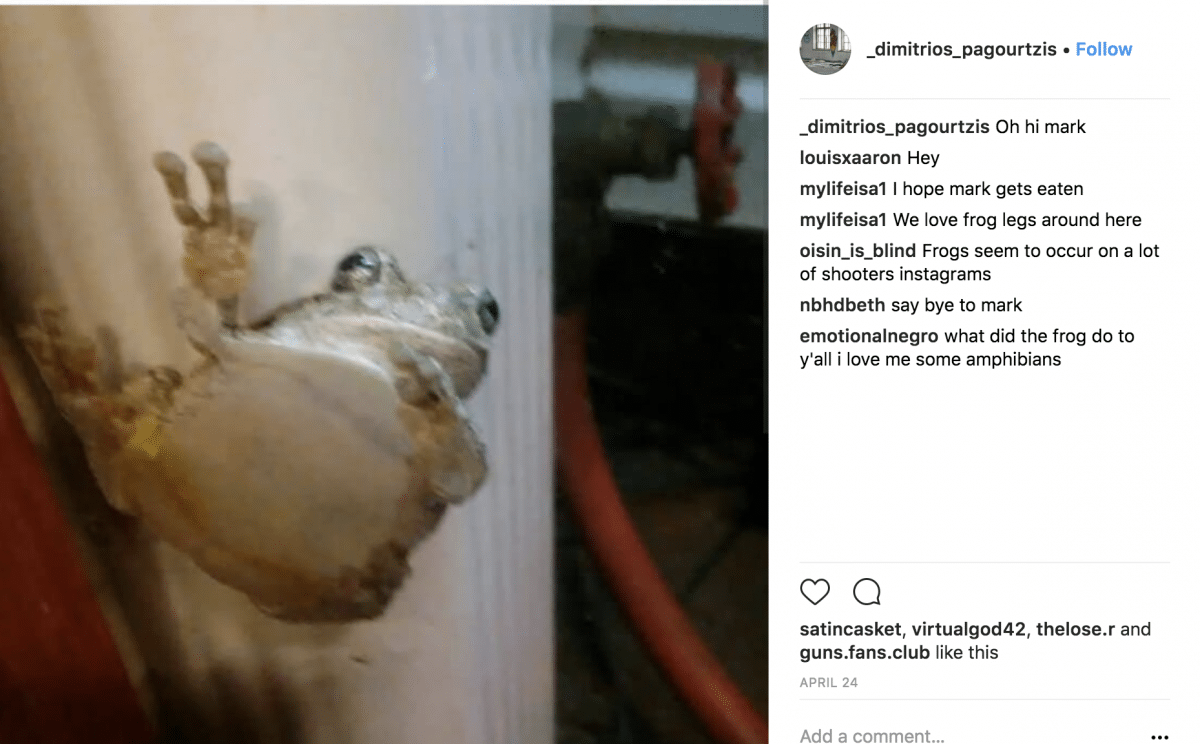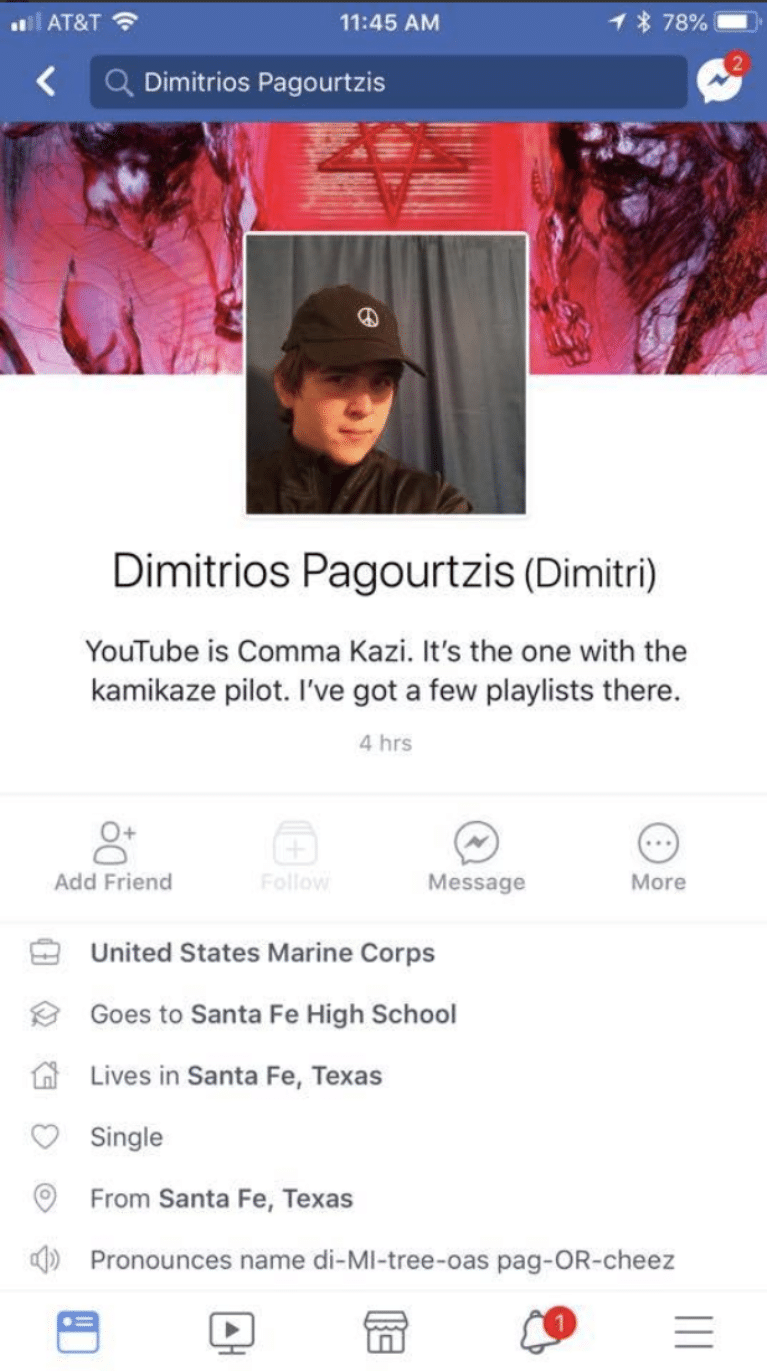 Dimitrios Pagourtzis honor roll student who loved guns and simulation video games.
Students at Santa Fe High told NBC News that Pagourtzis wore a trenchcoat to school every day.
Dustin Severin, 17, told KPRC-TV he saw Pagourtzis in the hallway before the shooting wearing his 'usual outfit.'
Severin says the teen has been picked on by football coaches 'for smelling bad',' while describing Pagourtzis as someone who kept to himself. 
Tristen Patterson, 16, a friend of Pagourtzis', said the suspect had confided in his interested in guns and war simulation video games, while stressing Pagourtzis had never about talked about killing people.
He also claimed that the high school junior did not show signs of bullying, but would sometimes enter the classroom 'acting a little bit down or sad. A little bit sluggish.' 
Reports told of Pagourtzis playing on the Santa Fe High School junior varsity football team along with being a member of a dance squad with a local Greek Orthodox church. Of note, media reports told of Pagourtzis previously making the honor roll and had been expected to graduate in 2019.
Valerie Martin a language arts teacher who had previously taught the suspect was quoted as saying she 'saw no signs that Mr. Pagourtzis might do such a thing.' She viewed the junior as bright, adding he had taken part in the school's competition for a national history contest.
'He was quiet, but he wasn't quiet in a creepy way,' the teacher said.
Adding, 'He wasn't drawing weird things in his journal. He wasn't writing weird things in his journal.'
During a Friday afternoon press conference, Texas Governor Greg Abbott said the suspect used his father's legally owned shotgun and .38-revolver which he had hidden under his trenchcoat. It remained unclear whether the father knew his son had taken them.
According to the governor, explosive devices including a molotov cocktail had been found in Pagourtzis' home, located three miles from the school. Bomb residue and components were also found at a vehicle as well as around the school and nearby. 
Investigators also swarmed a second home in a neighborhood about five miles away from the school. Officials there could be seen gearing up with battering rams, sledgehammers and saws.
It was not immediately clear exactly how either of those scenes was connected to the shooting. Officials expressed concern that the 'devices' may have been booby-trapped.
During questioning, Abbott said there were few prior clues about Pagourtzis' behavior, unlike the shootings in Parkland and the church in Sutherland Springs.
'The red-flag warnings were either non-existent or very imperceptible,' he said.
Authorities said the teen originally intended to commit suicide, as he had written in journals found on his computer. Following the mass shooting, the teen instead gave himself up, telling authorities that he didn't have the courage to take his own life. Yes the irony.
Gunman identified as 17-year-old Dimitrios Pagourtzis, FBI source says https://t.co/mkE5LqgOeP pic.twitter.com/q3ALI92lth

— KHOU 11 News Houston (@KHOU) May 18, 2018
His name is Dimitrios Pagourtzis. Check out who he follows on Instagram. We can all see exactly where this is headed —> Bad, gun-loving Trump supporter shoots up school. Amirite? pic.twitter.com/SmildLmrGv

— Teresa (@AmericanHere) May 18, 2018
#BREAKING: Federal law enforcement source confirms suspected #SantaFeShooting suspect is Dimitrios Pagourtzis, 17. #KHOU11 Investigates pic.twitter.com/bLGQZKQx7G

— Jeremy Rogalski (@JRogalskiKHOU) May 18, 2018
Dimitrios Pagourtzis shooting: 'At first we thought it was a fire drill'. 
Following the shooting, the Santa Fe Independent School District released a statement saying authorities were in the process of rendering the recovered explosive devices safe. It remained unclear how many devices have been found.
Dr. Safi Madain at Clear Lake Regional Medical Center says six of eight shooting victims have been treated and released. Madain says one patient remains in critical condition and the other is in fair condition. All appeared to be high school students with gunshot wounds.
Other victims have been treated at the University of Texas Medical Branch in Galveston, including a 16-year-old boy and a woman. Dr. David Marshall, chief nursing officer, says one adult male is in critical condition at the hospital. He says that man was shot in the upper arm and is undergoing surgery. 
Police responded to the school on State Highway 6 near Morning Glory Drive in Santa Fe just before 8am after getting reports of shots fired. 
Witnesses described how Pagourtzis 'burst through the door' of a first-period art class and yelled 'Surprise!' before opening fire on his classmates. 
Then a fire alarm was pulled somewhere in the building, sending students running into the hallway.  
'As soon as the alarms went off, everybody just started running outside,' sophomore Dakota Shrader told reporters, 'and next thing you know everybody looks, and you hear boom, boom, boom, and I just ran as fast as I could to the nearest floor so I could hide, and I called my mom.' 
Another student told ABC13 that the suspect came into her first-period art class and started shooting at 7.45am. 
'We thought it was a fire drill at first but really, the teacher said, "Start running,"' the student told the television station.
The student said she didn't get a good look at the shooter because she was running away. She said students escaped through a door at the back of the classroom.
Told another student, 'This is the place where we're supposed to be safe,'
Adding, 'I don't feel safe in this town anymore.'
Santa Fe High school shooting leads to renewed calls for gun violence reform: 
Santa Fe Police, Galveston County Sheriff's Office and ATF agents responded to the school. Medical helicopters were pictured in the parking lot, along with multiple ambulances.
Responding to yet another bloodletting at school, President Donald Trump tweeted, saying in part, 'Early reports not looking good. God bless all!'
Aware of the fallout that yet another mass school shooting in the US and politician's unrelenting resolve to impart real change stemming the tirade of violence glibly went on to express his 'sadness and heartbreak' and saying that his administration is closely monitoring the situation.
Remarks that struck many as dense and without significance.
'This has been going on too long in our country – too many years, too many decades now,' he went on to say. 'We grieve for the terrible loss of life and send our support and love to everyone affected by this absolutely horrific attack to the students, families, teachers and personnel at Santa Fe High. 
'We're with you in this tragic hour and we will be with you forever. My administration is determined to do everything in our power to protect our students, secure our schools, and to keep weapons out of the hands of those who pose a threat to themselves and to others.
'Everyone must work together at every level of government to keep our children safe. May God heal the injured, and may God comfort the wounded, and may God be with the victims and with the victims' families. Very sad day. Very, very sad.' 
'Blah, Blah, Blahhhhh….'
Speaking in Santa Fe, Sen. Ted Cruz, R-Texas, said, 'Once again Texas has seen the face of evil.'
'Texas has seen too many of these,' Cruz said.
Both Trump and Cruz are staunch supporters of the National Rifle Association (NRA) and have resisted attempts to tighten gun control.
Of note, Texas has some of the most permissive gun laws in the U.S. and just hosted the NRA's annual conference earlier this month. In the run-up to March primaries, gun control was not a main issue with candidates of either party. Republicans did not soften their views on guns, and Democrats campaigned on a range of issues instead of zeroing in on gun violence.
Get ready for two weeks of media coverage of politicians acting like they give a shit when in reality they just want to boost their approval ratings before midterms.

— David Hogg (@davidhogg111) May 18, 2018
David Hogg, the outspoken survivor of the February 14 school shooting in Parkland, Florida, that left 17 dead, lashed out on Twitter at politicians for failing to do anything to rein in gun violence in the US.   
Tweeted the youth: 'Get ready for two weeks of media coverage of politicians acting like they give a shit when in reality they just want to boost their approval ratings before midterms.'
Santa Fe High School has more than 1,400 students in grades 9-12. The senior class was scheduled to graduate on Sunday. 
In late February, the school was briefly put on lockdown over 'popping sounds'  thought to be gunshots that were heard outside. Police arrived on campus to investigate but no threat was found.
Friday's tragedy marks the 16th school shooting in the US since the beginning of the year according to a Washington Post database. More than 214,000 students in the U.S. have experienced gun violence at school since the 1999 massacre at Columbine High School, where two students — dressed in trenchcoats — murdered 12 classmates and a teacher before killing themselves.
A prayer vigil for the victims of Friday's shooting has since been confirmed for 6 p.m. at the Texas First Bank at 12402 Highway 6 in Santa Fe.
Welcome to a brave new gutless America…
#NRA HERO OF THE MONTH: Dimitrios Pagourtzis #GunControl #GunLaws #SchoolSafety #ProtectOurKids pic.twitter.com/KWfkzlK3kF

— Matthew (@Matthew1836) May 18, 2018